In today's world, if you want your business to be competitive, you need to know which techniques are being employed by your competitors. When it comes to web design, the situation is almost the same. Web development doesn't stand still. Every year new trends and styles are being implemented, new tricks are being tested, and thousands of new ready-made themes are being released. For many, it's hard to follow each and every resource that posts valuable information on web design.
When it comes to WordPress, keeping track of the latest developments in this field can seem to be a major undertaking. Improvements, new themes, plugins, and lots of other things are being added literally on a daily basis. In order for you not to get lost and keep a list of the most reliable go-to resources always in handy, we will share, in this blog post, 30 must-follow WP resources. These include blogs, websites offering free WordPress themes and podcasts worthy of your attention.
So, let's get straight to the list.
15+ WordPress Blogs
WordPress has a wide-spread online community that is constantly growing. Whether you are an expert in this field or you are just planning to launch your first online project based on WP, you need to read expert reviews and simply keep track of news and developments in this business niche in order to grow stronger and more competitive. So, without further ado, here is a list of 15 WordPress blogs that we think are worth a look.
WPMU Dev Blog provides tutorials, development tips, resources and reviews of free and premium themes to assist any user get their WP websites off the ground in no time. The blog is updated on a daily basis, providing readers with both inspirational and fully technical articles from which to learn.
WPMayor was founded back in 2010. Since then they keep on providing reviews related to WP plugins, themes and services, as well as helpful tutorials, news, expert opinion, etc. They welcome guest blogging, so if you are a WP enthusiast, you are welcome to contribute a couple of posts to their blog. Just like WPMU Dev Blog, WPMayor is updated daily.
Torque is a WP blog highlighting news, updates and all the latest happenings in the world of WordPress. The main purpose of the magazine is to connect developers with millions of people whose hobby or career is somehow connected to WP.
Founded back in 2009, WPTavern is known as one of the best WP online blogs ever. Over the six years since its launch, WPTavern has expanded the range of topics that it covers. For instance, alongside with the traditional News, Themes and Plugins publications, they now share articles on BBPress, BuddyPress, Polls, and many others. What's more, every Friday these guys go live with a podcast dubbed WordPress Weekly.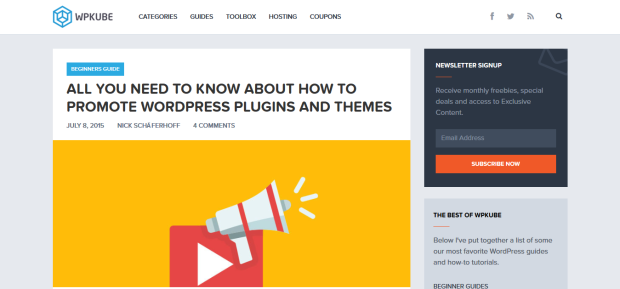 WPKube is an amazing resource site that has a ton of in-depth tutorials, helpful articles, and other useful tips. The site was founded by Devesh Sharma and since then they have reviewed many popular plugins and themes. They recently started publishing guides like how to pick the right Managed WordPress Hosting, Fixing Error Establishing Database connection, and many more.
Yoast is all about website optimization – for both visitors and site owners. Alongside with eBooks and handy WP plugins, the site includes an integrated blog section that features various publications of how to make your WP site more usable, how to attract more visitors, make it more search engines friendly, etc.
How many of you dream about making your WordPress site WPML-ready? As the name implies, WPML Blog provides every single recommendation on how to use this feature to its fullest. Additionally, they review themes, plugins and extensions, WMPL and WooCommerce updates, among other things.
Though WP is not the core topic on Treehouse blog, here you can find a lot of helpful stuff on coding, customization and integration of this CMS with plugins and extensions. If you prefer video tutorials to written posts, here you will find plenty of useful online courses on how to make your WP site much better.
WPexplorer blog is a goldmine of tutorials, themes, plugins, tips, guides, reviews, and loads of other stuff that will come in handy for any WP fan. In between great posts, they also provide giveaways that let you save a whole lot of money on premium products.
DailyBlogTips was founded by Daniel Scocco back in 2006 with the purpose of sharing tips and tricks he was learning along the way. Over time, Mark Zeni (editor) and Ali Hale (writer) joined the team to help other bloggers and web developers reach their goals online.
WP Superstars includes plenty of helpful reviews and tutorials from which both WP experts and newbies can benefit from. Along with valuable information on new themes, plugins and hosting, you will be provided with well-researched articles on how to make your WordPress site richer and better.
Originally, WPShout was posting WordPress tutorials, news and recommendations only. However, the situation has now changed. Together with WP news, you can also find a wide range of publications on how a WP blog can be improved, theme and plugin reviews, competitions, and much more.
WPEngine provides a wide selection of publications on any topic. For instance, here you will find lots of helpful information on how you can manage your WP website. Additionally, WPEngine authors offer you the opportunity to check out helpful tutorials, reviews, tips on how to install and use plugins, themes, tools, etc. If you are looking for some useful webinars on WP, the blog also offers many worth considering.
Launched in 2008, WPRecipes is a creative blog that has answers to any question about WordPress you may have. Alongside with valuable tips on how to code correctly, these guys frequently share giveaways, enabling you to start or update your WP site with a premium quality theme that won't cost you a penny.
Graphic Design Junction covers every minor aspect of web design – from fonts and icons to freebies and tutorials. On a daily basis, these guys share all those inspirational and motivating articles for web developers and designers who want to increase their knowledge and skills in WordPress, photoshop, jQuery, and Vector Graphics.
As the name implies, WPBeginner is the ultimate resource for everyone who is taking his or her first steps in WP site development. If you follow the link, you'll see that the blog features plenty of articles, guides, tutorials, and expert advice posts that are easy to understand and to follow.
11 Sites Offering Free WP Themes
Freebies… This is what any experienced web developer or a newbie is hunting for. Free WordPress themes can not only save you money on a custom-made design for your WordPress website or blog, but these also include functionality that many premium templates boast. I believe each of you has at some time searched for a fine web resource that offers a rich selection of free WP theme for any business niche. Was your search always fruitful? How many times did you come across the less than satisfactory? To save you from that, we have handpicked 10 trusted providers of free WordPress themes. These offer not only freemium solutions for your site, but also smart designs and rich functionality. Just check them out for yourself.
Many of us know TemplateMonster as an experienced provider of premium templates with over 12 years on the market. However, did you know that they also release free WordPress designs that can be used to get your site up and running in no time? Free WordPress themes from TemplateMonster are built with valid code and all the latest web design trends in mind, just to help you look more powerful and competitive on the web. Each theme is fully featured and well documented, which should help you with installation and further theme management.
And we'd like to take this chance to remind you, dear readers, that DesignWall.com is also offering a few free WordPress themes. These are DW Timeline, DW Minion and WallPress. You can download them at no cost and use for personal blogs, portfolio sites, corporate blogs or other projects. The most important is that our freebie helps you to build a stunning WP site.
Modern Themes provide ready-made WordPress templates that are beautiful in design and simple to use. Great looking, well coded, bloat-free, their free themes will fit both small businesses and large corporations. Need to start an e-Commerce website? Not a problem. Modern Themes have freemium solutions for the purpose.
It's the second time we have mentioned WPExplorer in this post. Together with running an informative blog section, WPExplorer provides trendy WP themes for a variety of purposes – photographer portfolio, corporate, business, personal blog, to name a few.
Though the selection of Graph Paper Press' free themes is not as comprehensive as the one at WordPress.org, for instance, it is still worthy of your attention. If you browse the gallery, you will see that every template boasts a unique design, which increases your chances of standing out from the crowd.
Anders Norén is a WordPress designer from Sweden. He started creating his first web projects when he was 15 and now, being a Media and Communication student, he runs a WP site offering modern WordPress, with over 300k downloads. Check out his gallery, there is a lot to impress you.
Like any other provider on this list, Crocoblock lets you choose from among multipurpose free and premium WordPress designs. What's noticeable, the freebies they provide boast almost the same features as their premium peers. Their free WP themes come with custom admin panels, 80+ shortcodes, grids, posts output, lists, audio and video support, and many other handy features to help you create an absolutely unique website.
Along with selling premium templates, Dessign lets you download cool portfolio themes free of charge. All of them are made fully responsive, so by downloading a freemium theme from Dessign you will kill two birds with one stone – save big on a professionally created template and start a website that will run equally well on both desktop and handheld devices.
Colorlib has an awesome blog where they share tutorials, thematic compilations of themes, WordPress coupons, giveaways, and much more. Also, they provide well-documented and highly customizable free WP themes that you can safely use in your personal or commercial purposes.
Themeisle offers a wide range of free and paid WordPress templates that are well suited for almost any business, including medical, portfolio, personal, design, music, etc. Freelance developers, startups and large corporations can make use of these for creating a stunning web presence.
Of course, our selection of trusted free WordPress themes providers would be incomplete without WordPress.org. It offers a huge directory with secure templates for any business niche. Whether you need a ready-made design for your blog, portfolio or business web page, WordPress.org provides free themes for literally any purpose.
5 Sites with WP Podcasts
Here comes the last block of this post – 5 WordPress podcasts that we have carefully selected for our dear readers. Reading is good, but looking through dozens of posts a day to find something truly informative can be a very time-consuming process. That's why, to save much of your time and effort in finding the best WordPress podcasts to listen to, we have shared 5 links that can be of use to you in your work.
Matt Report is one of the most respected WP podcasts in the industry. With over 100 episodes recorded, at mattreport.com you can listen to interviews with the most talented personalities in the WordPress space. Whether you work in the customer service sphere or sell themes, you can find the right podcast for you here.
WPwatercooler brings together people from the WP community to discuss new approaches in web development, how much the platform has changed and what effect it has on our businesses and lives. Their podcasts are streamed live on WPwatercooler.com and YouTube every Monday at 11am to 11:30am PST.
Starting from 2010, Dustin Hartzler from Your Website Engineer shares valuable podcasts on how to create a high-quality website on your own, without the need to hire a web guru. Podcasts are released weekly, every Wednesday. Each of them covers one topic in order to focus your attention on doing one thing per week.
Every Friday, WPTavern runs an online show that specializes in everything connected with WP. Together with highlighting news throughout the community, these guys also share interviews with the industry leaders.
WP Round Table provides podcasts on different aspects for every visitor to find a variety of solutions to implement in their websites. For instance, they share knowledge on hosting, SEO, security, WPML support, themes, etc.
I hope you have found this collection useful and some of the aforementioned web resources are good enough to be bookmarked. What other popular WP blogs, providers of WordPress themes and sites offering podcasts do you know? What else should have been mentioned on this list? Please share your opinion below this post.