If your online store is running events, it's important that your visitors to your website can find them easily. Furthermore, if a list of your upcoming events is difficult to search and access, you could see your customers is less on the day. One of the reasons for loving WordPress is the number of plugins available. Of the best WordPress plugins, there is a myriad of event calendar plugins on the market to make displaying and administrating your event listings quick and easy. The WordPress calendar plugins allow you to easily create and manage your events online through the admin interface.It also let visitors register and pay online for events, manage attendees, create discount coupons, export attendees list, and much more.
Finding the right WordPress calendar plugins is no easy task, with all the free and premium calendar plugins is hard to make a choice.In this article, I'll give you the best WordPress calendar plugins to help you know exactly which one will suit your requirements. Let's get started!
The Events Calendar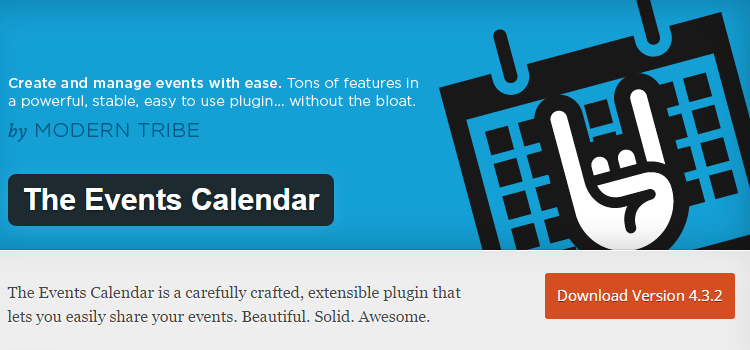 The Events Calendar is a powerful event management system for your WordPress site. This is an extensible plugin that lets you easily share your events and allows you to create and manage events on your website. Especially, this plugin is made very beautifully and available in both free and premium versions. It also has the Facebook integration that allows you to share your events.
Download
Ajax Event Calendar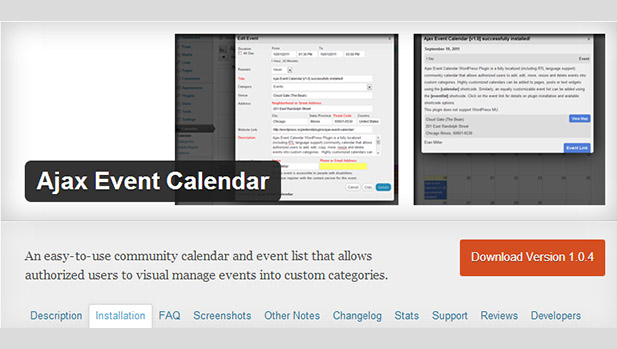 Ajax Event Calendar WordPress plugin is very easy to use which allows authorized users to create, edit, delete, copy, resize and move the events. The plugin supports daily, weekly, monthly and yearly events and displays events in the day, week and month views.
Download
My Calendar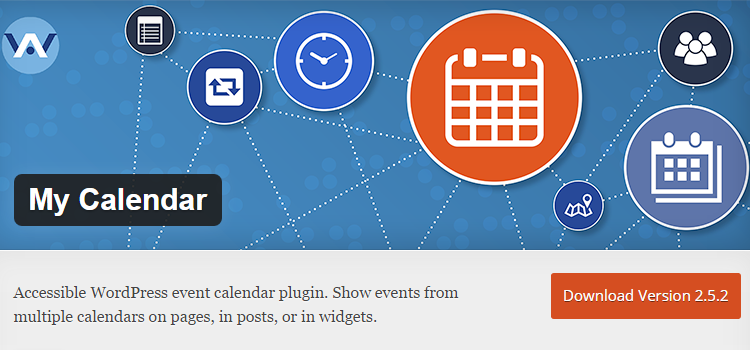 My Calendar does WordPress event management with richly customizable ways to display events. This plugin supports individual event calendars within WordPress Multisite, multiple calendars displayed by categories, locations or author, or simple lists of upcoming events.
All in One Event Calendar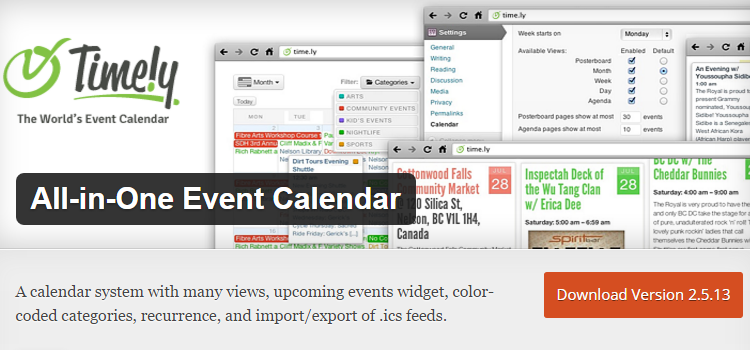 This is a durable and user-friendly calendar plugin which creates events calendar as well as share all your events to the people over the world. The plugin allows you to list and schedule all the upcoming events. This plugin supports the daily, weekly, monthly and yearly event views.
The most interesting thing about this plugin is that it promotes your events with an outstanding poster board display. The intuitive interface of this plugin makes it very easy to use. You can also link the ticket purchasing URLs in the original calendar that allows you to sell the tickets for an event through third parties.
Download
Sugar events Calendar Lite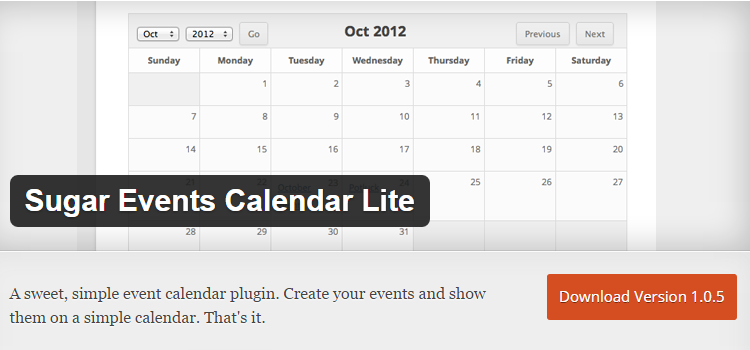 Sugar Event Calendar is a sweet and simple WordPress event calendar plugin.
It is designed to be simple, lightweight, and provide just the major features you need for event management.This plugin is available in both free and premium versions. The free one offers features like simple event management, custom post types, showcasing dates, months and other related data. It also supports certain Shortcodes to achieve further functionalities.
Download
Calendarize It!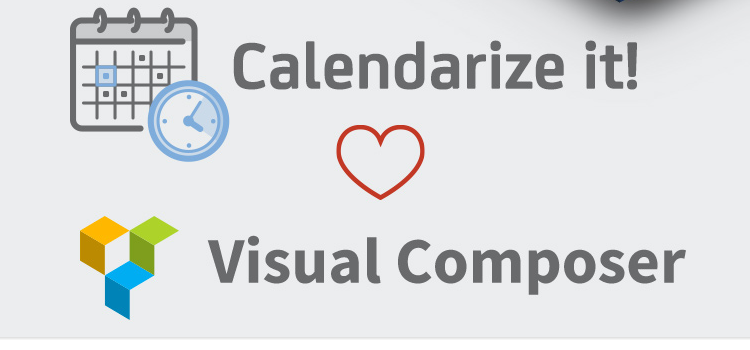 Calendarize It is a paid app available on the WordPress plugin catalog. Due to its diversity and cool colorful themes, it is one of the most amazing calendar plugin available on WordPress. What makes it different from other calendar plugins is its Visual CSS Editor giving transparency to change and customize design on developer levels. Additionally, the support is par excellent and it comes with a number of downloadable add-ons.
Download
Facebook Events Calendar WordPress Plugin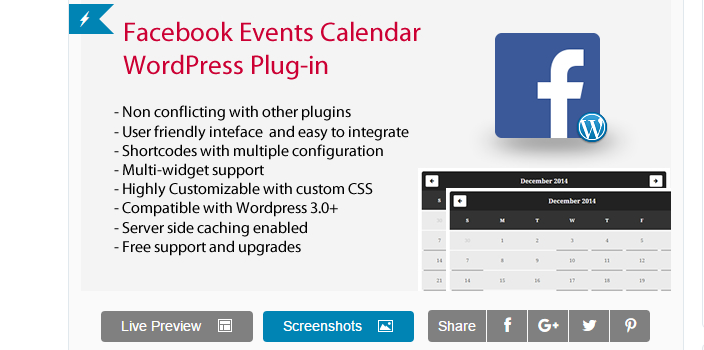 The Facebook Events Calendar WordPress Plugin connects your website calendar to your Facebook Events. It has great performance, using server-side caching as well as settings to configure it. You can also choose between using the calendar date time or the browser's time zone. Facebook Events Calendar WordPress Plugin is a unique way to bring your Facebook Events to your website.
EventON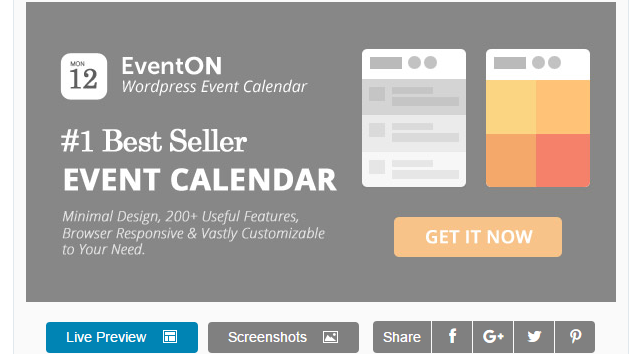 EventON offers an amazing Calendar design and an exquisite user experience to customers. It's beautifully-crafted, clean tile design is packed with tons of features for your website need. Recognized among customers for its feature availability, it is an awesome calendar which comes with WPML compatibility for event registration system.
Download
Timetable Responsive Schedule For WordPress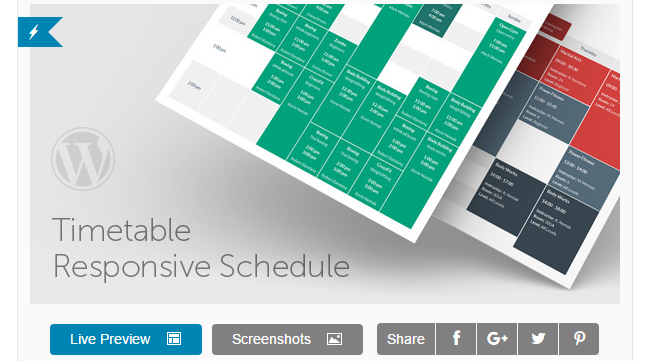 The Timetable Responsive Schedule For WordPress plugin offers a whole different look and approach to WordPress calendar plugins. You can use the Timetable shortcode generator to create timetable views for classes, medical departments, nightclubs, tutoring, and so on. Timetable Responsive Schedule For WordPress also includes a great widget lineup, rounding out one of the best WordPress calendar plugins you'll find.
Download
Archives Calendar Widget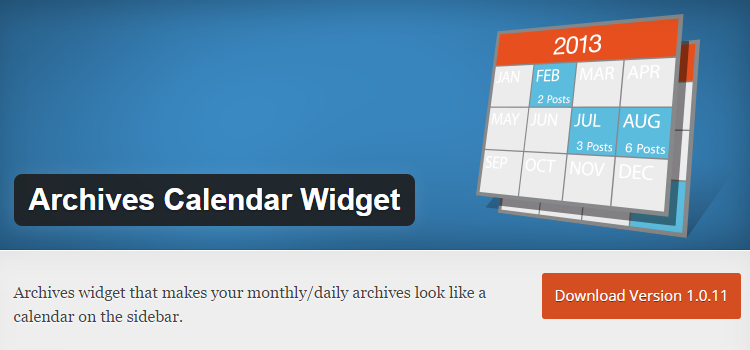 Archives widget that makes your monthly/daily archives look like a calendar on the sidebar. If you have a lot of archives that takes a lot of space on your sidebar this widget is for you. Display your archives as a compact calendar, entirely customizable with CSS.
Download
Booking Calendar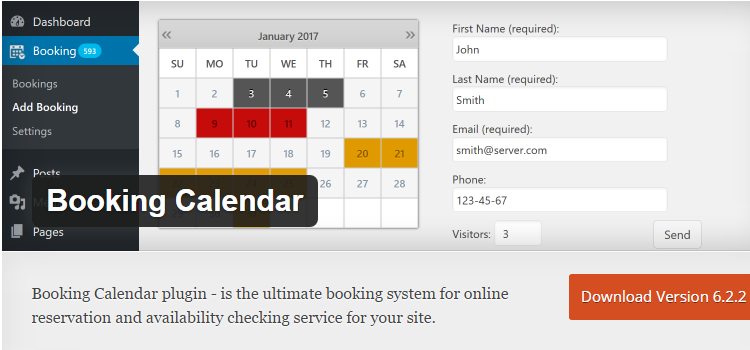 As the name suggests Booking Calendar is a booking management plugin for WordPress. It allows you to add a calendar to the front-end of your website where users can fill in a simple form to submit their booking requests. You can then accept or decline their booking request.
Booking Calendar comes with CAPTCHA support to avoid spam. You can control who can add a booking in the admin area. One downside of the plugin is that you cannot add new input fields for booking form in the free version of the plugin.
It can be used for booking any kind of service. However, if you are particularly looking for a hotel booking system, then you should check out our guide on how to add a hotel room booking system in WordPress.
Download
Google Calendar Widget

As the name suggests, it will help you simply add a widget to the sidebar or maybe in the footer, displaying content from Google Calendar. Events, dates, and different calendar views are being supported, and everything can be configured easily using the Google ID. With over ten thousand downloads, it is a recommended solution.
Download
Pinpoint Booking System PRO

This calendar is much more than a calendar or event calendar. Pinpoint Booking System PRO is a complete booking system that includes the option to easily integrate with WooCommerce. Creating a booking and reservation system has never been this easy. This is fully responsive and also has the ability to set up email templates and notifications.
Bookly Booking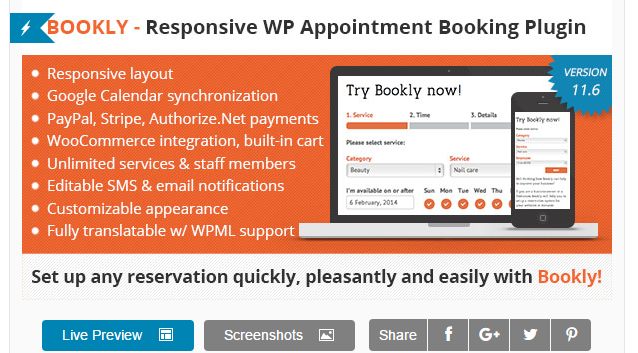 Bookly is an incredible appointment booking system that blurs the line between WordPress website and web application.This is well designed, fully responsive, and even supports gestures. Customers can book their own appointments, include personal information, and send payment. They can also cancel their own appointments via their confirmation email. There's also the ability to create schedules for each staff member—you can even block out holidays. Bookly's customization options and useful features will make it more than just a way to serve customers well, but also help the website owner keep track of staff and
Download
Event Organiser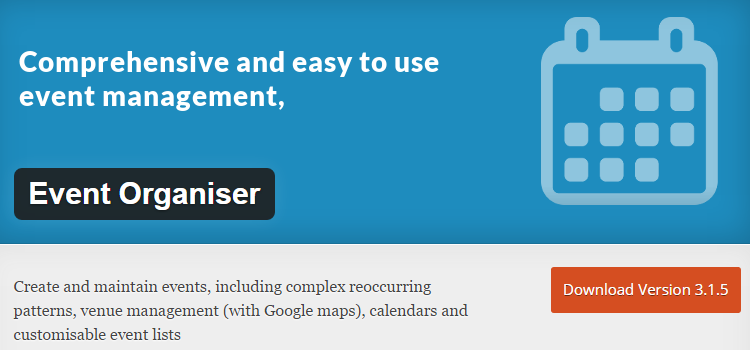 Event Organiser plugin allows you to add and manage events on your WordPress website. It is the most comprehensive and easy to use event calendar plugin for WordPress. The plugin has an intuitive user-interface that allows you to view your events in the WordPress list or in a Calendar page. Event Organiser is available in both free and premium versions.
Download
In Conclusion
These are some of the best WordPress calendar plugins, but each one is different. I hope that this post can help you find out the most suitable calendar plugin for your online business.