It has been awhile since we first released our DW Question & Answer WordPress plugin and we feel grateful for receiving lot of interests and support and as well as contributed ideas. Though it is our free WordPress plugin, we have been spending a huge commitment and effort in developing the plugin and keep it growing.
To kick start the new year, we proudly announced the new release of DW Question & Answer plugin: version 1.1.0 with a makeover along with bug fixes and a lots of improvements.
1. A complete makeover
We have tuned up the design of the plugin and give it a complete makeover. Rearranging features and functions in order to make a cleaner layout and also to enhance the user experience and interface for the plugin.
Version 1.1.0 with a retouch in design
In comparison with the version 1.0.4 and older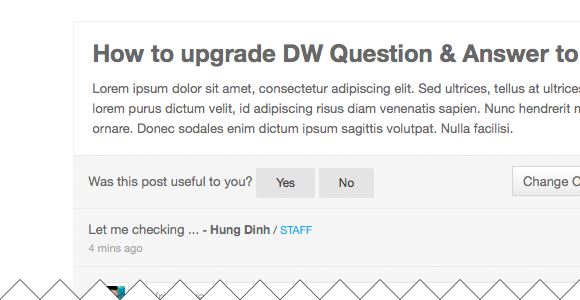 Follow question
A complete new feature in the plugin. Now you and everyone can follow questions that you have interest in and you will receive all the notification regarding to that question like new answers or comments.
Of course, you can unfollow the question any time you want and the notification email will be no longer sent to you.
Private v.s. Public
Though we support the idea of open sharing knowledge and information, we still respect the privacy of the users and that is why we have the Private and Public feature for questions and answers.
In this version, we allow you to switch between Private and Public. As the author of your own question and answer, you can freely switch it from Public to Private or vice versa.
Private Question
There is not much to talk about this Private Question feature as you may be familiar with it already. However as the user roles become more complicated, there is a note that you should know: once a question is set as private, only Question author and site Admin can view it.
So? So, for those who follow this question or even contribute answers and comments to this question, sorry, you guys can no longer view this question.
Private Answer
Using the same concept with Private Question, we now support Private Answer feature where you can post a private answer even within a public question and only you, the question author and site admin can read it.
Who can view private answers?
There are 3 user roles that can view a private answer: Answer author (the one who post the answer) – Question author (the one who post the question that has that private answer) – and Site Admin (of course).
The Answer and Question author roles are default setting, you can only set up for your site Admin roles in case you want to have Contributors to help you out with private answers as well as questions.
No more sidebar
A significant change that you will recognize in this new version of the plugin is that, there is no more sidebar on single question page. The single question page is now displayed in full width.
Like before, we had a sidebar in which we displayed question related information like Question author name, question category and tags and so on. However, this sidebar caused issues layout broken in some cases, and to simplify the page, we decide to drop the sidebar and rearrange all the elements to the main content.
Question category, tags, status as well as question authority, all are displayed nicely right under the question content.
2. Improvements in Email notification
We have here a new option and a new email notification in the system.
A new option: now you have a control over the notification system. You can enable or disable the send out function for each email notification. We understand that if you are the admin of a site and receiving all the single email notifications could be annoying sometimes.
A new short notification is added to the code in which to notify followers whenever there is change in their followed questions. This notification is not yet supported in Notification setting in admin panel, we will soon make it available in the next updated version.
Keep walking, keep coding.
That's properly our statement and commitment for DW Question & Answer plugin.
We will keep coding and developing the plugin. We have ambition and a road map to archive. For every 2 weeks, we will commit to release an updated version for the plugin, may it be bug fixes or new features.
That's it. Now it's time to explore this whole new DW Question & Answer plugin and tell us what you think about it.
P.S: don't forget to spread the world as well 😉