There are numerous online learning website and knowledge bases on the internet. Their aim is to share their knowledge. Some of the education based websites offer online training and learning courses. But how to find the most suitable WordPress theme to attract your students and audiences? It's not an easy task! If you too want to share your knowledge, here are some of the best options for you. Here is a list of 40+ Impressive and Responsive Education WordPress Themes what you need. You'll also find the themes for Kindergartens, Primary, University, also for creating and selling courses online. Are you ready? Let's get started!
Fable – Children Kindergarten WordPress Theme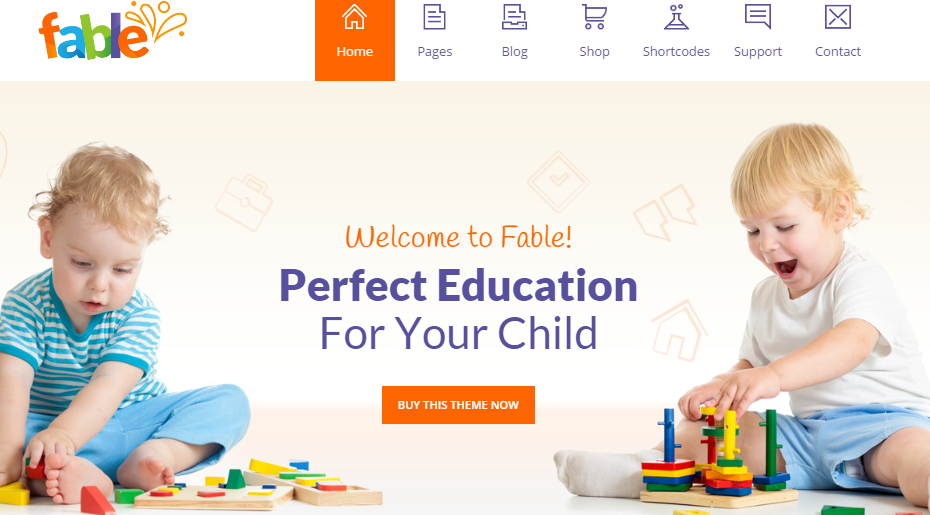 Fable – Children Kindergarten WordPress Theme is a responsive WordPress Theme best suitable for kindergarten, primary school or elementary school, junior high school, college, child care center, creche, preschool or nursery. Fable – Children Kindergarten WordPress Theme is also suitable for any children or education related projects like toy story, babysitting (babysitter) website, summer camp website, education courses, craft or art school.
Price $59
Magicreche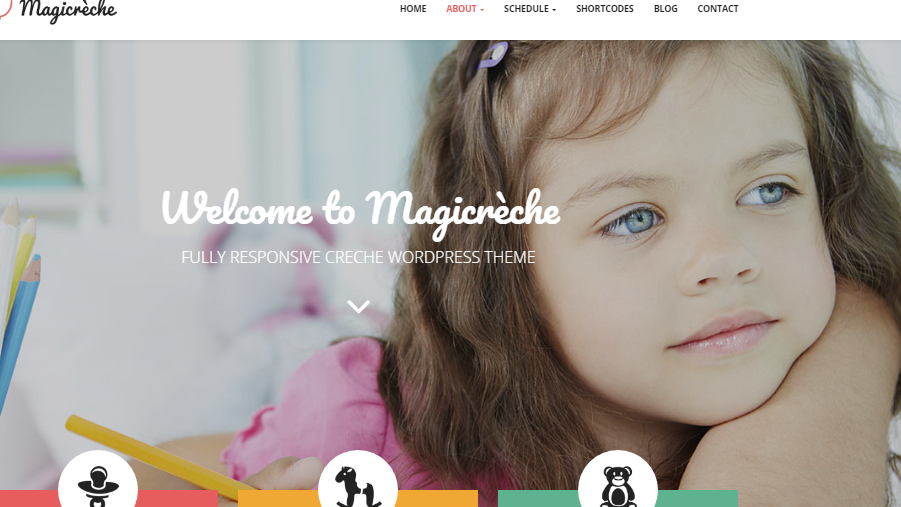 Magicreche is a clean and beautiful theme for schools, kindergartens, and other education related websites. This theme is well optimized for smartphones and tablets thanks to Bootstrap framework. The theme packs well-developed Theme Options to control every aspect of this theme. The theme is multilingual ready with full WPML plugin support.
Price $49
Preschool WordPress Theme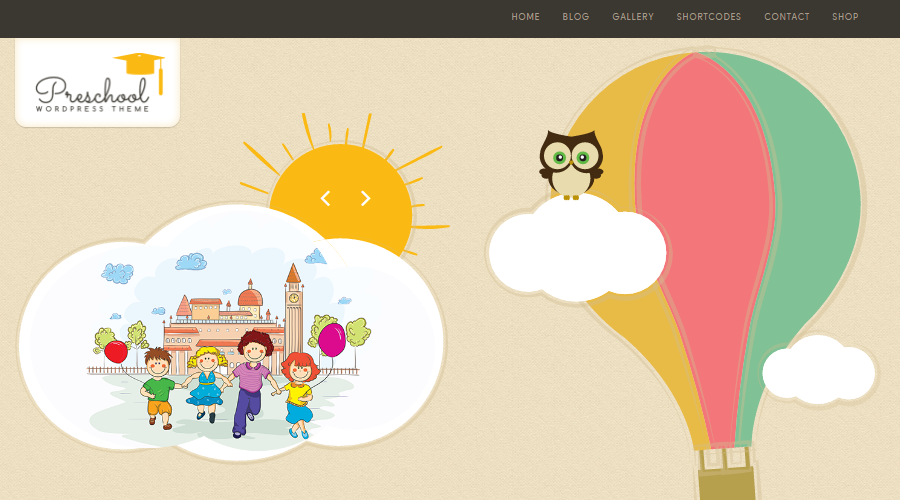 Preschool is a responsive Retina-Ready WordPress theme, designed for preschools, kindergartens, nurseries, or any other children-themed websites.
Price $59
The Children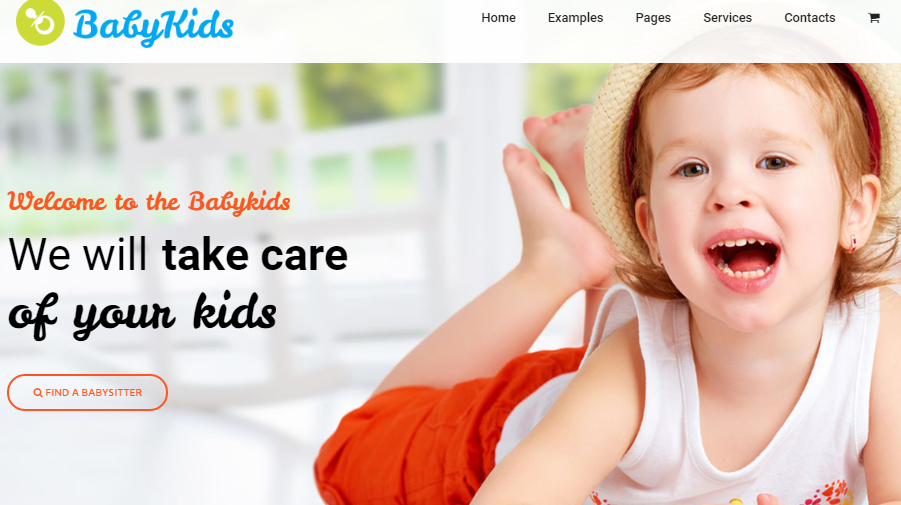 Remove featured image
The Children is a Premium WordPress theme for babysitters, nannies, preschool, kindergartens and child-relevant websites.
The babysitter theme contains 2 different designs, easy-to-use drag and drop page builder and slider builder, 6 headers, unlimited color various and 256 kids icons.
Price $59
TechEdu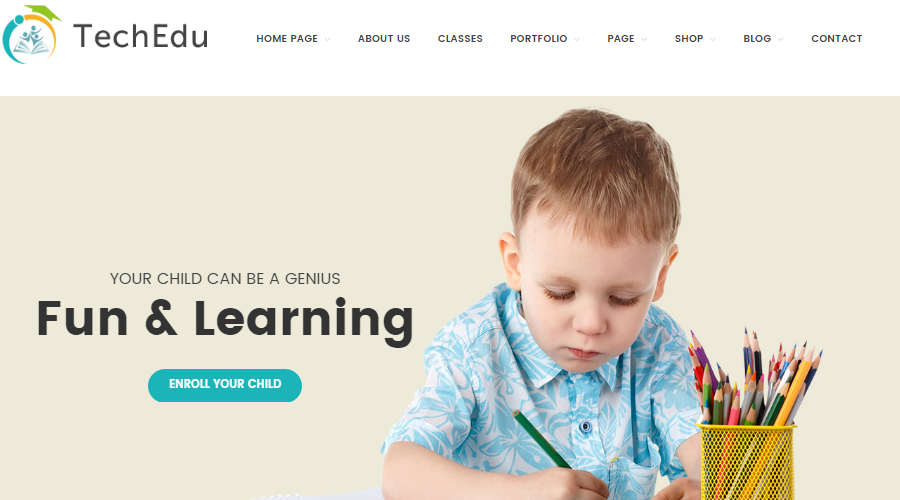 TechEdu – Education WordPress Theme is a responsive, clean and modern designed WordPress Theme. Techedu is premium education theme for academia, academy, campus, course, courses, e-learning, education, laboratory, learn, learning, school, student, students, teacher, university etc.
Price $39
Baby Kids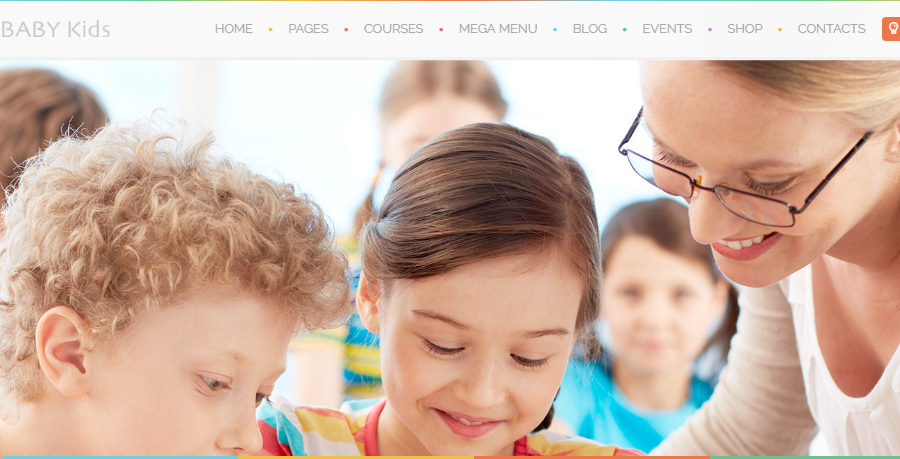 Baby Kids is a multi-page and Multipurpose WordPress Educational Theme suitable for School, College, Kindergartens, Elementary, Primary Schools, Secondary Schools, Universities, Academics, and Educational. Baby Kids Theme is also suitable for any educational activities and, with the colorful design, it is ideal for toys stores, activities related to children too. Baby Kids can be adapted to any kind of industry – not only educational but also babysitting and summer camps for example – and much more thank to the super flexible and fully responsive design.
Price $49
Kiddy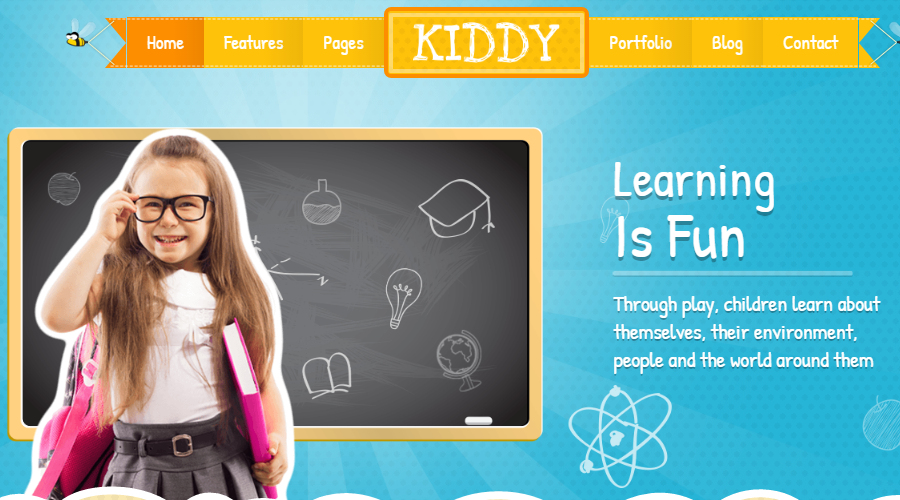 Kiddy is a powerful children WordPress theme suitable for a wide variety of children-oriented websites. It's playful and colorful design, complete with "flat" graphics and copious white space, out-stands this theme from others and makes it applicable for kindergartens, pre-schools, schools, child care and may other businesses!
The theme looks great on tablets and mobile devices due to its responsive design and retina graphics. It comes with various header types, wide and boxed layouts, includes unlimited color schemes, huge theme options panel, drag and drops content editor and more.
Price $49
Child Dooris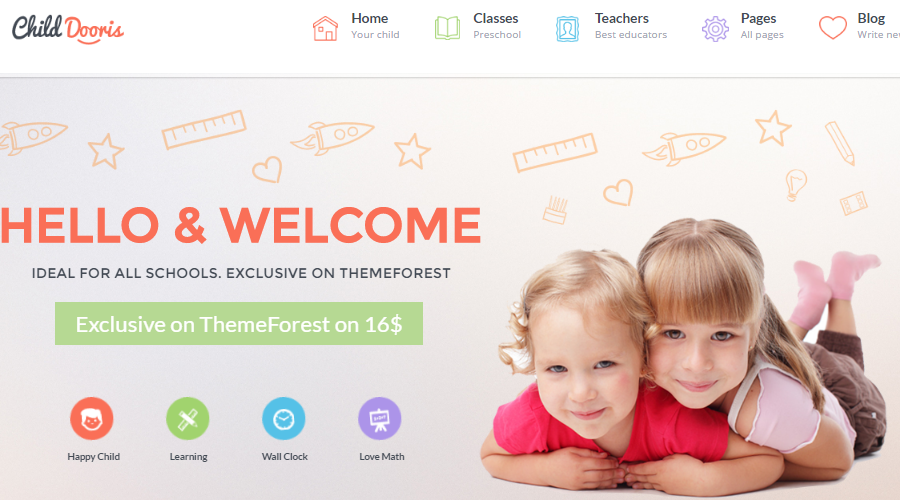 If you are a developer beginner or an expert, you will find just what you need to create a neat Kindergarten Website to build your presence online. We wanna to present you a professional and awesome WordPress theme for kinder gardens, daycare, preschool and it would suit for any children, art, craft, school.
Price $59
Carry Hill School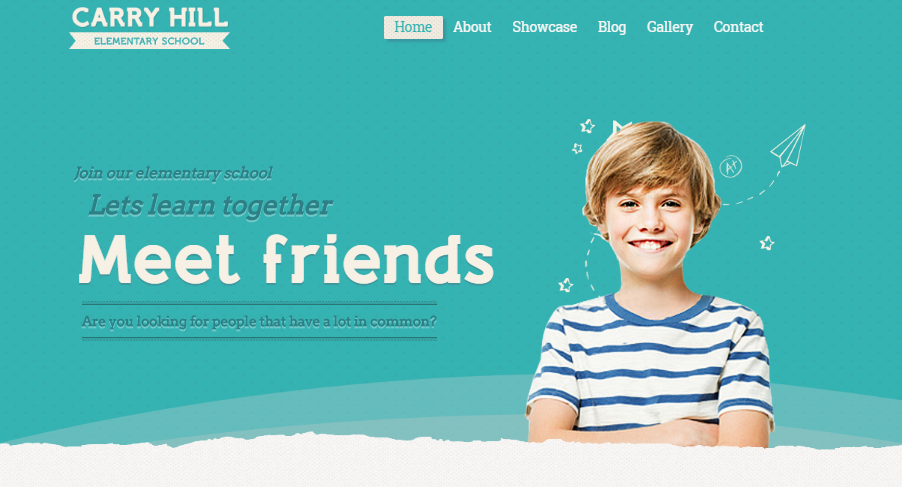 Carry Hill School is a responsive and education based theme for WordPress. The theme is basically prepared to create a school or child care center's website. But you can also use it to create a website for kids learning or any arts or crafts or creative website.
To provide you the ease of page building, Carry Hill School comes with Visual Composer. Now, you can create the pages of your imagination with drag and drop options. You can select from the 9 color presets. The theme options panel is very powerful yet easy to use. Carry Hill school has the schedule plugin, Timetable schedule for creating and displaying timetables.
Price $49
Education WordPress Theme Pro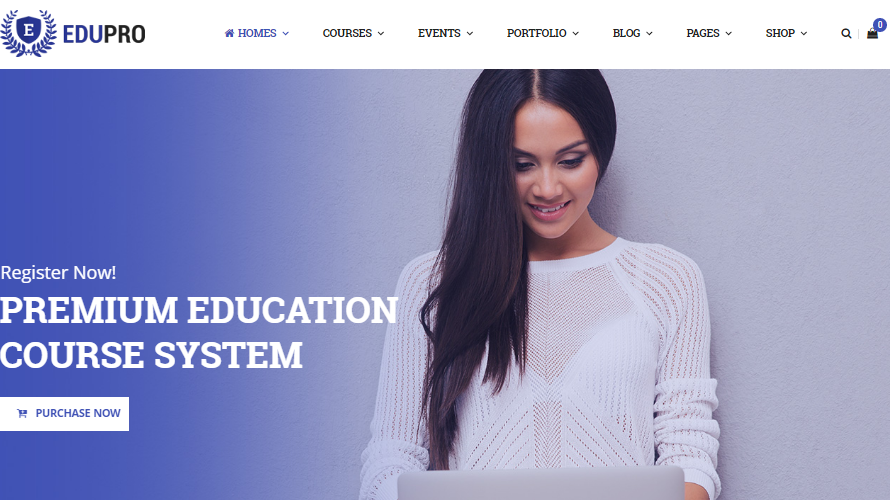 Education WordPress Theme Pro is the best education WordPress theme designed for university, college, school, online courses and other education related websites. Education WordPress Theme Pro has everything you need to create an excellent education website. This WordPress education theme has a streamlined, practical design that is sure to attract many readers. Education WordPress Theme Pro also incorporates huge premium features, which were added free of charge.
Price: $29
Kalium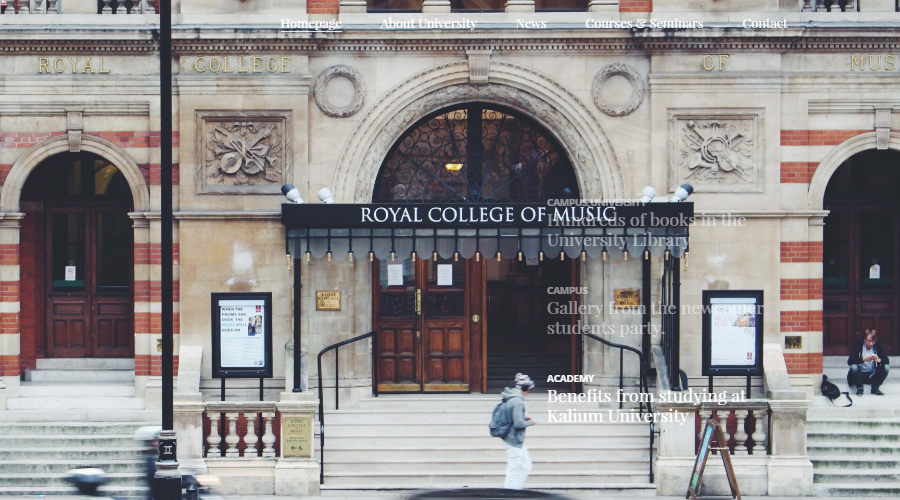 Kalium is a creative WordPress theme that will showcase your Portfolio, Agency, Photography or Blogging (plus much more). With stacks of layout designs, user-friendly Theme Options and rich Drag and Drop content builder to help create your perfect site in minutes, you can use it as a Multipurpose theme too. Kalium is well organized, visually stunning and constantly evolving.
Price $59
Academia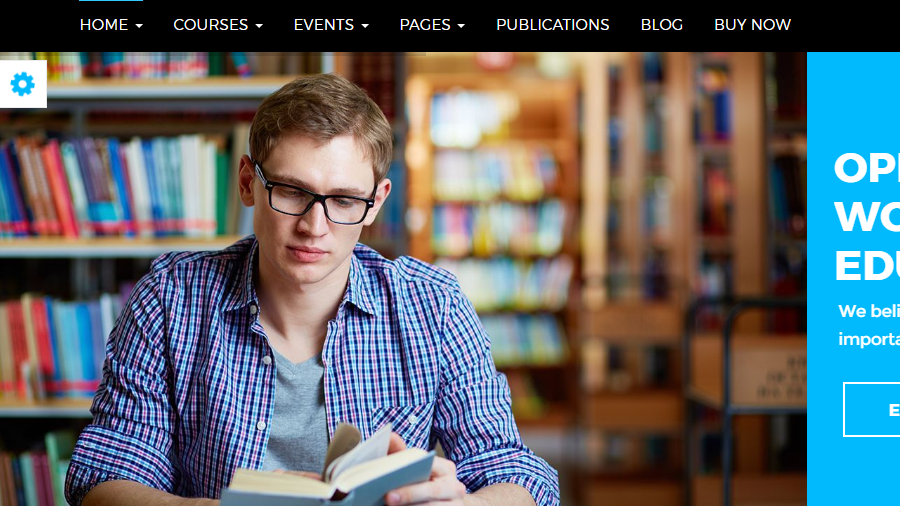 This stunning educational WordPress theme fits perfect for schools, colleges and language centers, the modern edge designs coupled with latest web features flourishes the use of all functionality and provide an informative, contemporary experience for students and viewers.
Price $59
Invent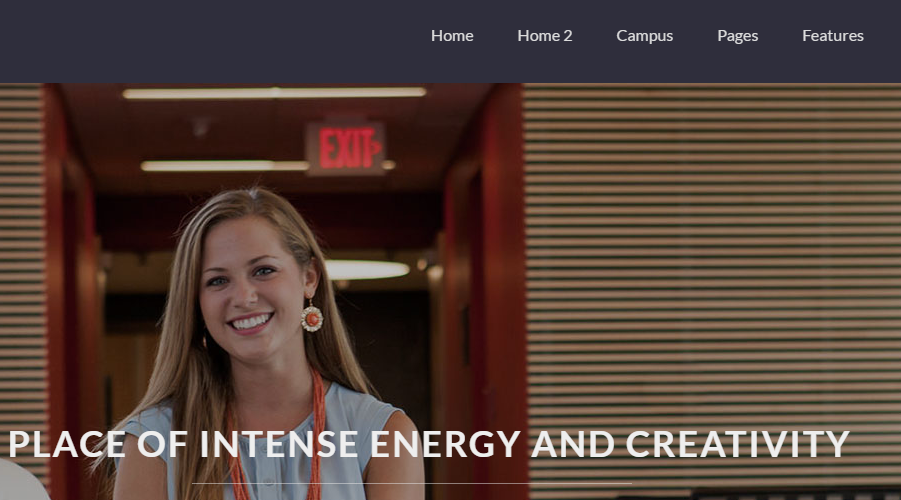 Invent is an education theme with a unique look and feel, designed to meet the needs of Schools/Colleges/Universities. It is a result of extensive study of countless actual websites of educational institutions and their requirements.
Along with educational institutions, Invent is flexible and feature rich enough to also cater to the needs of design agencies, corporate websites and small businesses.
Price $59
Upside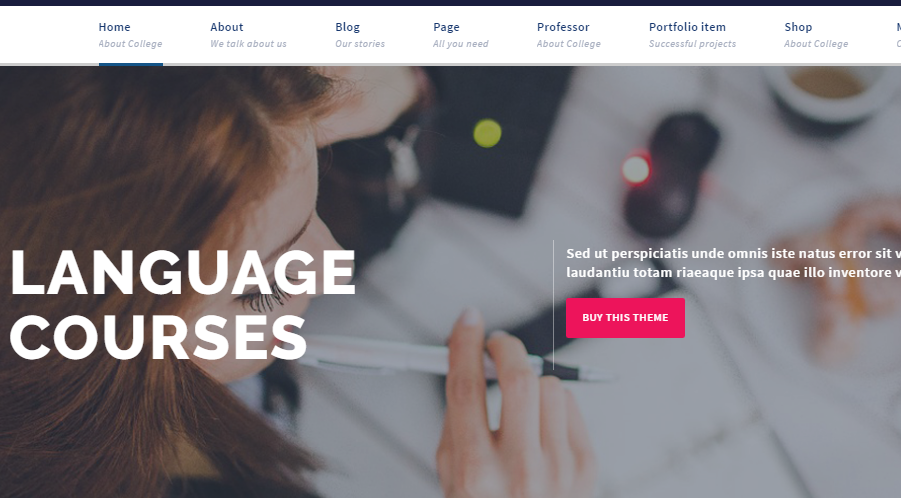 Upside is the ultimate responsive multi-purpose WordPress theme designed for any kind of business websites, from small to medium-sized enterprises. With Upside Education theme, you can find it easy to manage events, manage courses by category, search courses by subject, sell online courses, and manage faculty and staff through back-end. This theme enables you to create a forum page using bbPress plugin and a document page for downloading document right from the site. You can also use Education theme to establish a landing page which is ideal for showcasing your products or services.
Price $59
WPLMS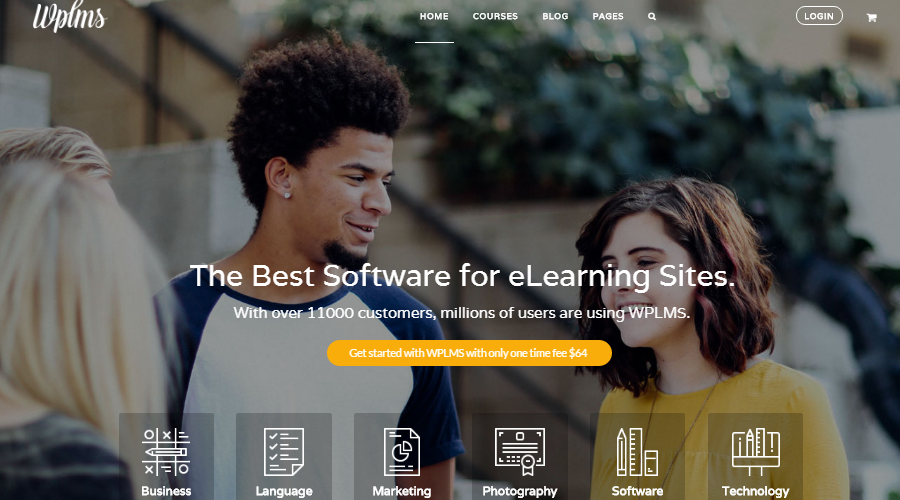 WPLMS is a Learning Management System for WordPress. It is suitable for Educational Training Centres, Corporate training, Coaching centers, Course tutors, College, Academy, University, School and MOOC platform. It is an e-Learning WordPress theme for course management, instructor, and student management using which you can create and sell your courses online.
Price $64
LMS WordPress Theme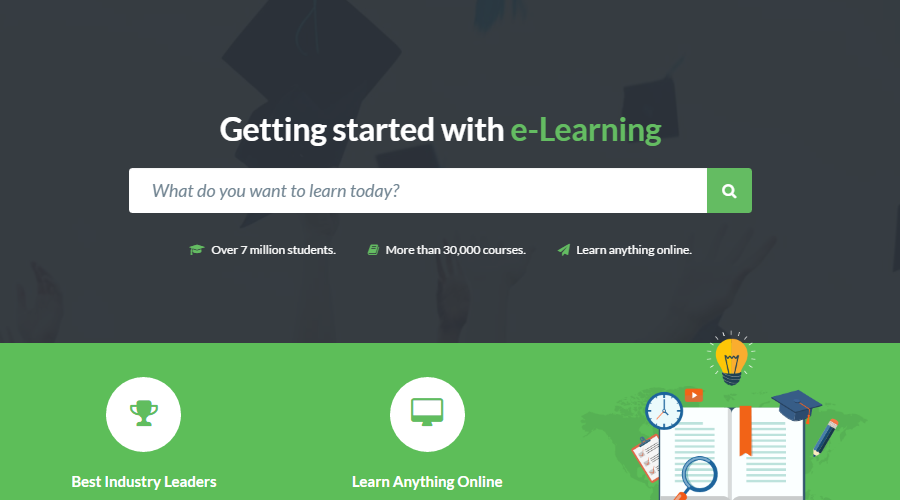 LMS WordPress Theme – eLearning WP is one of the best LMS WordPress Themes outstandingly powerful, smart learning management system (LMS) based on WordPress platform in which courses, lessons, quizzes, and questions are easily made and managed. These courses for sale can be free or premium.
Price $64
Skilled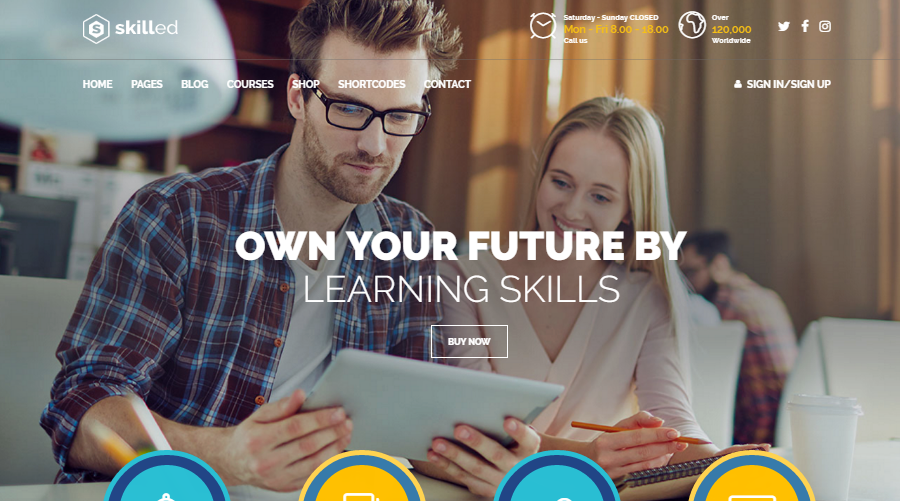 Skilled is an attractive and visually intuitive and well-structured, easy to use and highly engaging and modern, readily responsive WordPress school education courses website theme. Skilled has been developed as a robust and reliable framework for webmasters with or without previous coding or development experience to effortlessly craft the most sophisticated, functional and feature-rich educational websites on the market today, with full-fledged capabilities for dynamic, interactive coursework to be completed to fruition within your very own, customized Skilled website, through intuitive dynamics, creatively structured layouts and powerful plugins that make short work of disseminating educational courses online.
Price $60
My University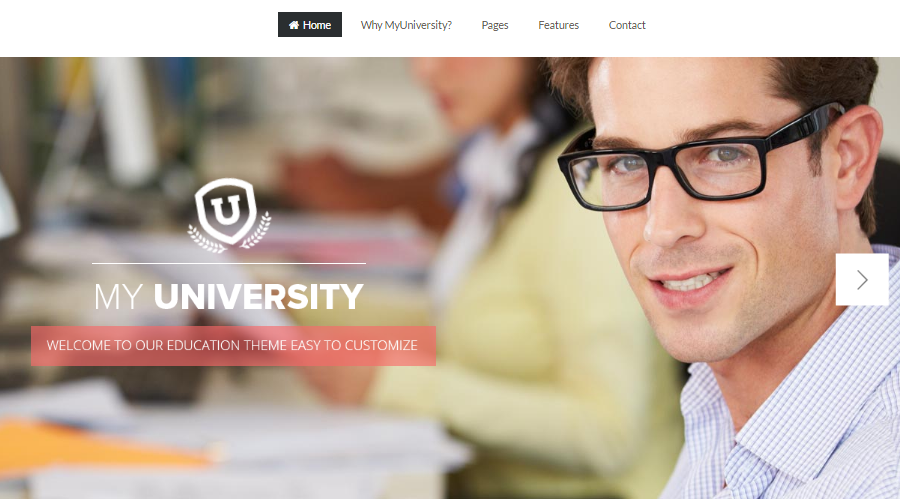 My University is a powerful, feature-rich education WordPress theme that is suitable for all types of education related WordPress websites. Built on the responsive Bootstrap 3 framework, My University also includes the Visual Composer which you can use to build your custom pages based on your personal requirements. This education WordPress theme offers advanced course modules to display relevant information about courses and schedules to website visitors and course members. My University is furthermore SEO optimized, translation ready and highly customizable thanks to its powerful theme options panel.
Price $44
Clever Course
Clever Course is an LMS (Learning Management System) WordPress theme. It?s suitable for school, university, college, education etc.. This theme is designed especially for creating and sell courses. You can sell both online courses either on-site course. For online, each course can be separate into parts/sections and you can also create an online quiz to evaluate learners.
Price $63
Universe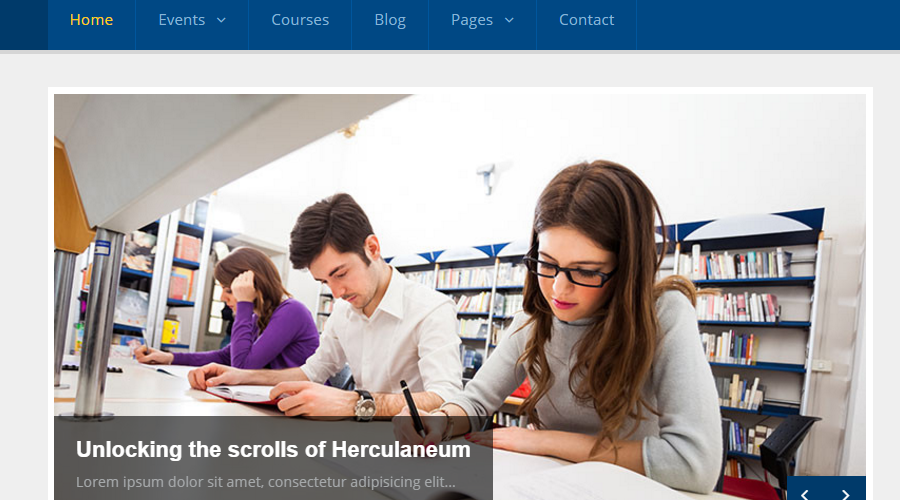 Universe is a clean and modern WordPress theme suitable for University, Colleges and Educational websites, it is packed with nice features such as complete theme options panel to control every aspect of your theme, also we have included several custom post types to manage courses, events, slides, testimonials and galleries sections. Coded with all WordPress standards in mind our theme will prove to be a solid solution for your next educational website project.
Price $63
Masterstudy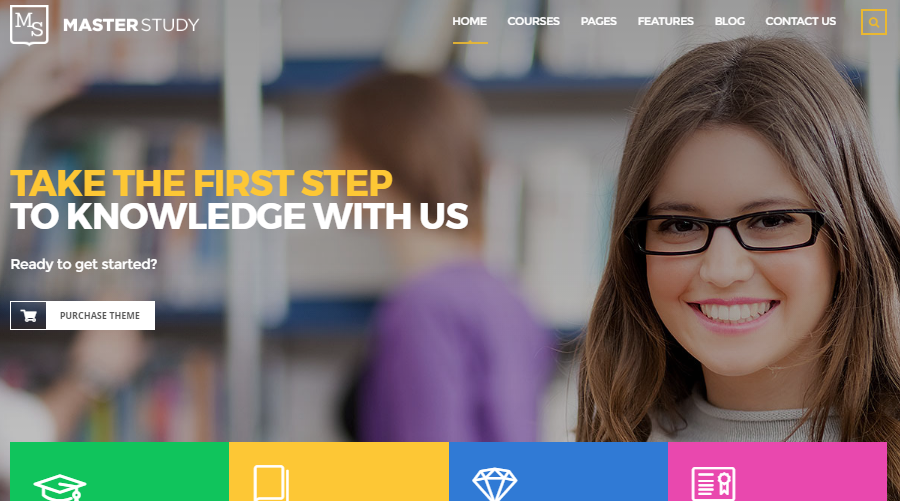 MasterStudy is the best WordPress theme for the Education & Learning Center – for educational organizations, who sell courses and organize classes locally. MasterStudy has been specially designed as the perfect education WordPress theme for your learning center. Whether you specialize in local workshops or online courses – free or paid – Masterstudy is the only theme you need to build a vibrant and effective learning hub for your educational organization or business.
Price $59
EducationPress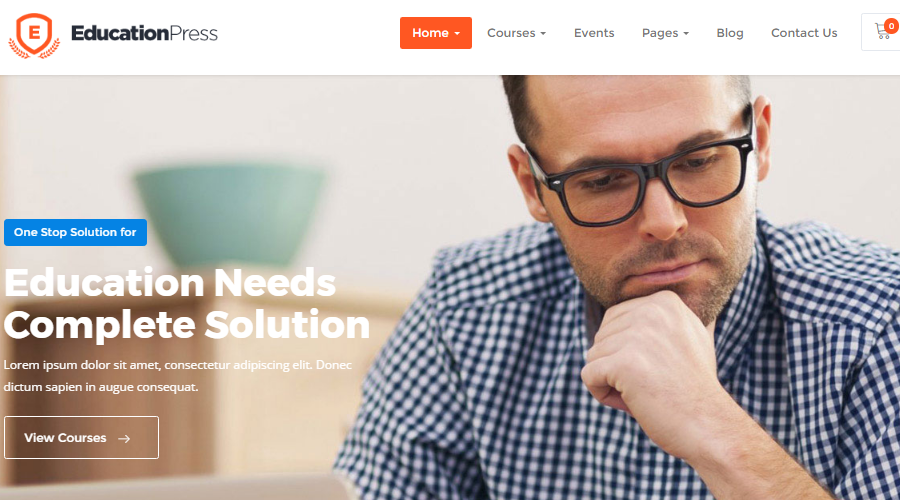 EducationPress is a theme that is perfectly suitable for colleges, universities, academies, education centers, and everyone that needs a powerful learning management system (LMS). The theme is built from the base up with the sole purpose to be the one stop solution to offer the best LMS experience, and be the best WordPress education theme on the planet.
Price $59
Guru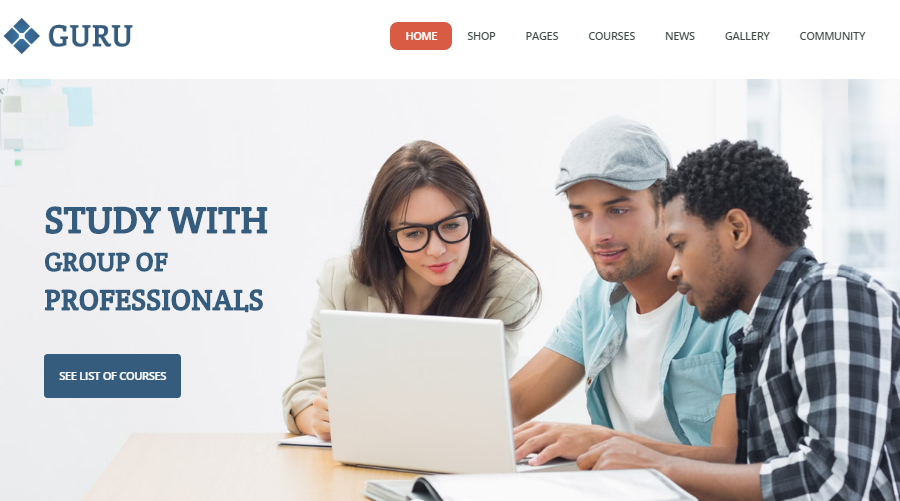 Guru is a powerful learning management (LMS) WordPress Theme effectively uses WordPress, Sensei, BuddyPress, WooCommerce, Event Calendar, WPML, Mail-chimp. This theme provides awesome features for creating online courses, Teacher Profile, Extended user profiles, Lesson management, Quiz System, Video Hosting, Ranking / Rating system, Questions system, Attachments, Tracking course progress, WooCommerce integration, BuddyPress, Event Calendar, WPML Support and more. Start teaching online, Build a Training Website.
Working with Guru is really easy. We built it to increase your satisfaction and fun from online training. It's a learning management system that makes learning and teaching online easier for everyone.
Price $59
Total School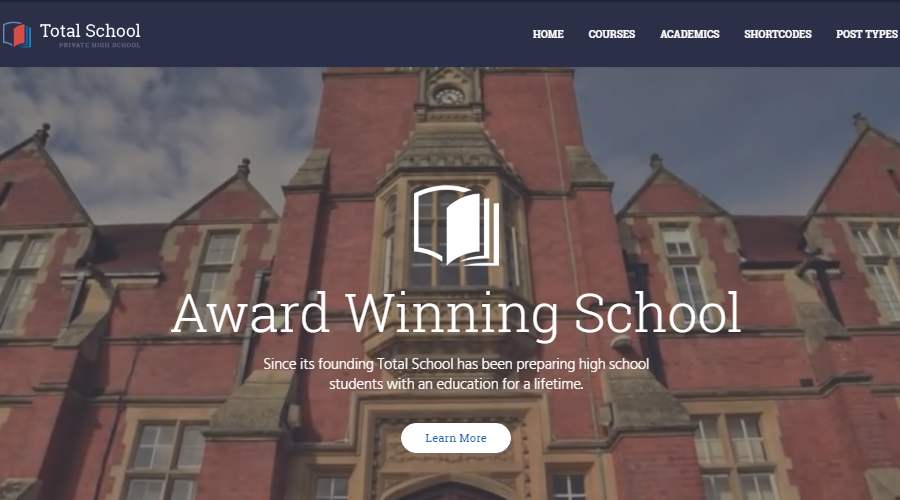 Total School is an all-in-one school and learning WordPress theme that features perfect niche functionality and comes in three ready demos – Primary School, Secondary School, and High School. You can create education websites for any student age, and wide functionality for classes timetable and events. Custom Profiles post type lets you introduce school teachers for your elementary school or middle school, and an Instagram plugin will come in handy for High School. Education themes need to present powerful functionality together with a flexible design, and Total School is a perfect learning theme.
Price $59
EDU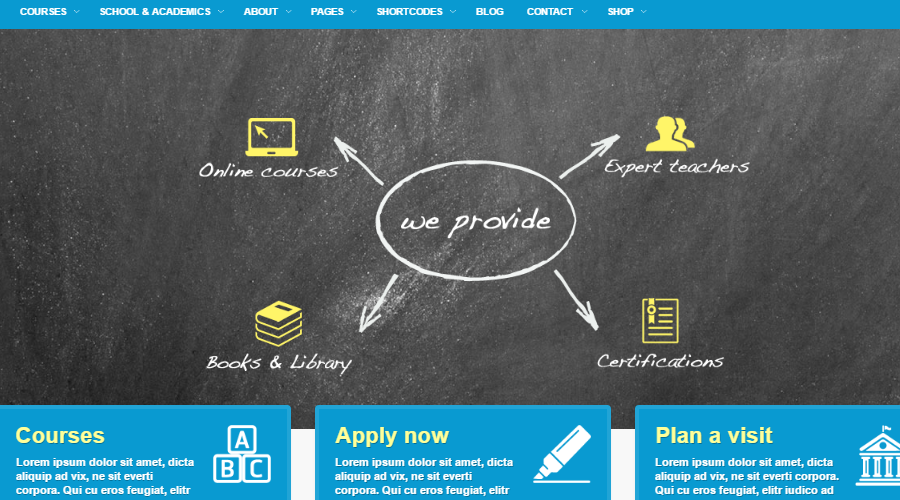 EDU is the most awesome WordPress theme suitable for College, Courses, Tutorial sites and Educational. EDU is easy to customize with our SmoothThemes Framework, the stToolKit plugin that includes a Drag & Drop Page Builder, shortcodes, custom widget, fonts selector to help you easily customize your theme without any coding.
Price $59
Education Pack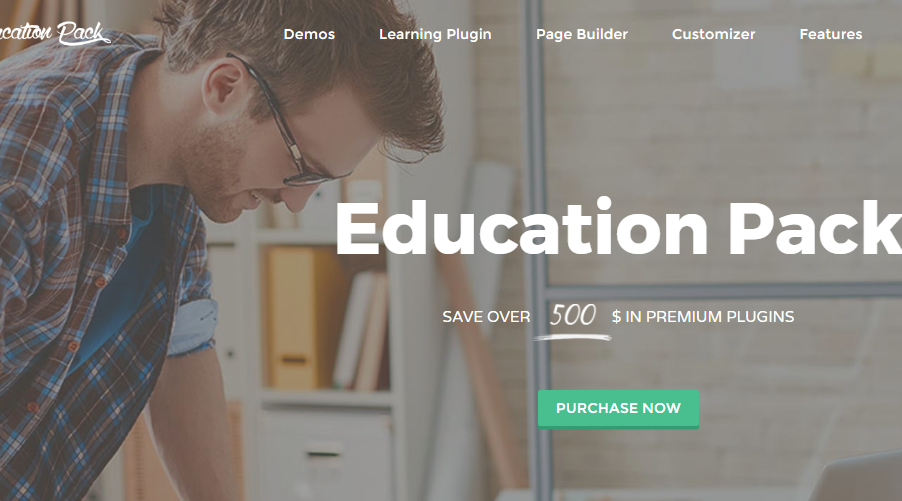 With Education Pack, you can create a website for any business related to education, teaching, and learning and set up your site in a few easy steps. Thanks to the many demos included as university, design school, language school, e-learning courses, kindergarten, primary school, music school, dance academy and driving school you can choose the best design that fits more to your needs, depending on the type of school, institute, university college or other.
Price $59
Edugate Education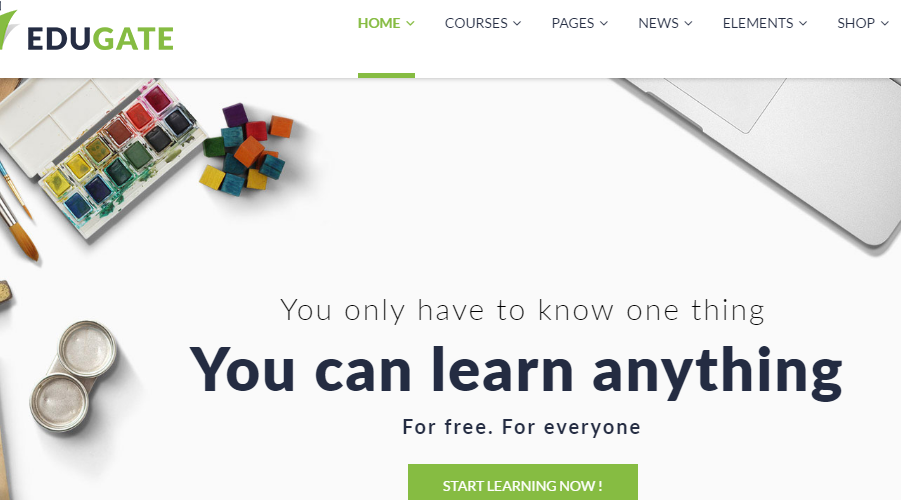 Education WP EduGate is Education WordPress theme for education purpose website or portal.It can be used for a school, library, training center or even a private instructors, tutors…EduGate is a Modern, Creative, Responsive WordPress Theme suitable for Educational Institutions like Universities and Colleges, Online Courses / Online Learning and Events.
Price $59
Lincoln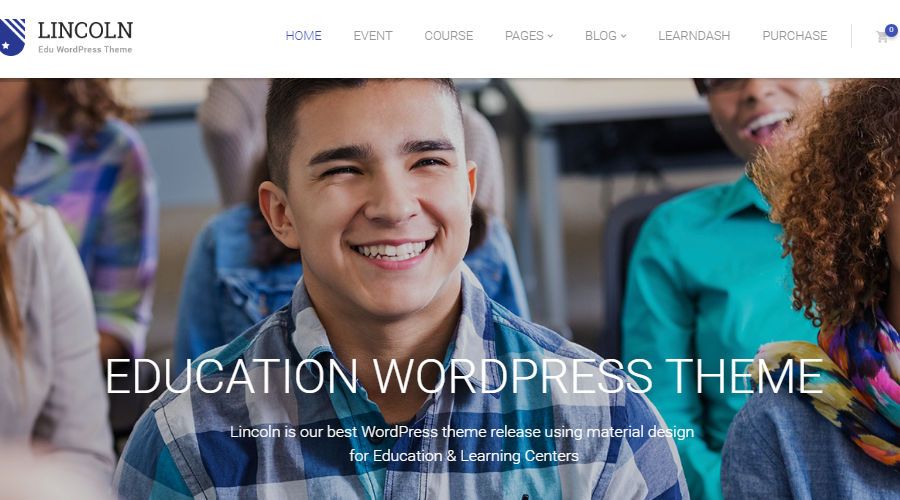 Lincoln is a unique WordPress theme using the material design for Education & Learning Centers. Though it is perfect for educational organizations such as University, School, Online Course & Training Center, it's still flexible enough to be used for business website and creative digital agencies. To fine-tune Lincoln, we have done a deep research within the industry. So we know exactly which features your Learning business should have on the website. You can easily create courses with categories and split into the classes, get reviews, set the prices, discounts, create events, assign teacher/speaker and even post on the blog with different layouts.
Price $59
Universo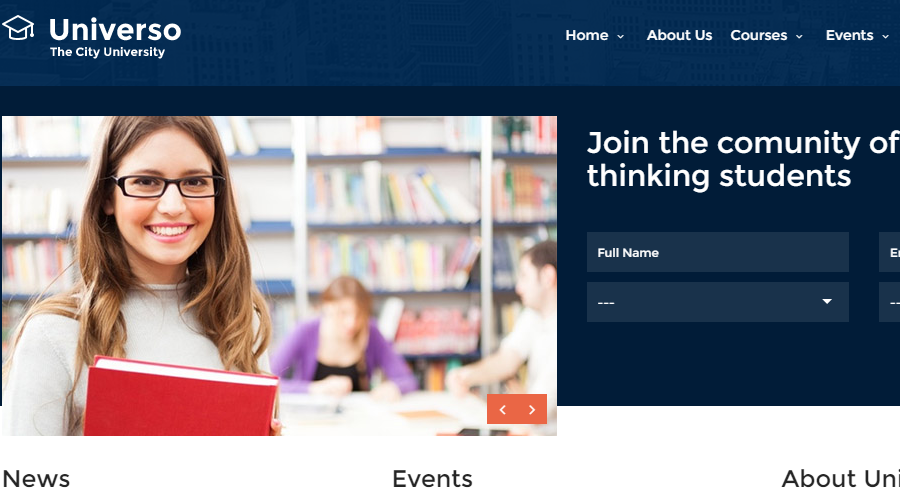 Universo is a clean and modern WordPress theme suitable for University, Colleges and Educational websites, it is packed with nice features such as complete theme options panel to control every aspect of your theme, also we have included several custom post types to manage courses, events, slides, testimonials and galleries sections. Coded with all WordPress standards in mind our theme will prove to be a solid solution for your next educational website project. Universo is fully responsive and retina ready, it will look nice no matter device you are viewing it from, be in phones or tablets it will adapt to the sreen size and will look nice on retina screens.
Price $49
Ethic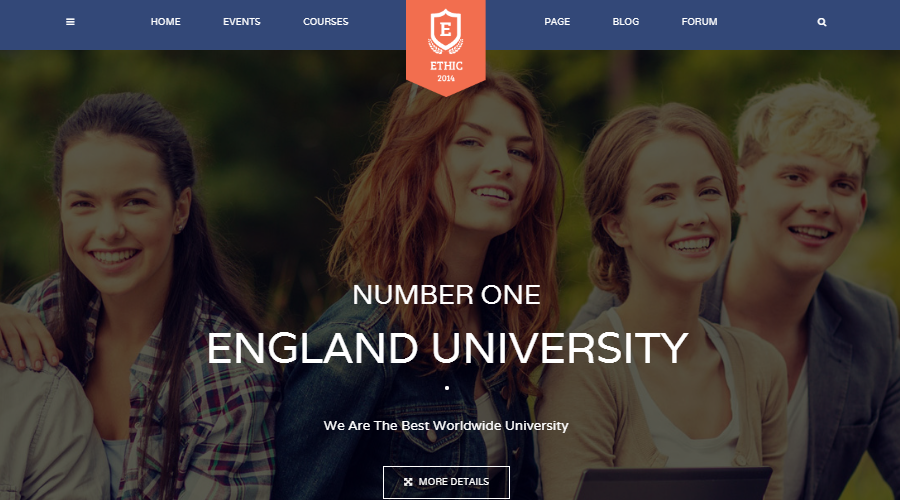 Ethic Multipurpose WordPress Theme – Ethic is a purpose built Education WordPress theme that will be a suitable choice for educational establishments like colleges and schools, as well as pieces of training and courses. Coming out with powerful admin panel and outstanding features, Ethic will be your right tool to run a clean, smart and professional website.
Price $59
Education WP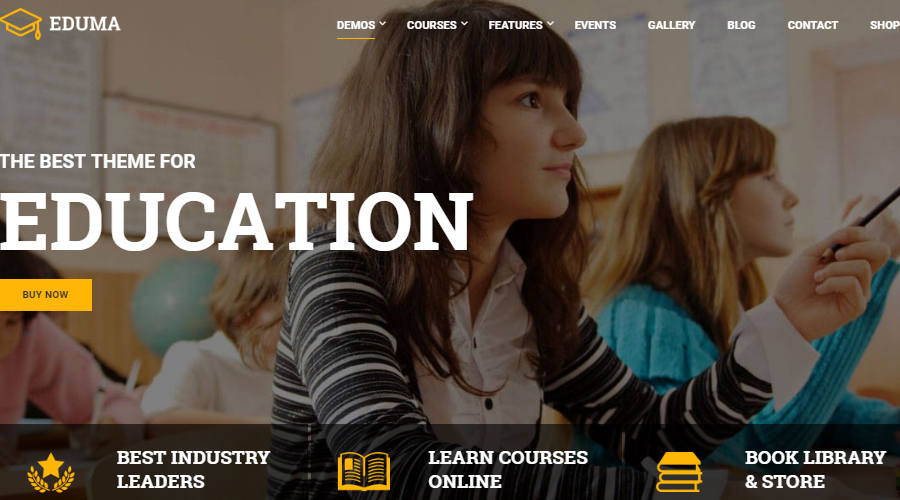 If you want to create an excellent website that is dedicated to learning, this theme can be your greatest ally. Education WP has a streamlined, practical design that is sure to attract many readers. No coding knowledge is required, and there is no need to hire web development experts. Education WP also incorporates a large roster of premium features, which were added free of charge. By choosing to install this product, you will save $250. Eager students can access the content from their smartphones, tablets, laptops, or desktop computers. Basically, as long as it has a screen and an internet connection, it will be compatible with your education website.
Price $64
Kallyas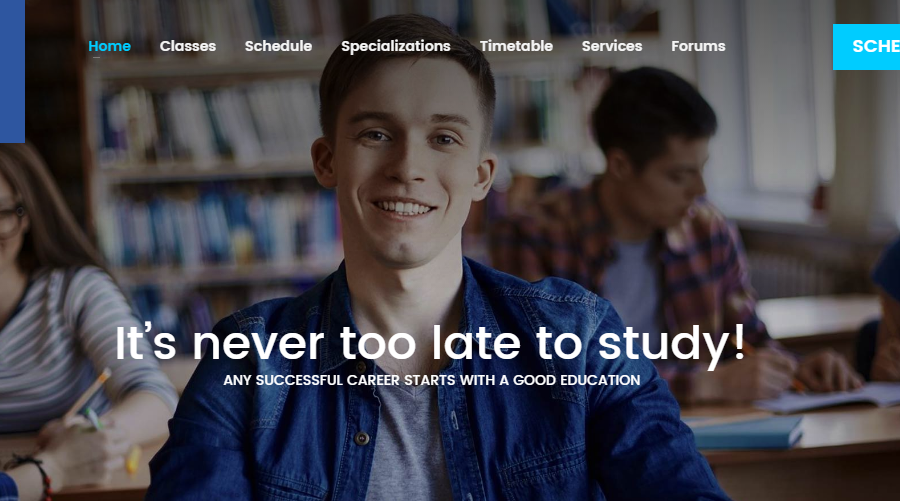 Kallyas is an intuitive and responsive WordPress creative multipurpose website theme. Kallyas is a pliable platform for creating all sorts of websites. Kallyas is well-suited for purposes ranging from business to corporations, professionals and more. Kallyas packs a wealth of options and settings for over 100 custom elements to choose from. You can customize your layouts and modules within minutes without writing a line of code. The Visual Builder provides you with deep and powerful capabilities to shape your website. Drag and drop your elements and customize them as you see fit.
Price $69
Varsita
Varsita is a multipurpose WordPress 4+ theme for all kinds of high schools, universities, courses, Online Learning System, and education business. It's beautiful, clean, modern and professional. We built this theme specifically for educational institutions, training organizations and include easy to use customization features. We build something awesome that helps schools, faculty members, and students. We believe that building any business website can be easy and fun with Varsita.
Price $59
Education Center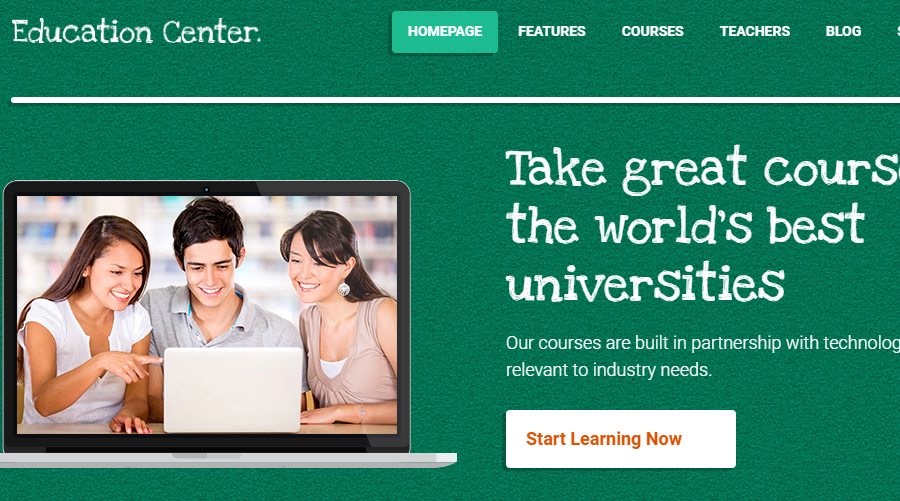 Education Center is an easy to use and very intuitive, powerful and nimble, flexible and adaptable, charming and lively, fresh and youthful, attractive and appealing, efficiently coded and very fast loading, easily navigable and very legible and comprehensible responsive WordPress educational and training center website theme. Education Center is a complete and full featured theme that has been developed as a powerful, all-inclusive website building toolkit for webmasters seasoned and newbie alike to create modern, functional, intuitive and engaging educational training center websites of any field, vocation, profession, interest or niche.
Price $59
LMS
LMS is Powerful Learning management system WordPress theme provides awesome features for creating online courses, teacher profile, extended user profiles, lesson management, quiz System, video hosting, ranking / rating system, questions system, attachments, Tracking course progress etc., Build an Education system that uses WordPress, Sensei, Custom posts for courses and quiz, student management, BuddyPress, WooCommerce, Event Calendar, WPML, Mail-chimp.
Price $59
Statfort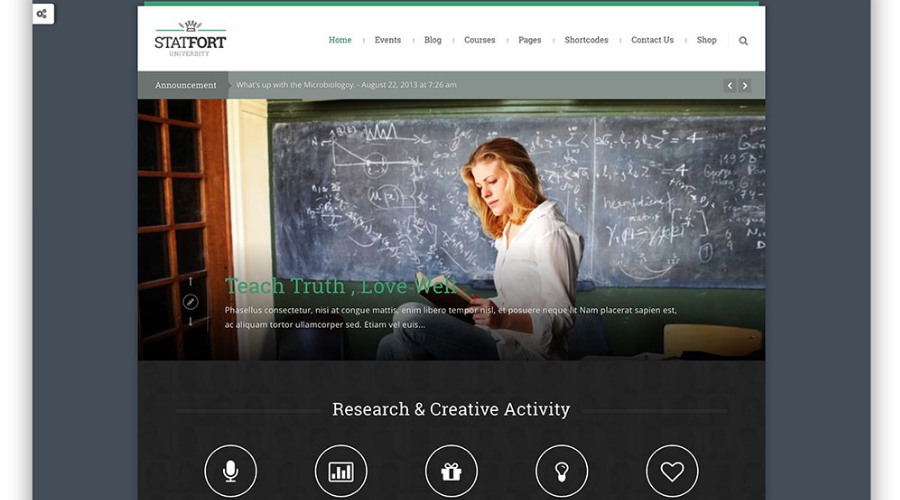 Statfort is a WordPress theme specially designed for colleges, universities, schools and educational websites. This theme is easy to modify and ready to be up and running out of the box thanks to sampling content and well-detailed documentation. The theme is developed using Bootstrap 3 frontend framework which makes it fully responsive, mobile and tablets friendly. The statfort theme has a built in WooCommerce and WPML support to take your education website to the next level.
Price $59
Circle Flip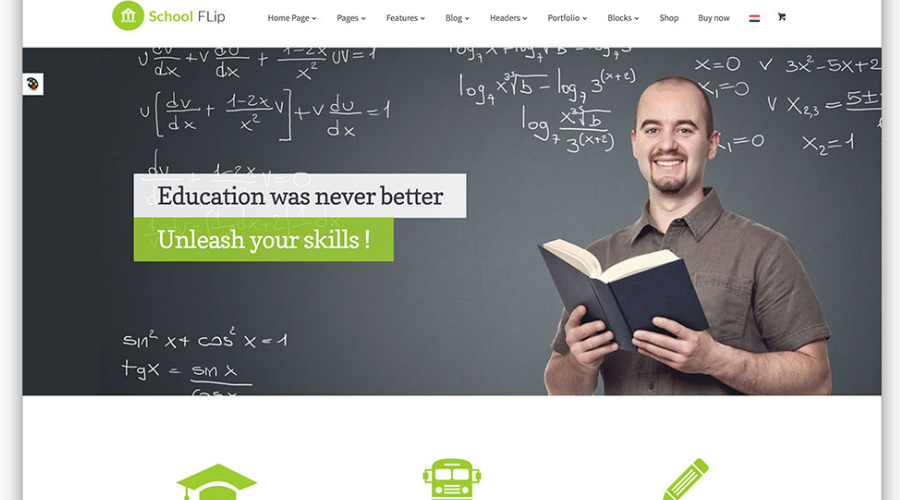 Circle Flip is one of impressive multipurpose education WordPress themes that can improve your website. Any potential customer will get access to a full, unrestricted demo, in order to sample the content before committing to a purchase. You won't have to lift a finger, given the one click demo installer. Circle Flip will do all of the heavy liftings. There is also a live preview and some interesting screenshots. The theme website features examples of how previous customers have enhanced their pages.
Price $59
iKnow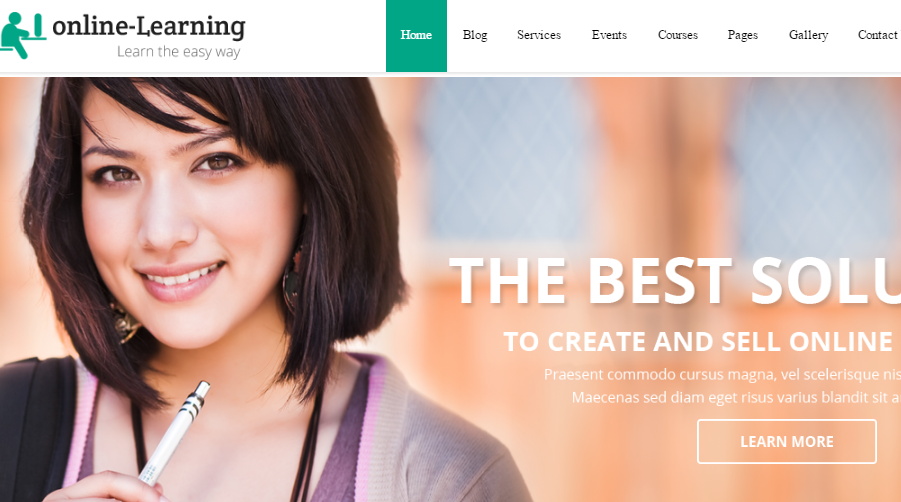 iKnow is a powerful Learning Management System theme with a very attractive design. The theme comes with complete Learning Management System for selling online courses, tutorials and have a WooCommerce store. Create Teacher Profile, Student Profile, Quiz, Attachments, Ratings and Event Management and many other valuable features are included.
Price $59
Milagro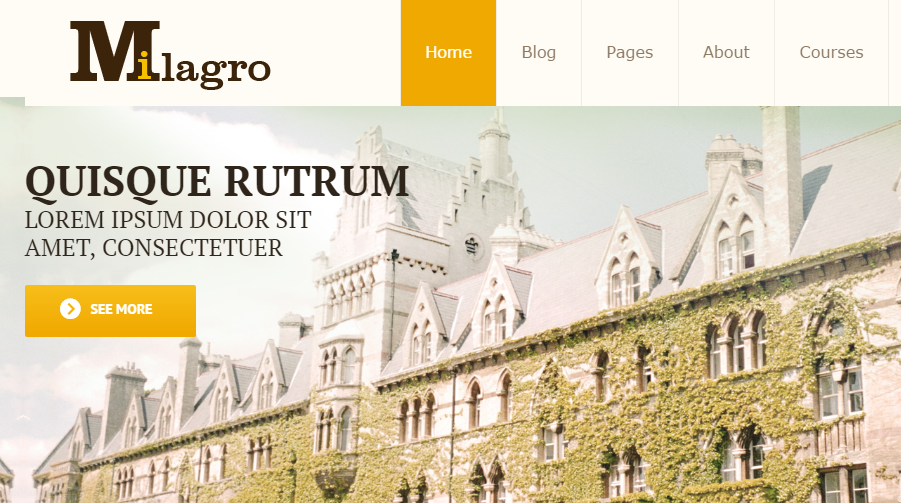 Milagro – Learning and Courses WordPress Theme – is a good solution for your business. This is a perfect WordPress theme for Leaning portals, for courses agencies, for e-learning sites or shops. It comes with different home page layouts, with a lot of custom options, such as unlimited color schemes, more than 600+ google fonts, tons of templates etc. The theme is responsive and adapts to different screen size. So your site will look good on any device.
Price $49
Final Thought
A beautiful and suitable theme will help you to pay your students attention. I hope that this collection of impressive and responsive education WordPress themes will help you have the right choice for your website. Which theme did you choose? Or do you have any suggestion for this list? Please leave your opinion in the comment section below!