A few months ago our team had an idea how to make WordPress easier to use when creating a website. We'd like to give our customers something bigger and better than we had ever built before. Though we have ways to go, DW Builder is already making huge improvements. With DW Builder, you just do it your way!
You may wonder how good it could really be. You may doubt about whether or not you would enjoy a true front-end editing experience. You may have started to wonder if it would be worth the wait. Waiting is over! The expected WordPress Page Builder – DW Builder is here for you!
What is DW Builder?
DW Builder is a tool that works on the front-end of WordPress and allows you to create beautiful sites without coding knowledge. Over these 5 months, we at DesignWall have spent much time developing stunning features for it, so let's take a look at how DW Builder runs.
How Can I Try It?
Try Demo for Free
DW Builder is now available for the online demo. You can head over to the demo site, create your own demo site and play around by hitting the "Edit" button.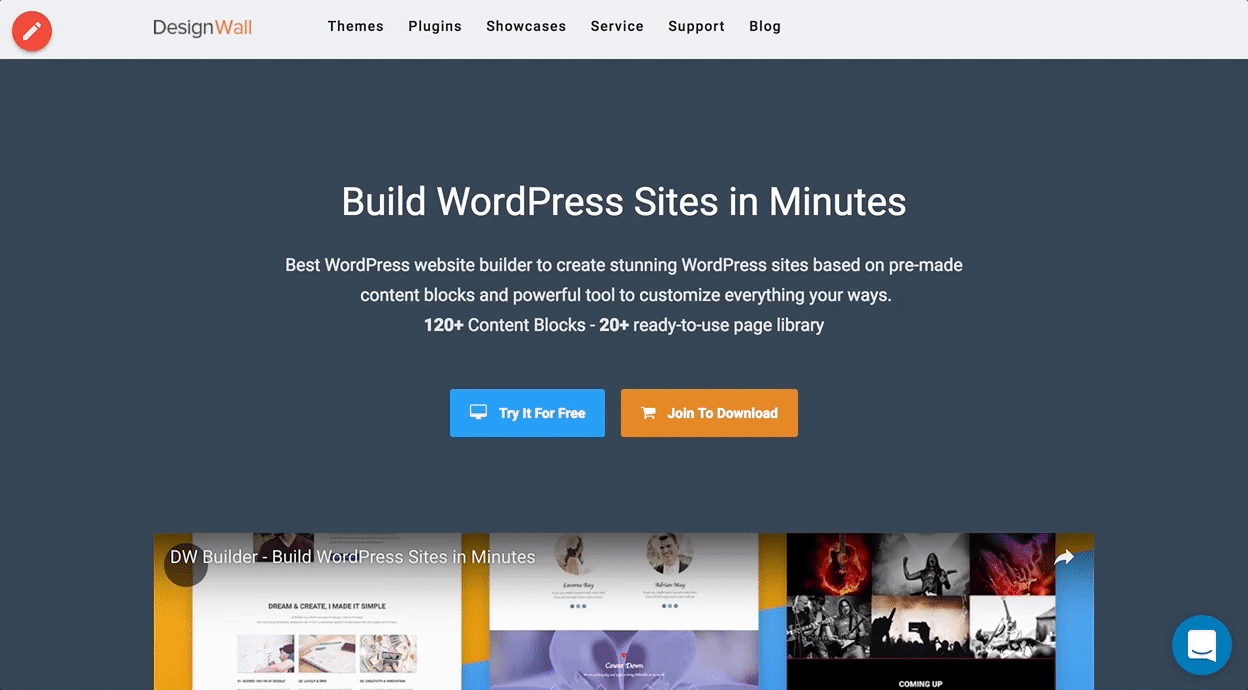 Download DW Builder for Free
For those with an active WordPress site, a free version of the DW Builder is available to download and install from the website. Also, DW Builder has a demo where you can jump right in and play with it.
Here are two easy steps to have DW Builder in your sites:
Step 1: Admin > Plugins > Add New > Upload Plugin
Step 2: Choose the plugin zip file > Install Plugins
DW Builder Is For Whom?
DW Builder is a dedicated builder tool for WordPress CMS to build pages, landing pages, layouts based on pre-made content blocks and powerful options to help any user handle all the website development work with ease. Newbies will have fun learning and developers would love it.
DW Builder and Its Unique Features
#1 Control Over Layout
A great design starts with the structure of the page. Controlling the various page elements, the gaps between widgets, their width, height, and positioning, can truly make or break a design. DW Builder gives you a lot more control over these settings than ever possible on a live page builder. The builder works on the front-end, open the page and edit. We are sure you would love the simplicity. See your page take shape right in front of your eyes in real time. No, save then preview anymore.
#2 Build Pages Based on Pre-made Blocks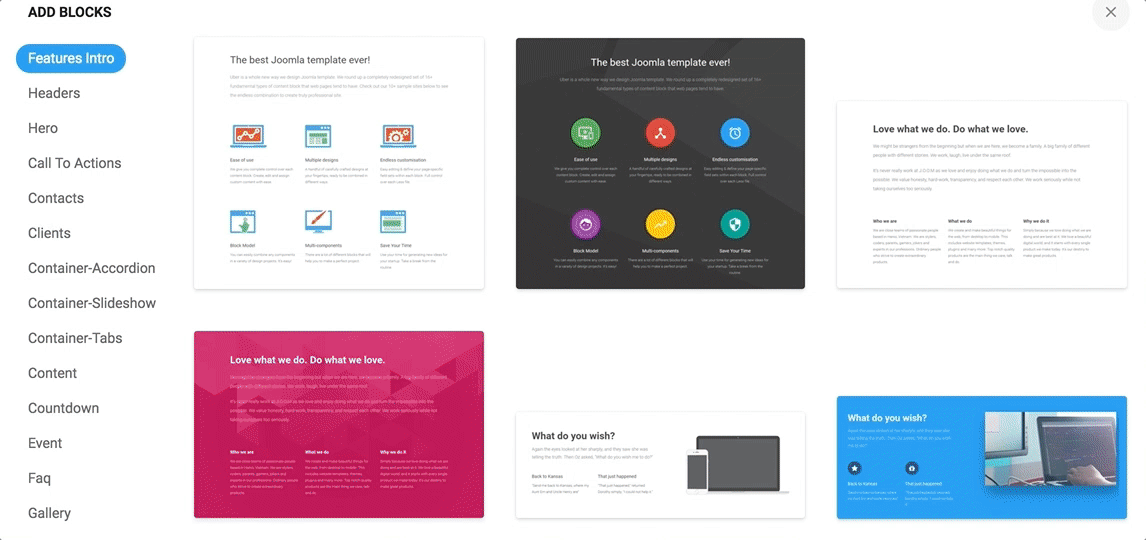 The tool includes lots of block types and each block type has multiple options (we are adding more pretty soon) to help you build stunning pages in just a few clicks.
Header
Footer
Hero
Call to actions
Features Intro
Clients
Team
Gallery
Countdown
Spotlight
Etc…
You can add the block to any position on the page by hovering over the block and opting for "Add Block", select block type and select layout.
#3 Inline Content Editing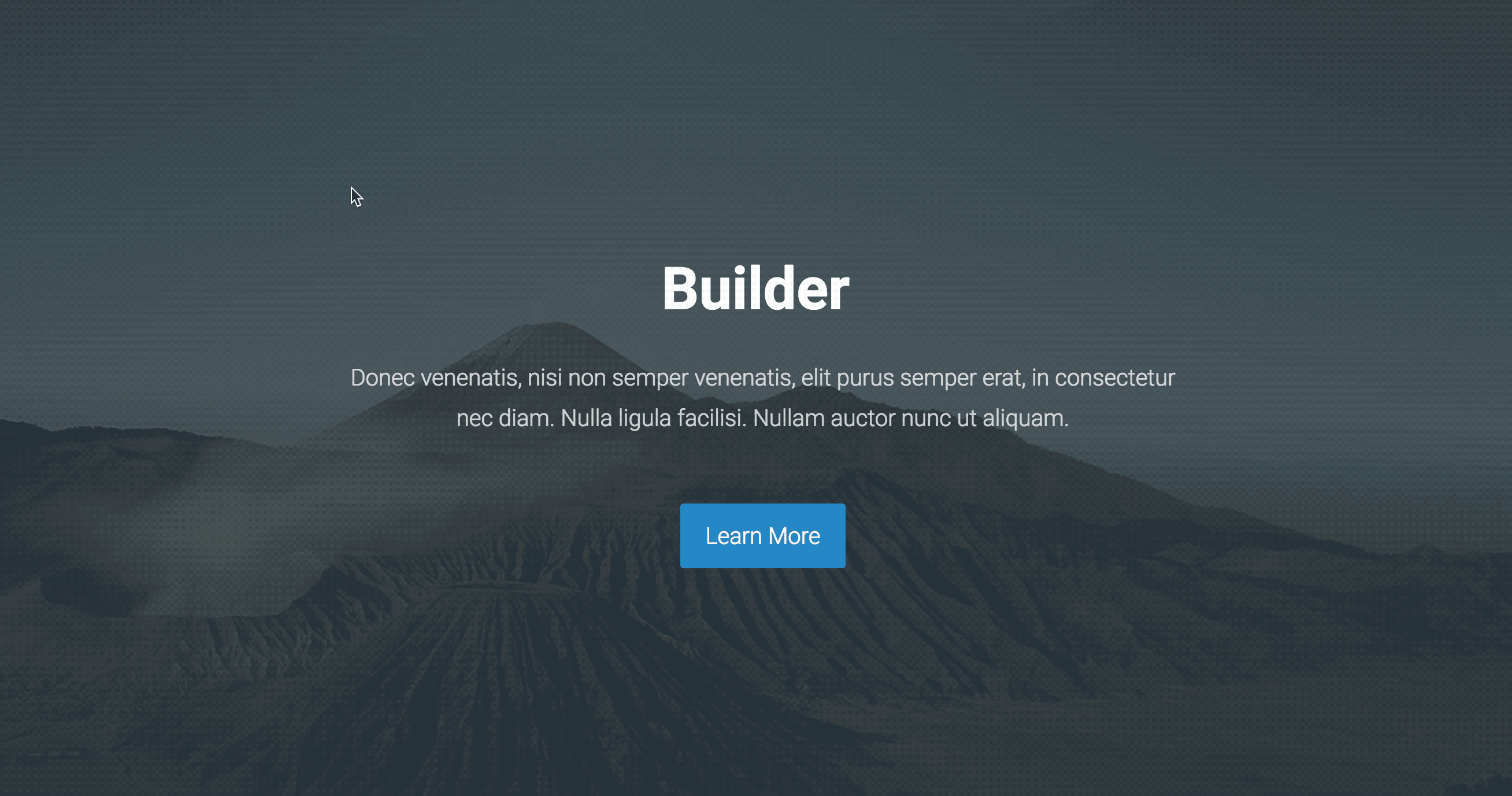 One of WordPress weakness is editing the content, at times it can be really hard as templates have different ways to organize the layout and load content to front-end, including modules, articles, 3rd party extensions, etc.
This is where DW Builder will be of help, now you can edit content inline, just click on the text you want to edit and you can also choose formatting options right in the front end.
#4 Powerful Options to Customize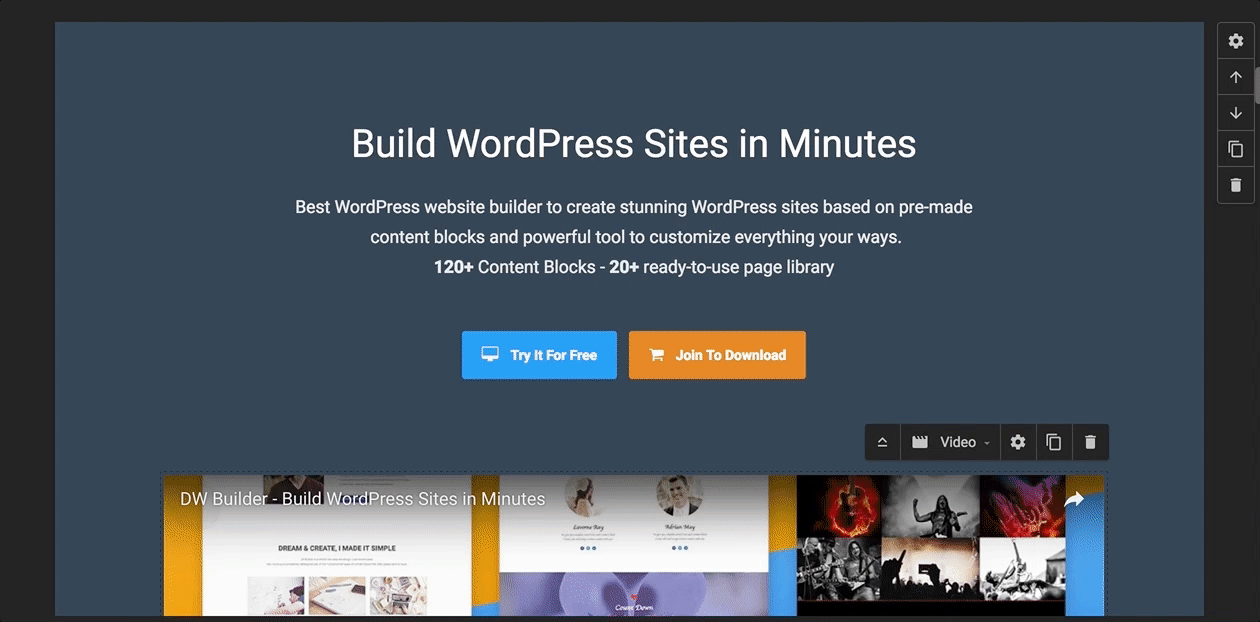 DW Builder has all basic options one would need to customize text or images in the blocks, no coding required. Just hover the element you want to edit and hit the setting icon, a list of options to customize the element will pop up for you to get creative.
#5 Configure Layouts with Ease
You can edit layout for any page. You can change the width of the main content section, sidebar, add 2 or 3 columns layout, select type (main content for the module).
#6 No Pain of Upgrade
The tool will be located on our server, so we take care of the upgrades such as adding more blocks, sample sites, features and your editing options are auto-updated when you edit your site. So, next time you want to use any added feature, just start editing your site and the options would be auto available. Absolutely no maintenance required from your side.
#7 Clean Markup
The tool is developed by our best and experienced web developer to make the markup of the content blocks clean and well structured and optimized.
#8 Users Friendly
We are releasing DW Builder as open source and a large part of the reason we are doing so is to utilize the power of the WordPress developers community, in order to enhance DW Builder even further. We want developers from all over the world to contribute to DW Builder and help make it the ultimate plugin for web designers. Following are some other features that make DW Builder developer friendly.
SEO Optimized
This directly relates to what we mentioned previously concerning clean code. DW Builder is based on the most recommended coding standards, making your pages SEO optimized out of the box. The resulting page designed with DW Builder will also have a fast load time, a crucial factor for SEO.
Custom Code
Even though the style settings should be enough to create any desired design, you can still set custom CSS, HTML, JavaScript code in the Settings section.
And More Features to Come…
We are working hard on improving and adding new features to DW Builder, so you can expect to see even more capabilities released in the next few months. We invite you to communicate with us and tell us which feature you'd like to see next. We value your feedback and ideas and will take it into account when deciding on the next features to add.
If you've read so far, it's time to stop with the theory, and go on with the practice. Try Demo now and start creating the first of many page designs with this WordPress Page Builder.
Now, It's time for you to try DEMO, experience the tool to create the new site with full functionalities!
Please note that this is very first preview demo, more features and improvements are coming in the days to come.
We have a long list of cool features to improve DW Builder, but your suggestions will help us to make it even much better! Try DW Builder for free now and let us know what you think in the feedback form below.
Try It for Free  Send Your Feedback!