Our team is happy to announce that the updated version of DW Page 1.1.0 is now available.
NOTE: DW Page 1.1.0 is re-developed from scratch, it differs from the older DW Page, thus we highly recommend you proceed fresh installation when using DW Page 1.1.0.
If you are new to DW Page, here is a brief about this theme: DW Page is a clean and modern one page WordPress theme, packed with 6 beautiful design theme styles, bonus template pages and number of rich-featured plugins.

With DW Page 1.1.0, it is possible to create multiple landing pages, with added blog and single blog post layout. Below, you will have more details about the new feature enhancements:
Integrate SiteOrigins Page Builder
We make use of SiteOrigins Page Builder – one of the most popular free page creation plugin for WordPress. This is a handy drag and drop plugin that allows you to create responsive onepage layouts and pull in content within a few seconds using the widgets.
DW Page is also enhanced with SiteOrigin Widgets Bundle plugin, a free plugin that gives you a collection of widgets to add to your sidebars and Page Builder pages, including the following awesome widgets:
Button
Call To Action
Features
Image
Post Carousel
Price Table
Slider
As SiteOrigin plugin is theme-independent and works with any theme, you have full room to customize DW Page as you wish.
All new DW Page widgets
Below are brand new DW custom widgets we developed for DW Page 1.1.0. With these widgets you can flexibly create any page as per your needs.
DW Page Hero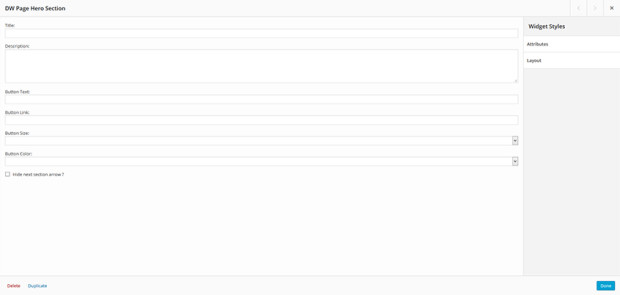 DW Page Blurbs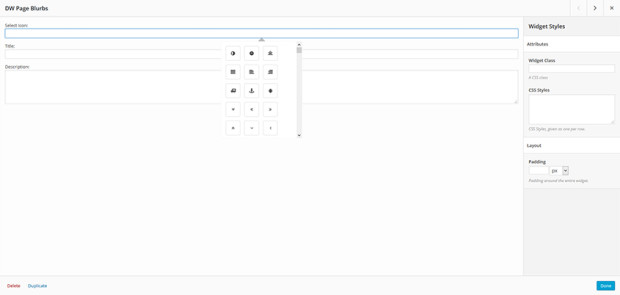 DW Page Portfolios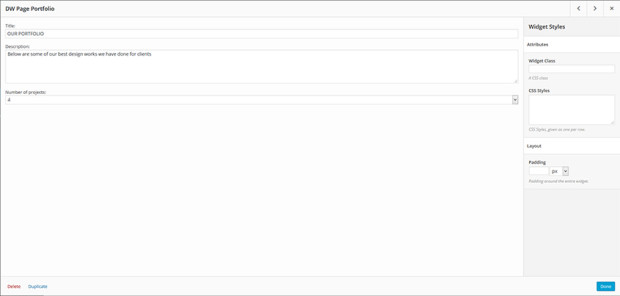 DW Page Blogs
DW Page Team
DW Page Testimonials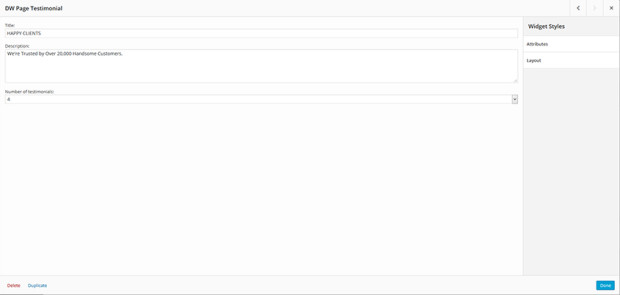 DW Page Clients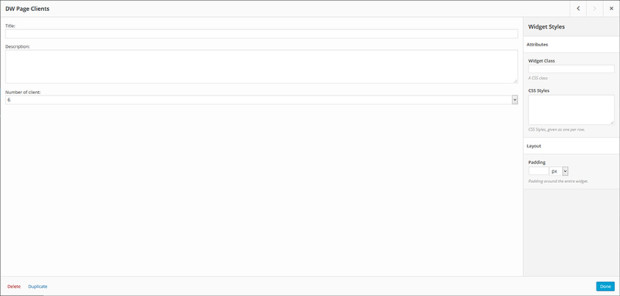 DW Page Contact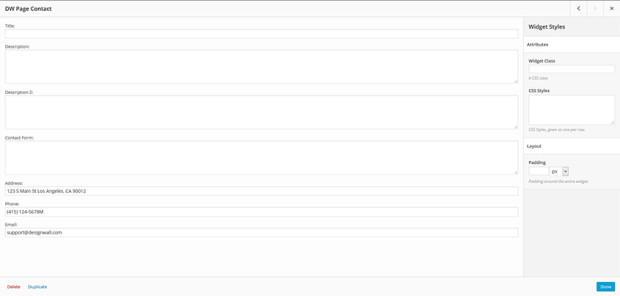 Dynamic menu for Landing Page and Default page
The DW Page 1.1.0 gives you optional choice between default page template vs landing page option.
Landing Page template (Parallax scrolling onepage navigation)
Default Page template (Default navigation menu)
Added blog layout for a full-featured website
We got many requests from our users to add blog page to help extend DW Page theme into a full-featured website. So with DW Page 1.1.0, whether you want to create a landing page, blog, portfolio etc., or all of the above, it gives you full control to make a stunning website in munites.
Easy customization with Customizer
Apart from customize-able appearance of the theme (logo, font, color, background etc.,), it is easy to switch among 6 built-in styles of DW Page in seconds via Global setting.
DW Page 1.1.0 is also updated to Twitter Bootstrap 3.3.2 Framework and Font Awesome 4.3.0
We hope you like this update. Please let us know what you think…