WordPress.com or WordPress.org
WordPress.com vs WordPress.org…
This will be the first decision you'll have to make when you decide to work with WordPress.
Simply put, in all areas of life there are tradeoffs. WordPress.com vs WordPress.org is no exception to this cardinal rule of life.
Pros of WordPress.com
It's free for upto 3GB of space. After that you will have to pay for space ($19.95 per year for 5GB) or ($289.97 per year for 100GB)
They make regular backups of your site
You don't have to pay for a domain name if you're ok with WordPress in your URL
The people at WordPress will handle all maintenance and development processes for you. You don't have to worry about plugins breaking after an upgrade or your site suddenly going down because of a problem with your hosting service provider.
You won't have to keep up-to-date with WordPress news and upgrade your site each time a major version of the software is released or new problems with security become evident.
The decision on whether or not to maintain and develop your site yourself depends entirely on your skills ability, and also how much time, effort, and money you want to put into looking after your site.
However there are limitations, tradeoffs, and
Cons to WordPress.com
Limitations include but are not limited to:
You're only allowed to use WordPress.com themes – you can't upload your own custom or premium themes from 3rd parties
No custom plugins which extend the functionality of WordPress vs 3rd party developers from all across the world
Limited storage space unless you pay a premium to them
Limited control of your content, i.e. you must pay to remove ads and other content which they decide they want on your Website
No FTP access to your files for your own personal use
Some of the pros of WordPress.org are here
Concisely, choosing to work with WordPress.org gives you a lot more freedom in the long run. You can run an E-Commerce store and take payments, you can choose to use 3rd party themes and plugins, you can do much more than is allowed with WordPress.com
If this is your first time ever and you have a very limited budget, we suggest you stick with WordPress.com, however if you've got a little bit of money to work with (Roughly $30 a month) and are serious about becoming a professional WordPress developer, here are the reasons why you should use WordPress.org
It's free and super easy to use
You own your data. You are in full control. Your site will NOT be turned off because someone decides that it is against their terms of service (as long as you are not doing something illegal). You are in control
You can upload and use plugins
You can upload custom themes. Modify theme files (not just styles) if needed
You can make money from it by using your own ads, and doing things your way
Custom Analytics and Tracking
Cons of WordPress.org
Hosting your own WordPress isn't as user friendly for the beginning WordPress developer either. Unlike hosting with WordPress.com, you're fully responsible for your own site. This mean's you'll have to spend a good amount of time Googling and researching at almost every step of your web development career. However luckily you can learn tons at The Home of WordPress, Designwall. We're working on adding much more content in the future to enable you to consider this your home, truly, for WordPress.
However here are some of the Con's related to WordPress.org below
Your responsibilities include but are not limited to:
Installing and setting up your WordPress site on your own
Setting up your server for VPS and dedicated hosting with a 3rd party
Regularly updating your themes and plugins when new versions of WordPress are released
Updating your WordPress regularly to maintain security
Keeping your site secure for your visitors and protecting your site against hackers and spam
Backing up your whole site consistently in case a catastrophe happens
Resolving problems on your own with your site and server should issues occur
If you think you need the flexibility WordPress.org offers, but all this maintenance sounds overwhelming to you, there is another option. Consider using a managed WordPress hosting solution such as Pagely or WP Engine.
Here's a little recap of the information listed in a table of pros and cons: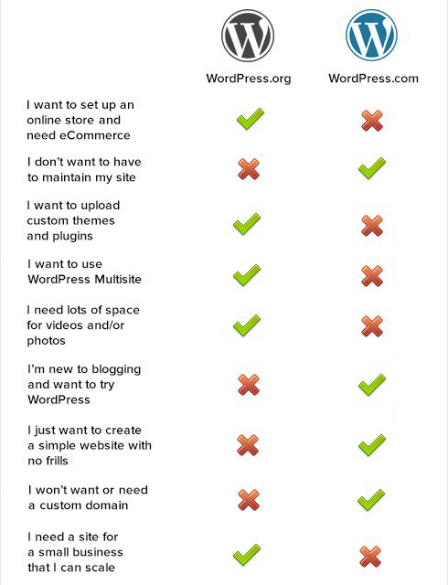 Simply put, you're going to have to be the one who makes these decisions. There is no single option that works for everyone. That is why the options are provided.
If there are any questions you might have then don't hesitate to navigate to our Blog section to learn additional information about WordPress and it's ever changing landscape.
Speaking of support, there also an entire section of our site which is dedicated to supporting professional developers in their WordPress endeavors.
Thanks for reading and viewing from everyone here at: