DW Question & Answer Plugin: General Setting
1. Permalink Setting
The plugin allows you set up permalinks for your Question list base, Question Category base, and Question Tag.
Go to Dashboard >> Questions >> Settings >> General.


You need to add the permalink to the plugin can redirect to the pages. It will redirect to 404 Page if the permalink is empty.
2. Captcha Setting
At the moment, the plugin only supports Captcha default for the Free version. If you want to have the Google captcha you need to use the Pro version or buy the DWQA Captcha from Extensions menu of Q&A.


We have provided 5 extensions for Free version. But the pro version won't install this extensions, we have included all the extensions to the Pro version.
3. Page Setting
If you have removed the page that plugin auto-create in the first active plugin, you can go to the Go to Dashboard >> Questions >> Settings >> General. Then select the page that you want to used and click save button. The shortcode will auto-insert to the pages.


4. Question – Answer Setting
We have provided some simple setting for the question and answer section in the General Setting.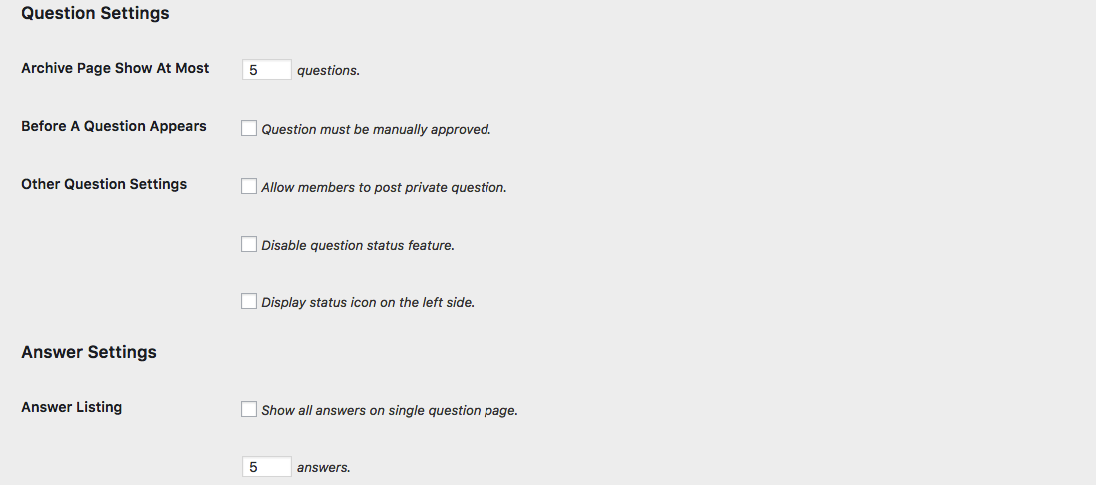 5. Akismet Settings
We have integrated the Q&A with the Akismet to help you blocker the spammer on your forum page.



6. Auto Closure Settings
If you want to mark the question is closed status, you can set day in this option and after there day the plugin will check and auto change the status of the question to Closed.