Attracting a loyal website audience over time is one of the most important things to help your business succeed. And it is all about details. The more small but useful touches you can build into your webs, the higher the chances are that visitors will favor your site over others. One possibility that can be beneficially worked into a lot of different type of sites is providing weather information to your visitors by using a weather plugin. Sharing weather updates on your website is one simple and interactive way to increase the interaction and average session duration. In this article, I'll introduce the ten best WordPress weather plugins. Before having a look at our selections, let's take a minute to cover just why the WordPress weather plugins & widgets can be such a great fit for many sites.
Why Use WordPress Weather Plugins?
Having a weather plugin is of huge benefit to any website that covers geo-specific activities or events. This is particularly useful for travel and events sites, or specialized activity sites such as for skiing or sailing. However, even if your site is for your personal business or local cricket club, it is advantageous to include a weather forecast. This may surprise some readers, but one of the most popular activities on the internet is checking the weather – up to 80% of browsers search for forecast data every day. So why do not put your customers' needs on your website?
What are the Benefits of  WordPress Weather Plugins?
The reason for this is that a Weather Plugin is content that is both dynamic and compelling. Simply put, the content is constantly changing and updating, meaning that it remains relevant and necessary to the viewer. When it comes to having a website, content is king. And compelling content such as weather should not only attract more traffic to your site but should also help retain the visitors for longer. All this helps towards improving the Google Pagerank and SERP (search engine results page) position of your site, as well as other metrics that you can monitor using Google Analytics.
So, it's the time for you to get our best weather plugin collection. Let's start with our options!
Better Weather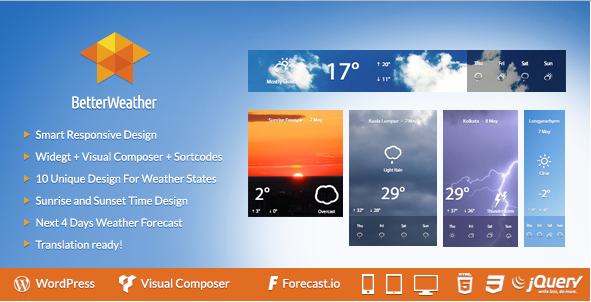 It is a gorgeous and have wealthy WordPress local weather widget ( and Visual Composer add-ons ) with an extremely smart responsive design! merely put that in anywhere with any width to your website and magic happens! Being responsive to design, it can work on different devices with different display sizes without any issues at all. It comes with simple and understandable visual control panel that makes the whole process of its setup pretty smooth. With different design layouts, you can even change the whole layout anytime you wish to.
Weather Underground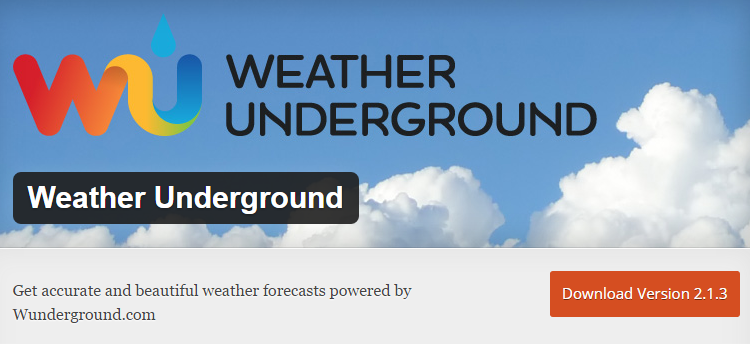 This is a free plugin, but the good part here is that it's not from any third-party developer. It's an official WordPress plugin from the Weather Underground team, and it uses the official API to make things work. It simply adds a widget to the website which can be placed on the sidebar or footer area, and once it's live, the system can fetch the weather reports based on the location of the visitor. If you want a great-looking weather forecast, use this plugin.
This is the best-looking weather forecast plugin for WordPress. It looks great on many different templates out of the box, including the default WP theme.
Simple Weather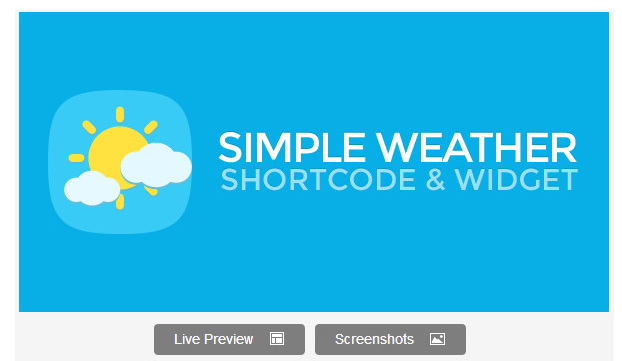 If you need a simple weather display, with just the temperature and location for today, a very simple shortcode does the trick. Any other option you want, like night temperature or a number of days to forecast, you can just add it to the shortcode. If a widget works better for you, the Simple Weather plugin comes also with an easy to set-up widget, packing all the options you need.
Awesome Weather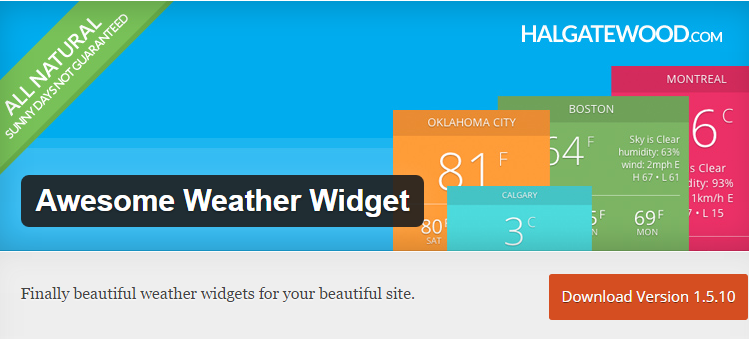 As the name suggests, it simply adds a widget that can be added on sidebar or footer area. Once added, it will crack user's location from his IP address and then display weather forecast and related data of his nearest location in the town. It brings a lot of tools which can help you deal with the customization requirements.
It is translation ready and supports most popular foreign languages. It can help you customize the data according to degree unit (among F or C) and maximum days of which data is needed to be fetched. Another area where it is really awesome is the design which is really cool and elegant.
Easy Weather Widget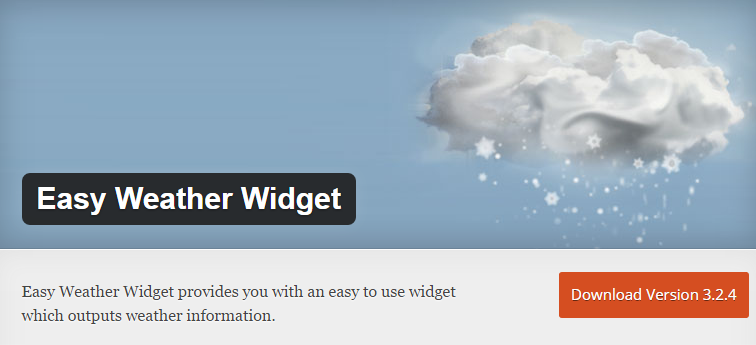 With this plugin, you will be provided with the weather information through widgets. The plugin is very easy to use since you just have to enter your zip code and have it saved. This will then display the accurate weather forecast and display it on your website.
WP World Weather Online
This is a widget that displays weather forecasts on your sidebar or on single posts or pages. It can show forecasts for the best 3 days through the widget or the shortcode provided by the API from World Weather Online service.
POWr Weather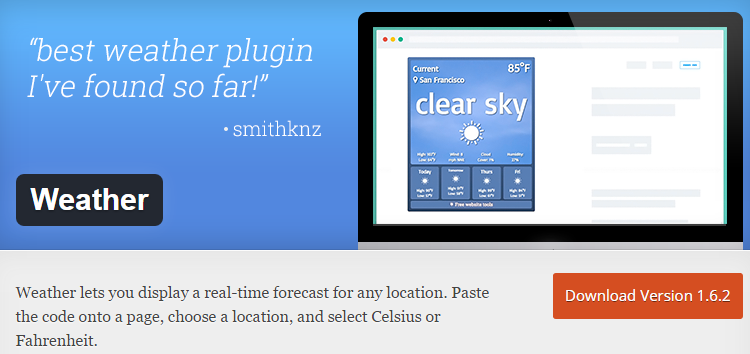 POWr Weather is a free cloud-based plugin you can edit in your live webpage. I wasn't impressed with the visuals offered here, but the functionalities of the plugin were always accurate and proper. If you can get around the visual part, then it can be a good choice. It is extremely easy to setup, but the free version comes with developer logos and watermarks, which can be removed by purchasing the premium version.
wp-forecast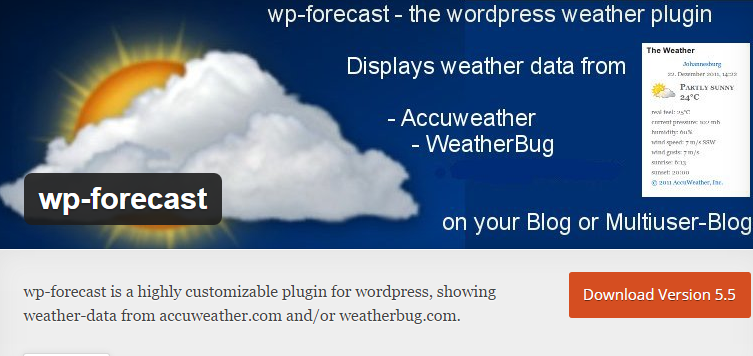 If you're looking for most popular but free solution then wp-forecast is the recommended one you'll find almost in every such list over the web. It is available in the official WordPress plugin directory and all I can say is that it will perform almost every functionality you may or may not want to use.
It can forecast days, detect wind speed, metric or American measures compatible, can detect user location and serve weather report of nearest town and along all these, it can even let you know day and night time details. It displays data from AccuWeather which is solely the trustiest player in this niche.
National Weather Service Plugin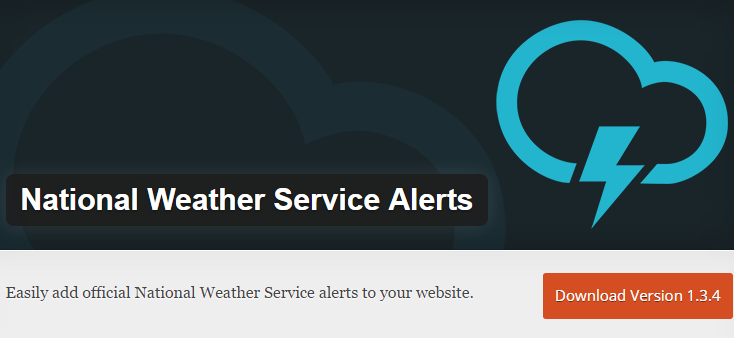 National Weather service update as the name suggests is a WordPress plug-in which displays for National alerts on your side by the widget area. The information is pulled directly from alert.weather.gov so the information your visitors are receiving is super accurate and trustworthy.
Weather Press Plugin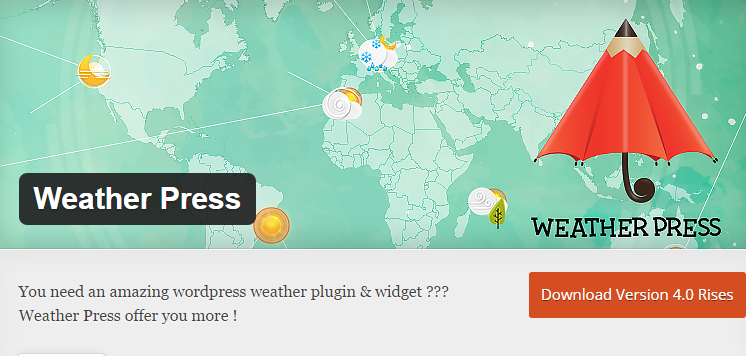 Weather Press plugin & widget for WordPress is the Unique weather plugin on the market that allow you to display up to 200,000 cities simultaneously inside a small yet powerful plugin and with a beautiful design that change the look and feel of your website.
WCP OpenWeather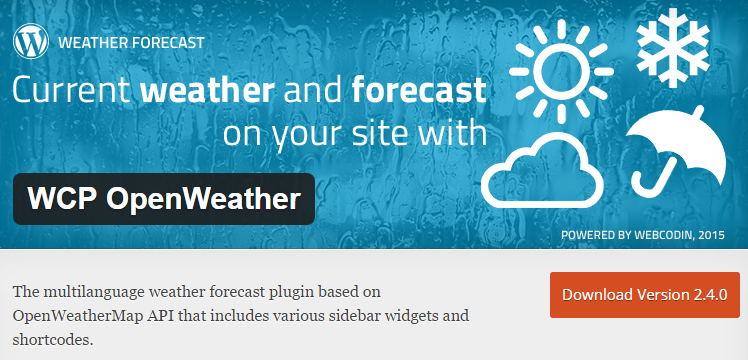 The multi-language weather estimate module in light of open Weather guide API that incorporates different sidebar gadgets and shortcodes. Current weather and conjecture gadgets for sidebars and shortcode for the page. Full versatile interpretation of the module interface including the name of the city.
WP Cloudy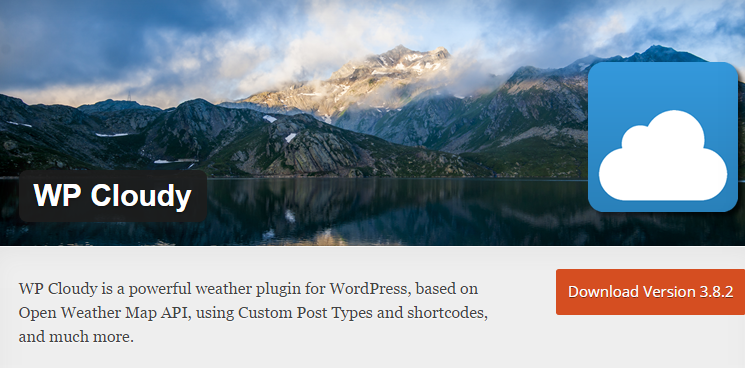 WP Cloudy is an adaptable and simple to utilize climate module that permits you to make boundless distinctive climate utilizing custom post sorts and open Weather guide API. Make a climate, select your city, pick the choices and modify the look in a couple clicks. Implant it anyplace with the shortcode consequently produced by duplicate and glue in posts, pages, content gadgets, or specifically in the PHP records of your subject.
Weather Master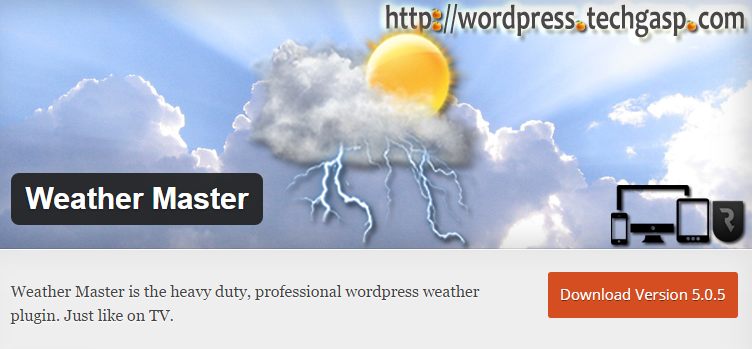 Weather Master is completely mobile responsive. Pressed with gadgets to distribute in your topic best gadget zones to show climate and shortcodes to embed the climate estimates inside pages and posts. Precise, continuous Weather data figures "on snap" the dazzling estimate symbols. As per the select-capable climate point of interest level, it will likewise show constant climate overlays.
giWeather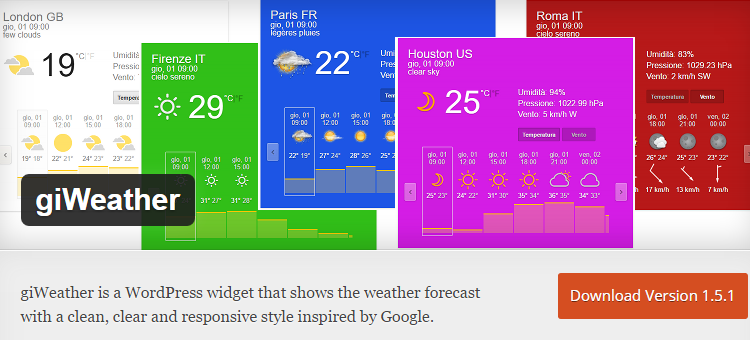 giWeather is a WordPress gadget that demonstrates the climate estimate with a perfect, clear and completely responsive style propelled by Google. You can without much of a stretch be altered while you see your side live to see changes immediately. Beginning with this system couldn't be simpler you just duplicate and glue the shortcode into the gadget region and afterward begin altering.
Location Weather
Location weather is a wonderful climate gadget module empowers you to get avant-garde climate data on your sidebar. The configuration part all through the module whether at its UI or at its control board at the dashboard, you're going to like everything.
Final Thought
Here I'm at the end of our guide and I hope our journey till here brought at least on a solution that is going to help you match all the requirements. If you have any ideas or issue about this, then explain it in the discussion section below, and I'll come up with a working solution ASAP.