I know, I know, we just released the buy/updated version 1.1.1 of DW Question and Answer plugin and now a new version is out? It's a bit crazy, isn't it ?
But since it's a big feature to add, we cannot wait but to release a new version for the plugin, so here we go: DW Question and Answer plugin Pro version 1.1.1 with:
Add option approve answer
The name speaks for itself meaning! Now admin can take the control over their own the Answers from the users by having an option to enable/disable this option directly on the back-end.

Show anonymous email
In this point, the plugin has supported to help you find the email, Name of user anonymous. We have created a page named "Anonymous Listing" under the settings tabs of the plugin.


Option to show/hide author, date for widgets
If you want to hide/show author or date under the title of the question in the widgets, you can check or uncheck the checkbox in the setting of the widget. It's very simple.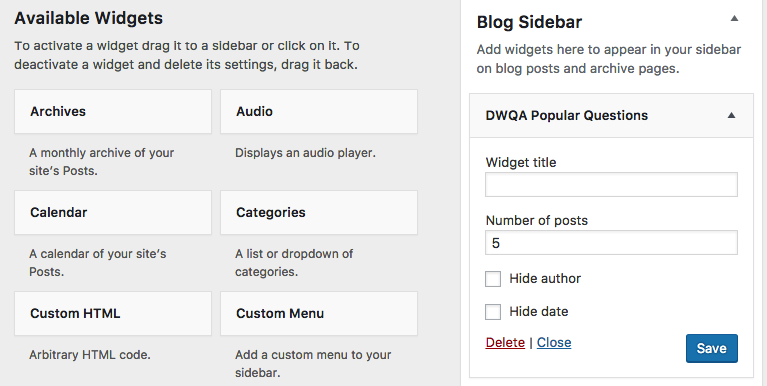 Submit question form for each category
We have provided a shortcode to help you insert the submit form to anywhere that you want with exactly a category. If you want to show the submit form, you can use the following shortcode:
[Submit categories form]
NOTE*: Change the catslug With your categories slug that you want.
Other updates and bug fixes
– Fix: Widget translate
– Fix: Permission settings
– Fix: Notification email
– Fix: integrate Buddypress (post not found!)
– Fix: Slug of Q&A tab in BuddyPress
That's is for now. You can buy and update the plugin to the latest version.