Emojis are trending as the latest visual language among internet users. So, if you are still in LOL slang, it's time for you to move to the latest approach of using symbols and glyphs to spruce up your conversation. Professor Marcel Danesi, an international expert in semiotics marks this era to be the beginning of emoji literates.
Emojis Have Seeped Well In the Mainstream Digitalized Communication Culture
Emojis are gaining their momentum to such an extent that July 17th is formulated as World Emoji Day. Also, emojis have become the universal language and they are gaining a new ritualized attention that is going to last for some time now.
Responding every conversation with an emoji is common these days both for professional and personal conversation. Content marketers are taking full advantage of this trend. "Once you use one emoji, you just want more and more," highlighted a report.
"It does not matter who you are…
Everybody uses Emoji"
You Can Emoji in WordPress Too
When words fail, emojis speak. Often we get bottled and wonder how to express. Thanks to emojis. WordPress lets you insert Emojis in your posts, pages etc easily. WordPress emoticons are gaining its traction.
There are more than hundred plugins available in WordPress which lets its users use emoji in their contents.
• Log into WordPress
• Select 'Plugins; in the side menu
• Click add new
• Search
• Install / Activate the plugin
# Native Emoji

With more than 1000 emojis, this plugin is appreciated and used extensively due to the fact that it is extremely easy to use and supports almost every theme. The plugin also supports custom posts types. The plugin adds a copy of both iOS and Android emoji sets.
How it Works
The plugin works with WordPress 4.2 or higher. Activate this plugin and you can see a new button in your WordPress editor which will let you include more than a thousand emojis to your posts, pages etc. The plugin lets you use emoji in a native way. Just select the emoji you wish to use and the plugin will insert the emoji native code. Version 2.02 is the latest version released on 26th June 2016.
# Super Emoji Plus+

This plugin is noted to be an ideal emoji picker for WordPress.
The plugin adds an insert emoji button in your post content editor. When you click the button, you can view the toolbar to search and insert the appropriate emojis. Auto-complete of emoji is also possible by typing the colon followed by the name of the emoji. Version 0.1.4 works well with WordPress 4.5 or higher.
# Emoji Settings

Enabling and disabling emojis right from your WordPress settings has become much easier now.
How to install?
• Install Emoji Settings via the WordPress.org plugin directory
• The Plugin gets activated immediately both in single site or multiple sites
• Disable emojis quickly and easily via the admin menu under wp-admin/options-writing.php
There are two filters for this plugin. One is to disable the plugin and the other makes changes in the default settings of Emoji Settings. The plugin is written for WordPress multisite. And because of this, it allows users to take complete advantage of the functionality and requires zero configurations. Version 1.1.0 works well with WordPress 4.2 or higher.
# WP Emoji One

EmojiOne is a member of the Unicode Consortium. With nearly 1800 options under several categories, this free open source set of emojis have some of the best releases till date under the name of Unicode 9, Q2 2016 and Q1 2016. This plugin facilitates the use of open source Emoji One emoticons which right on to your content easily. It is based on the TypePad emoji for TinyMCE plugin by picmo. To add them to your posts, you just have to click the one on your visual editor, install the plugin, specify the size and add them easily.
So, it is time to bid adieu to those blank squares that you very often see in your content.
Some More….
There are several plugins that will help you to either add to disable emoji within your content. Keep track of upgrades. For example, in WordPress 4.2, the upgrade utf8mb4 can store any Unicode character. This lets you store emojis. If a site is not able to upgrade to utf8mb4, then WordPress lets you convert emoji to their HTML-encoded equivalent, and store that, instead.
Advanced Emotions Analytics for your Content
Feedback Reactions
#Vicomi
Vicomi is a comment system plugin. It let your readers r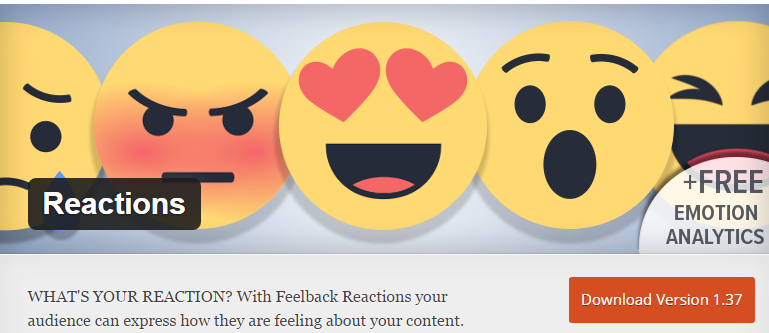 eact to your contents by clicking any of the five emojis provided at the end of your content. Users' reactions are displayed immediately. Right from your dashboard, you can see how your audience reacted to your content. These analytics give valuable insight to your users' emotions towards your content.

#Myeffecto

This emotion based rating widget lets WordPress users improve their engagement and traffic of their blog through visual feedback. The widget can be available right at the bottom of the blog post.
To use this, users have to just select a MyEffecto Emotional Feedback Emoticon set from the public library and use it for FREE. Customizable buttons are also available upon request.
# React & Share

Install this plugin and start receiving instant reactions on your posts from your customers via the reactions buttons.
It is amazing to get real-time feedbacks from your readers. React & Share is the latest addition for WordPress users. To install the plugin, users can go directly to the WordPress Plugin directory and choose. Once the plugin is installed, reactions buttons automatically get activated and appear on every post.
Final Thoughts
Brands are taking serious notice of emojis. Emojis promise to create an impact. WordPress emoticons are fun to use. You can use them within your contents, titles and even in Meta descriptions. The best way to understand this, go ahead and install them and start using them right from your dashboard. Additionally, there are few plugins that will let your readers use emojis while commenting. By doing so, you let them respond with characters, symbols, and glyphs instead of a long comment. Emoji is no doubt the new generation language that lets you communicate even those which simple text will not let you to. Go ahead and take complete control of creating an impact with emojis right from WordPress.
"Express Yourself …..Business is all about relationships… How well you build them determines how well they build your business. Emojis can speak louder than words."