When talking about WordPress news & magazine themes, you might find a wide variety of theme out there, both commercial and free collection. Yet, it is not quite easy to find the best minimalistic & modern theme that gives you a balance solution where performance is well optimized while adding sufficient sets of the feature.
If you look for a light-weight, modern news & magazine theme for your WordPress site, our new DW Magz would be a strong contender you should consider, besides current flagship design DW Focus, DW Argo in our news theme category.
Enhancing readership, mobile-oriented news consumption are among key factors drive us toward the simplicity in each design & development perspective of DW Magz. And here're fundamental functionalities packed in the theme:

Advanced Header
When your user lands into the homepage on his first visit, the main navigation is loaded in full. All common elements on a news site are in place, from social (thumbnail) touchpoints, instant search box and off canvas sidebar are built in by default.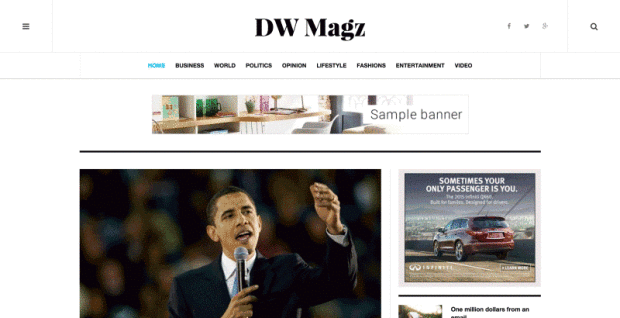 Once your user scrolls down, the header automatically resizes and becomes sticky. This is not necessarily a technical plus, it's more to enhance the readership and user experience. This way gives more real estate for the new content flow to come in, and remarkably removes possible distraction while user browses and discovers content around.
To add 'personalized' layer to the main navigation, DW Magz allows you to define specific color code for each menu item, just simply by declaring predefined CSS classes or adding your custom one. Beyond that, it also adds capacity in the default configuration for different tweaks, like logo placement (left or center), adding new social button, custom menu or switch from light vs. dark header options.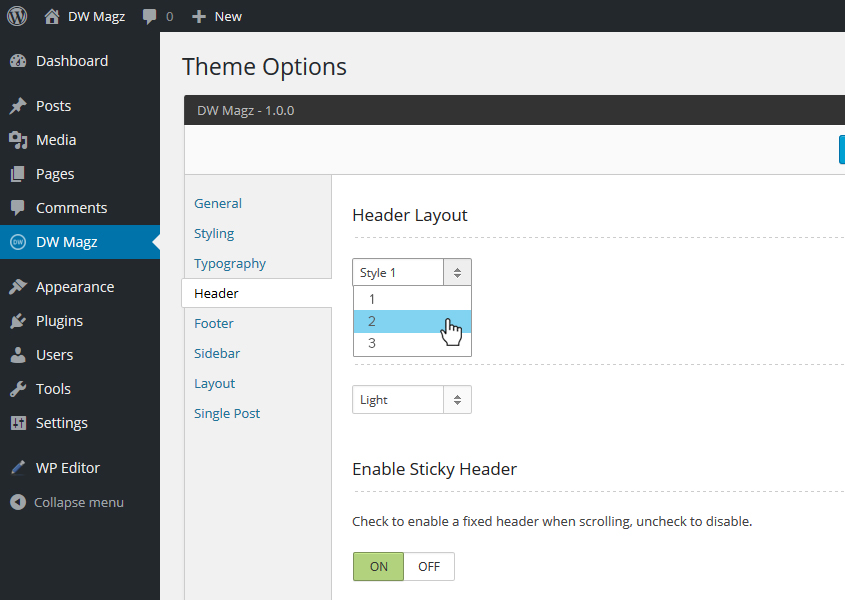 If you prefer minimal header, rather than default big main nav as in our demo, you simply move back and forth among the three built-in header styles available in DW Magz.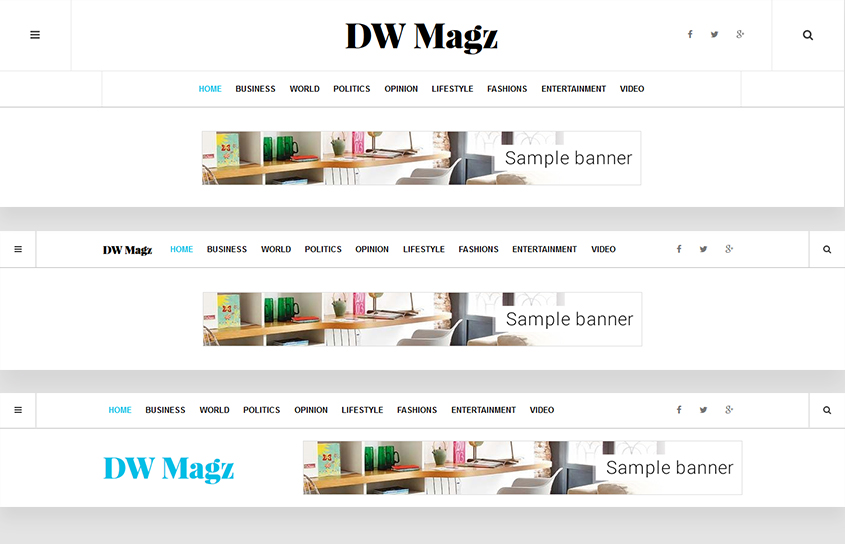 Predefined Layouts
At the page level, you have 3 layouts (Left, right & without sidebar) ready right in your configuration panel, no code modification needed to switch among full width vs. one with the left or right sidebar. At present, DW Magz fully supports such predefined layout options for frontpage, archive pages, single page or single post.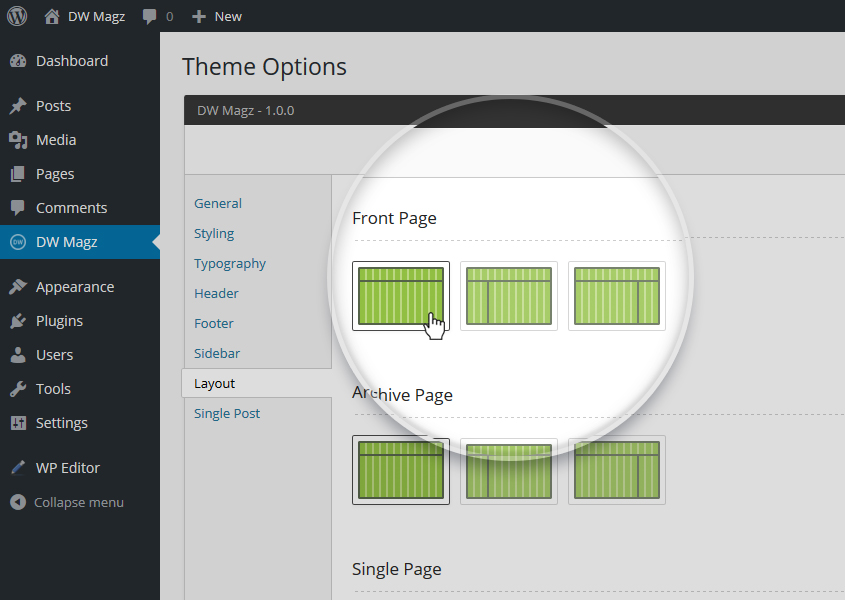 DW Widgets
Widgets are such an integral part of WordPress themes that it is hard to imagine a WordPress theme without widgets. As proven to be an optimal functionality add-on in our beloved DW Focus, DW Argo themes, widgets continues to be our choice to supplement most needed features in DW Magz, including latest posts, latest videos, most viewed and post grid: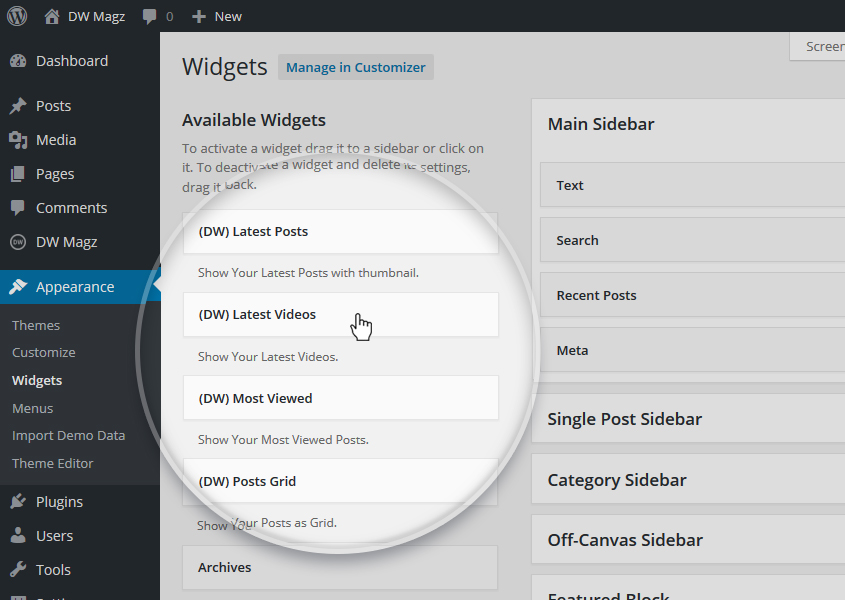 Advance sidebar
Sidebars are useful for any reusable bits of content. Depending on specific use case, you might need to assign different sidebar for each page, for instance, the main sidebar for the front page, while single post sidebar enabled for post page. DW Magz comes bundled with a few widgetized areas that you can start adding content to right away.
In case you want custom widgetized area for use somewhere else in your theme, it's possible to add your own, yet this requires coding skills to set up such a dynamic sidebar. Basically, it involves two steps: register your widgetized area, then output the widget block in your theme.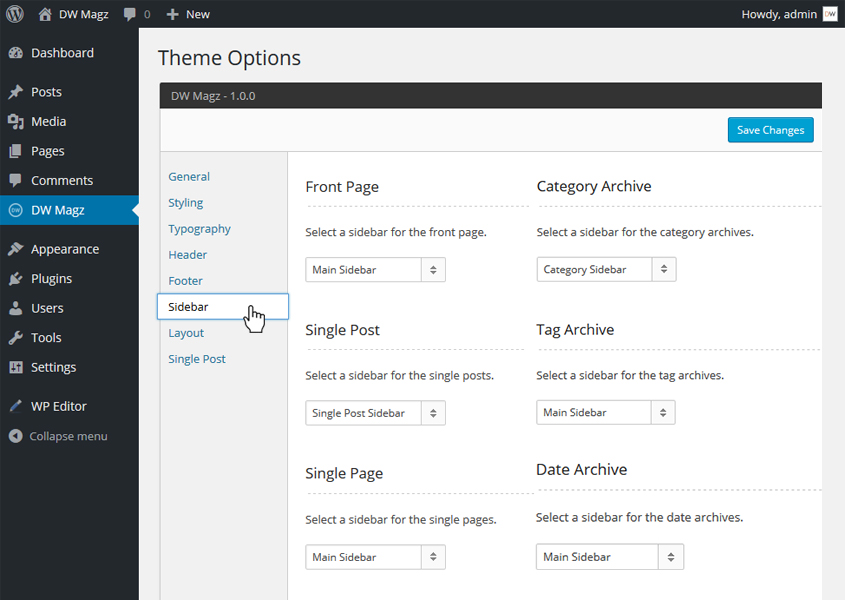 Powerful Theme Options
Theme Option actually includes almost common configuration / setting options that I cover throughout so far in this review. In general, it has built-in configurations that you can make change without any code modification, from logo placement, embedded Google analytics code, site background to typography, header, footer, sidebar, blog or single post.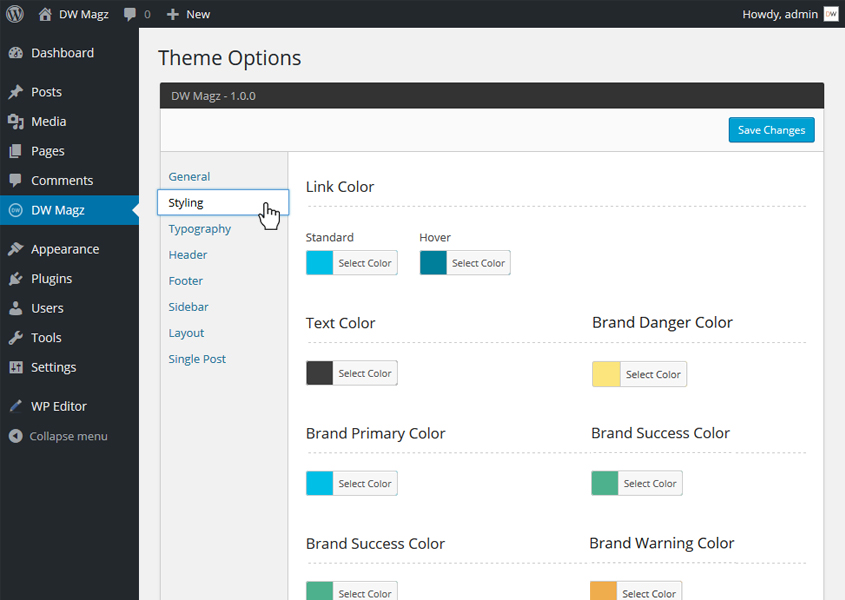 Customisation (via Theme Options)
Many users, especially who are new to WordPress, it's not always comfortable adding code to a theme, thus, we try our best to give you more control across a wide range of customization, a few to name:
Define Custom Site Width and sidebar width

Add Google tracking code

Configure Link color, Site Background

Support custom CSS in case of complex modification

Typography attributes: color, font family, size, weight and line-height

Navigation types: Default (Next/Previous), Numbered, Load More button, Auto infinite scroll
Widgetized Footer
It's possible to set up to 4 widgetized columns for footer section in DW Magz, without having to deal with any code modification. This means you can assign a set of widgets into such footer area, all in the same place using drag and drop interface.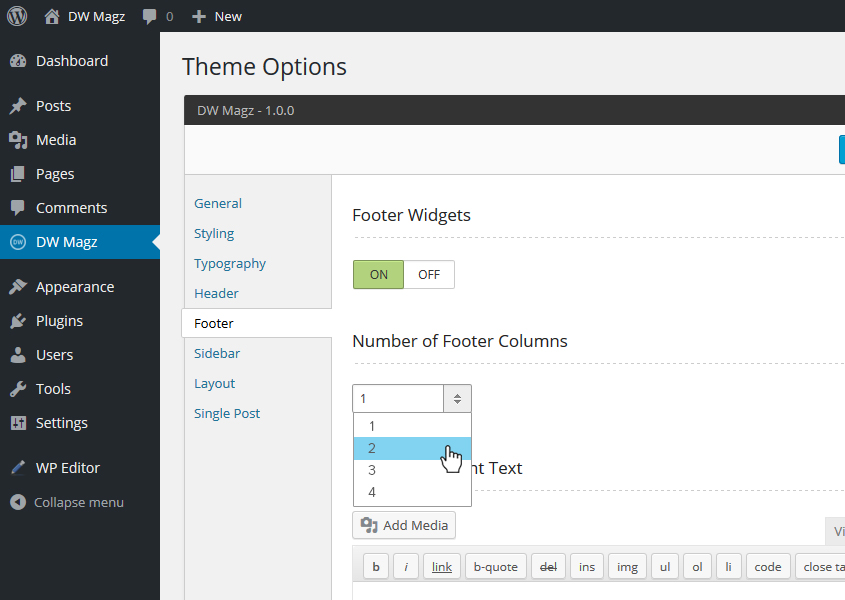 Add support for the Accelerated Mobile Pages (AMP) Project
Have you heard of the Accelerated Mobile Pages (AMP) Project? This is an open source initiative that aims to provide mobile optimized content that can load instantly everywhere. AMP HTML is a new way to make web pages that are optimized to load instantly on users' mobile devices.
Glad that WordPress community sees the first quick initiative that adds support for this AMP Project. The plugin is still in development progress, yet giving AMP a try this way in your WordPress site is crucial to scope with the slow, clunky mobile web, especially with the recent shift to mobile trend. DW Magz now works smoothly with the mentioned plugin.
So, are you about to start a makeover to your current WordPress news site, or find one for upcoming magazine / news project? Don't miss our DW Magz!
If you have any question or feature request, please head to our dedicated support forum for DW Magz, or you can leave your feedback in the comment below.