UPDATE July 23, 2015: [New features] DW BrickStore blog and product pages now have infinite scroll feature added.
UPDATE July 16, 2015: DW BrickStore update version 1.0.1 has just been released, with 3 new page layouts added: classic homepage variant #3, Lookbook and Typography.
Changelog details: http://bit.ly/1TO3Siw
Today we're proud to announce DW BrickStore, a brand new eCommerce theme to join our portfolio. DW BrickStore is a lightweight, flexible premium WooCommerce theme.
What is included in the BrickStore?
WooCommerce core integration
DW BrickStore features integration with WooCommerce core, make it ready for you to set up webshop quickly in minutes. As far as you are satisfied with WooCommerce e-commerce functionalities, DW BrickStore will give you flexibility on the front-end, while you can pick and choose the extensions you need to create the perfect backend for your store.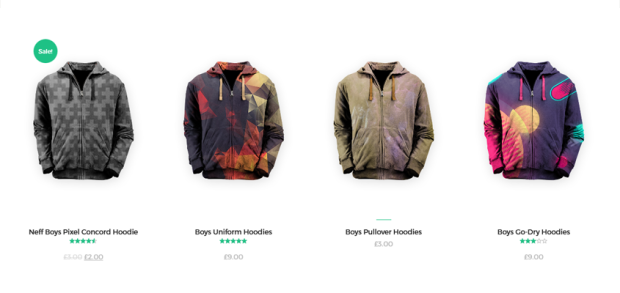 Bundled with Slider Revolution for Free
For the first time, we provide a premium plugin Slider Revolution built in our theme for free. Once you download DW BrickStore, you will see this slider plugin bundled and ready to use with just a few clicks.
Not just a way to help save your budget, DW BrickStore empowers your shop with an elegant slide displaying solution. You can create unlimited slides for almost any kind of content with highly customisable, transitions, effects and custom animations. This plugin is responsive ready, an impressive feature to show the slider across various screen sizes, mobile devices. For more in-depth review, you can check out this post or visit Slider Revolution developer site.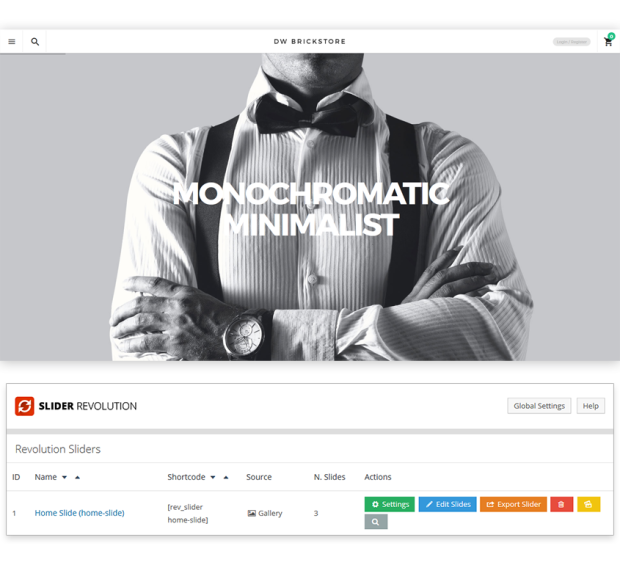 Layout Options
In this release, you can start building your shop with standard BrickStore homepage layout, but can also switch to another classic homepage layout if you like.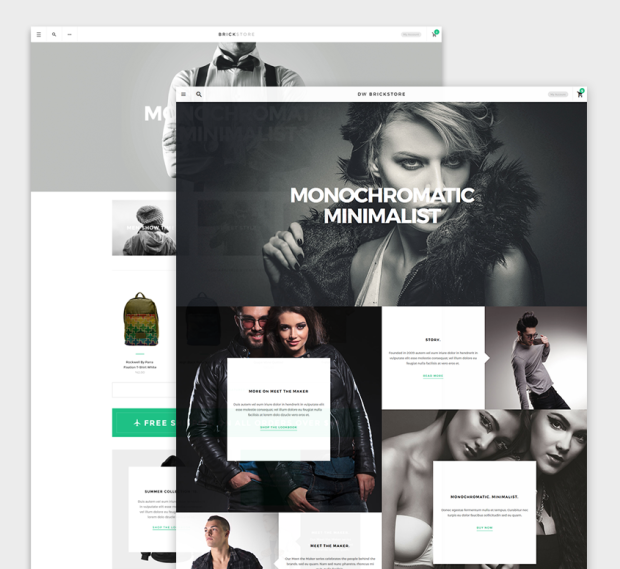 DW BrickStore shop layouts display a whole bunch of content to immerse the visitor in your products, including links to product categories, featured products, recent products, on sale products and popular products etc., For blog section, the content grid also sees flexibility, a wide range for you to choose from, with 2, 3 and 4-columns variants as well as left and right sidebars.
If those predesigned layouts are not exact the look and feel as you wish, you can easily customize to match your businesses, as this theme is based on SiteOrgin page builder. So, no limit on layout options.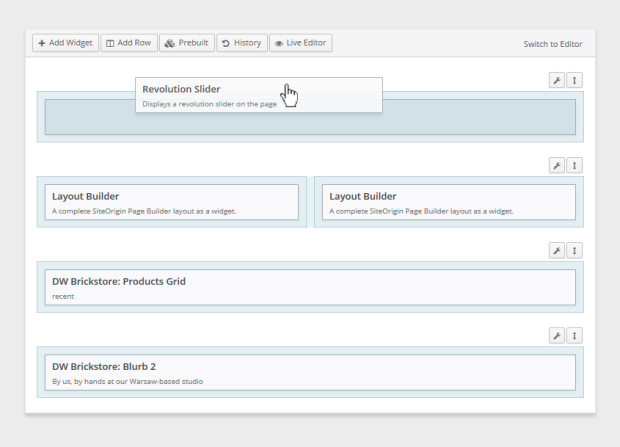 Off-Canvas Navigation
DW BrickStore selects off-canvas as the main navigation. You might wonder why? The answer is off canvas menus can provide an extremely useful and beautiful experience for your users and are also friendly with Mobile and touch devices. For a webshop, off-canvas is a perfect fit to drive eyeball to the products as the focal points, while still guiding them to navigate across pages easily.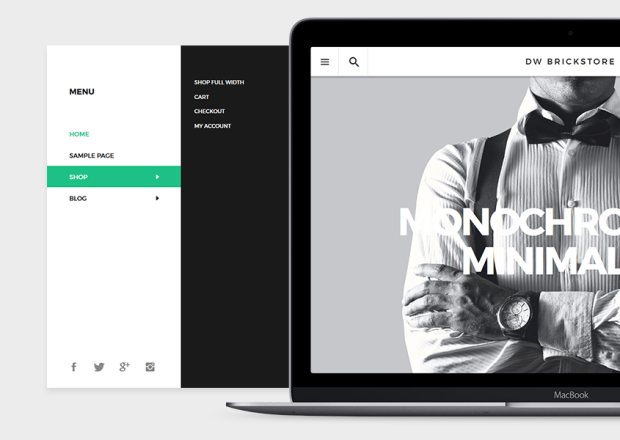 Custom Quickcart Function
We customize QuickCart feature and see this is a small tweak, however it helps to enhance shopping experience. This handy cart allows users to immediately see what they've selected, add or remove items without having to navigate back and forth across shop pages.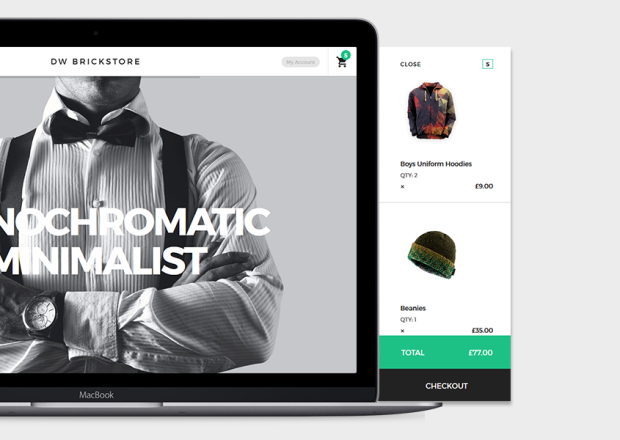 Product Quickview, Compare & Wishlist
To enhance the shopping experience beyond the WooCommerce core, DW BrickStore has added features from the YITH WooCommerce Compare & Wishlist plugins that we introduced once in our another ecommerce theme – DW Trendy.
For Product Quickview feature, as it is one of essential addons for any store, we developed this item exclusively for DW BrickStore theme. Quickview refers to a quick popup window displaying product information in brief like item title, price, description, rating, imagery and so on. This allows to quickly view any product in your WooCommerce catalog and give your customer chance to add to cart seamlessly whilst browsing a category or product listing page.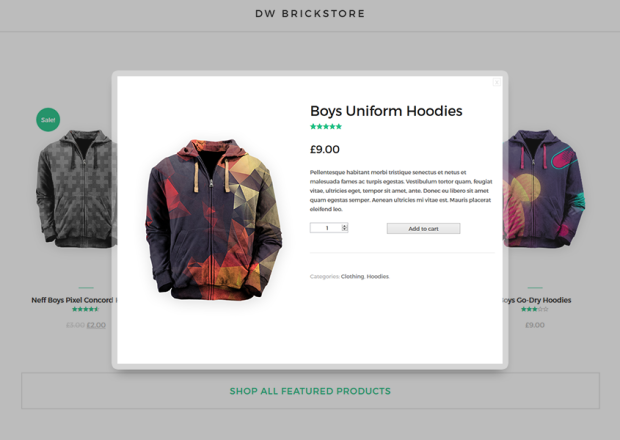 Theme Option Panel
Keeping the theme lightweight is one of essential goals we follow, thus we start with minimal setting panel and will keep optimizing in our next updates.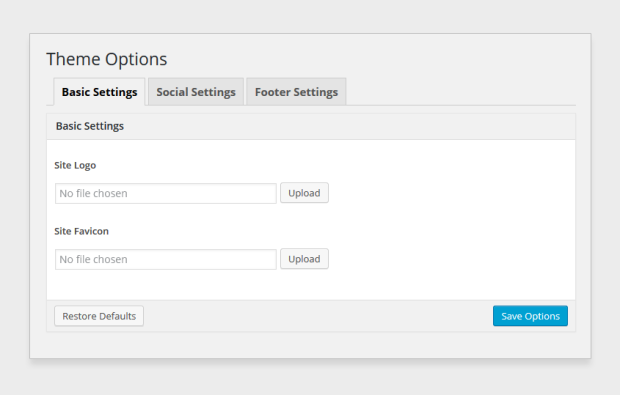 In DW BrickStore, there are several display settings that allow you to customise the design to meet your requirements. These settings are all accessible in both BrickStore theme panel and WordPress Customiser (where you can preview your changes in real time).
While the feature list mentioned above is just a starting point, it gives a very good example of how powerful DW BrickStore is in combination with the feature rich plugin WooCommerce. With the use of drag & drop page builder SiteOrigin, premium Slider Revolution plugin, you can really extend DW Brickstore flexibly to build a professional web store your ways.
Now let's explore the theme and decide for yourself.