This week I had the chance to interview Giacomo Barbieri, Chief-Editor from Tweaknology.org. This real world example tells us how he used DW Argo theme along with a handful of plugins to set up an awesome technology blog in no time. This is a part of our WordPress Customer Spotlight section, where DesignWall users come and share their beautiful projects as well as their valuable development experience.
Thanks Giacomo for taking out the time and making this worthwhile for our friends here at DesignWall and anyone who has passion in WordPress.
Tell us a bit about your WordPress beginnings. What is your dev background and how you did get into WordPress?
I'm a student of informatic engineering from Third University of Rome. I learned to code at university, but I extended my dev skills with courses from Codeacademy and attending dev conferences in Rome and Milan. I got into wordpress when I first started my blog, Tweaknology.org, that earlier was on Blogger (for less than a month). When I started, I was a very newbie, I just didn't know anything about plugins or SEO or Google Analytics. That was 2 years ago. I learned a lot in the last two years.
What was the brief for your http://tweaknology.org project?
Tweaknology is an Italian blog about tech and innovation. It's not a newspaper, we don't write everyday. We write both precise presentations of new products and deep analysis of everyday experiences. We also provide a comprehensive (as we can) cover on top tech-related topics, such as physics, startup events, marketing, cyber security, automotive. For the normal user, tech is everyday activity, related to everything we do. So we also talk about music, movies, TV series and pure art. It's the everyday-tech-world we're in.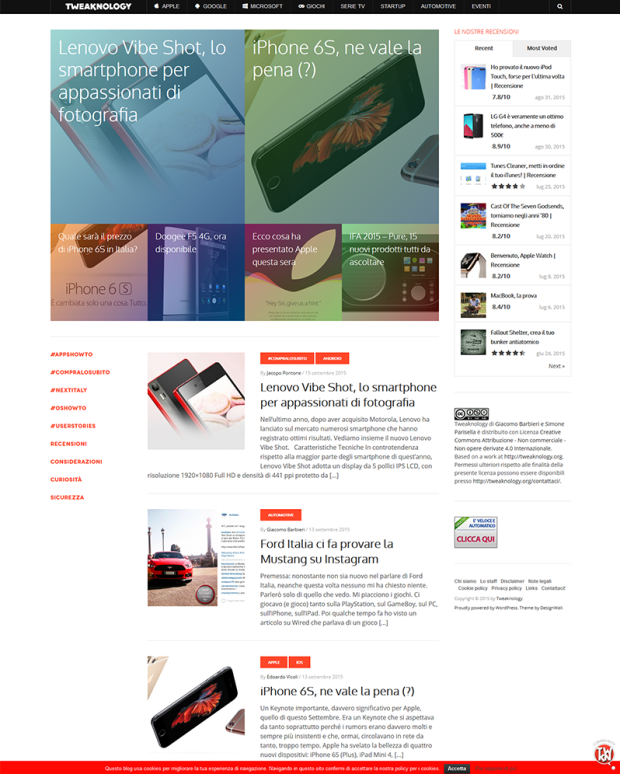 What was the beginning of the project?
It's a funny story to tell: on early January, 2014, I was surfing the web with my MacBook and I got into a website that offer a real-time sync between cloud services, such as Evernote, Google Drive, Dropbox. I can't remember why, but I absolutely wanted to try this service out: its name is CloudHQ. On a line, below the offer description, I noticed a short writing: "if you write a blog post about us, you'll get one year of premium subscription for free". I immediately created a blog on Blogger, it was the fastest way I knew then. So, I created a personal blog, ijaack.blogspot.com, and I wrote an article on CloudHQ, commenting my personal experience with the service (the article has been moved to Tweaknology and it's available here). To answer this question, I visited these first articles for the first time in months, and I laughed because they are short, and I didn't use copywriting or SEO techniques.
When I came to my university colleagues with this "let's create a blog" idea, one of them, Simone Parisella, told me: "Why can't we open a blog with every of us?". So I moved all my posts (3, I guess) to the new Blogger blog: tweaknology.blogspot.com.
I came with this "Tweaknology" name thinking about what we would deliver to our readers: piece of advice for every kind of person. "Tweak", as utility, and "nology", as collection. I'm Italian but I'm used to think in English, so I came up with this english new word (I found that a PC Shop in USA has the same name: they came up with it before me, but I didn't copy them, I swear).
What got you started with DW Argo theme, and why did you choose it for this site?
I started with DW Argo around December 2014. It was the month before the first anniversary of Tweaknology. We couldn't use standard WordPress teme anymore, I saw that they just didn't fit the philosophy of my vision for the blog. We talk about tech and innovation, so we NEEDED to have an innovative layout and presentation of our contents. It's not like many of other templates, it's more minimal and content-focused. And last, but not least, it's not expensive.
What extra plugins and extensions did you use (if any), and why?
Tweaknology has 17 active plugins and 13 inactive ones. I think the best are Disqus Comment System, Google Analytics Dashboard, Share Buttons by AddToAny, WP Review, WP Super Cache and Yoast SEO. Disqus is the best way to engage users with comments, GAnalytics Dashboard is the simplest way to have all the info about the daily growth of your site, ShareButtons is a very nice way to put Social Buttons and customize them, WP Super Cache is the best plugin to speed up every blog's page using fast cache, and finally Yoast SEO (I think) is the best plugin to easily implement SEO techniques. I don't delete inactive plugins because they could be useful in future and I'm not sure if I'd find them again.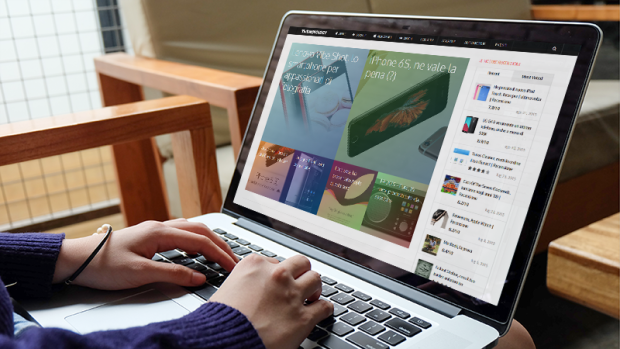 How DW theme helped speed up your development process?
It was easy to set this theme up. I was not so good at coding when I first used this theme, (I didn't know how to use CSS, for example), and the customization page was easy to understand.
What are the benefits of using DW Theme as a building block?
I can count on your speedy replies whenever I need help with coding stuff or bugs.
Any friendly tips for people new to the world of WordPress?
Yes, of course. Never worry, you'll learn faster than you can imagine. If you love what you do, you'll never be bored or so. There are billions of websites in the world, try to focus on your content and find the best theme that can fit it. Never do the opposite.
If you have a beautiful project and want to share your story with us, simply submit your WordPress site and we will get back to you for more discussion on delivering an interesting showcase like this. Feel free to submit multiple times should you have more than one website.