When we talk about latest happenings in WordPress we always need to stay updated. For those of you, who are blogger aspirants, they as well need to be updated about almost all the updates. When I say to be updated, I mean in every technological basis, every recent happening and every recent product launching.
These things are achievable and believe me when I say very easily. All you have to do is keep yourself posted with the latest happening through blogs. Follow all the premium blog providers and you'll see yourself how significantly your knowledge set regarding the WordPress is growing slowly but steadily.
In this post, I am going to provide you an exclusive list of those WordPress blogs which covers all the latest happenings plus which covers all those happenings and information effectively and with quality content.
Get started with an exclusive list of WordPress blogs to follow
1. DesignWall WordPress Blog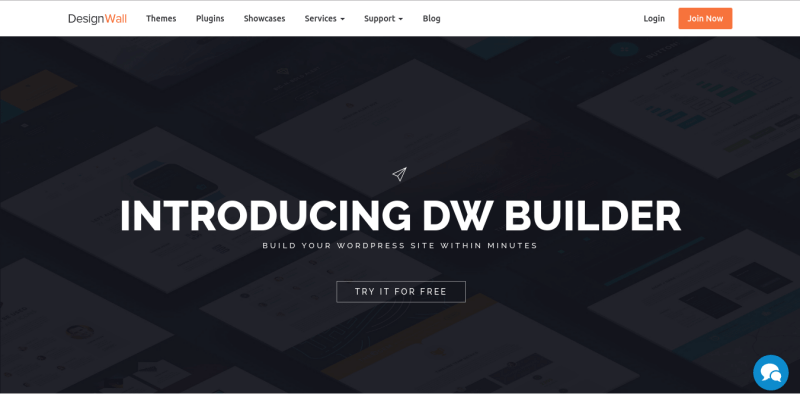 Well, you might think that I am getting biased, but trust me that is not true. DesignWall always stays up to date and provides useful information. They also provide guest bloggers to share their experiences and skills. Due to this reason, DesignWall contains so many of varied topics starting from basics, tutorials, reviews, articles and many other forms of write ups which will help you to be up to date every time.
They have collaborators from across the globe continuously working on improving the contents and informing the readers about all the important news related to WordPress. My first recommendation has always been Designwall, So, I don't shy about that.
There are many categories of articles which can guide you to the perfect article you might want to access. So, visit DesignWall and subscribe the blog now.
2. WordPress.org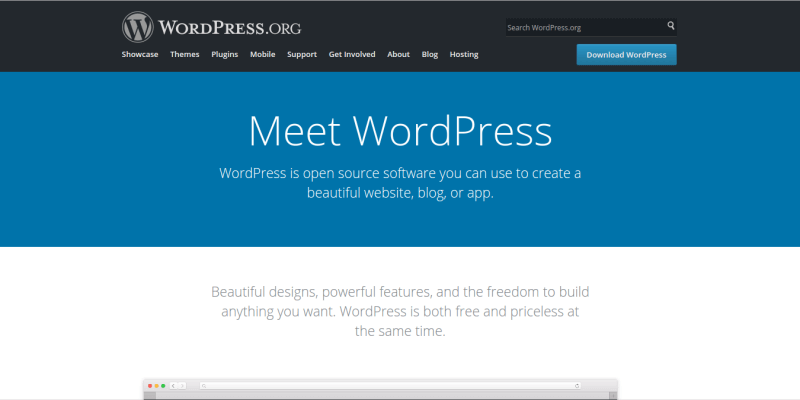 This seems pretty obvious when we talk about WordPress blogs to give latest news and updates. This is the place where the first WordPress bullfight takes place. This blog gives you everything whatever you desire to know about the WordPress such as, Latest news on the WordPress releases, code changes, community news, developments, and events.
This caters the biggest portal to offer every kind of information about WordPress. Also, this blog should be given a huge appreciation for the coverage of WordPress such that WordPress itself has become the most popular CMS. You should visit WordPress.org and follow the blog for future updates.
3. ChrisLema.com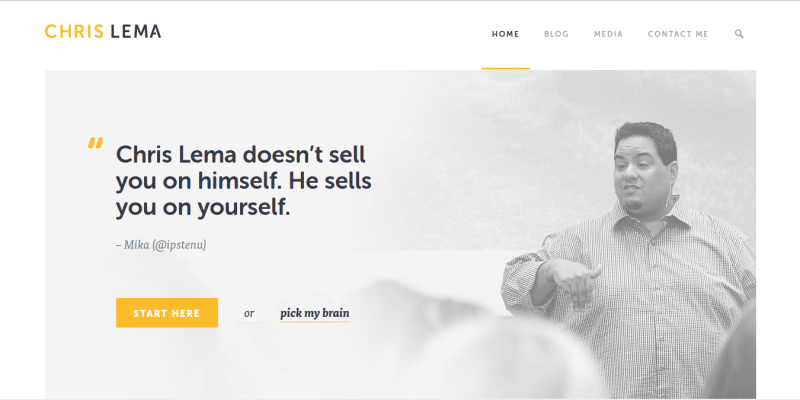 Chris Lema is an extraordinary WordPress blogger and consultant to many of the industry giants. He is famous for his advice given to companies such as WooCommerce, WP 101 and RocketGenius. His blogs usually cover almost every topic of WordPress which are essential for every passionate WordPress-er to know about. In his latest written Ruminations, he now started discussing,
E-commerce.
Price Strategy.
Freelancing Tips.
4. Wordsuccor.com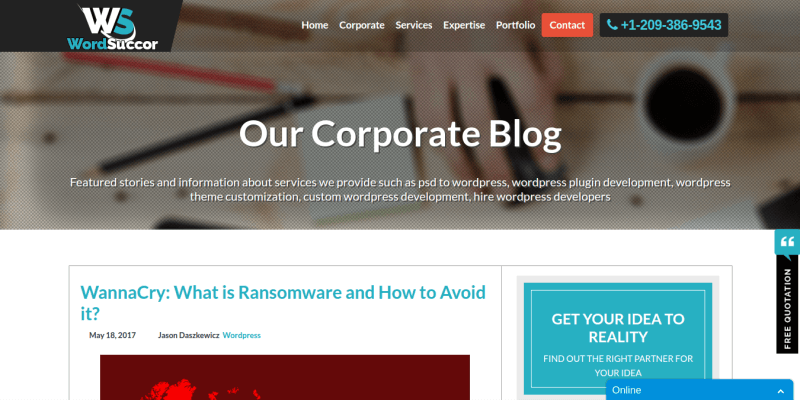 This blog website is ultimate for those who want to start from scratch and slowly but steadily moves to perfection. Wordsuccor is a development team who happens to generate quality content about WordPress and Blogging. Their blogs are playing the pivotal role in educating and spreading WordPress literacy. Their content covers from all the layman's topics to super rocket science coding of WordPress. This is an ideal blog to follow if you want to keep yourself updated for all kind of cool WordPress tricks and tips.
5. Matt Mullenweg
Many of you did not even know who was the original founder and developer of the WordPress. Well, now is the time to remember this name. The name is "Matt Mullenweg". Currently, he is working with the driving force of WordPress i.e., Automattic. Matt always is busy in collecting and curating interesting articles about WordPress and flash news as well regarding it. Then, he gives his balanced opinion about that incident. I reckon following his blog can seriously rejuvenate your WordPress daily dose. Follow him here.
6. WPBeginner.com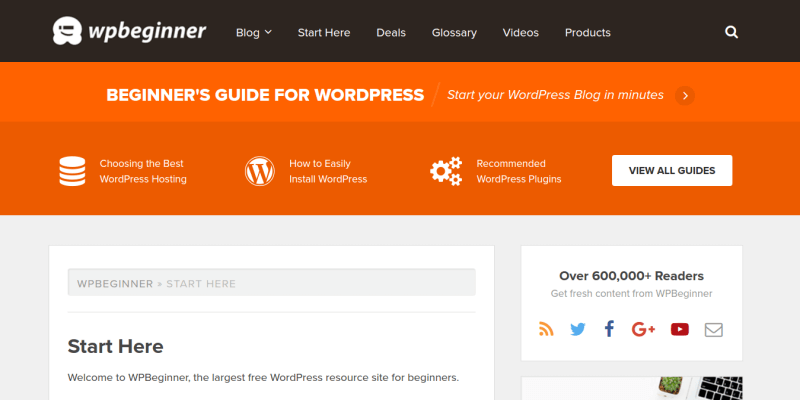 The name says it all. WPBeginner.com is an ultimate blog for the WordPress newbies. It doesn't matter what you're looking for, be it a tip, advice, tutorial, article, review, events, editorials, news and every other thing related to WordPress. You will get everything you need in this one place without any doubt. Even if you're not interested in reading stuff (I will be surprised if you said yes we're not!!!), you can find loads of videos covering almost everything about WordPress themes and plugins. This website is very beneficial, Just three words to you for this Blog website. "Subscribe it Now!!!"
7. Yoast WordPress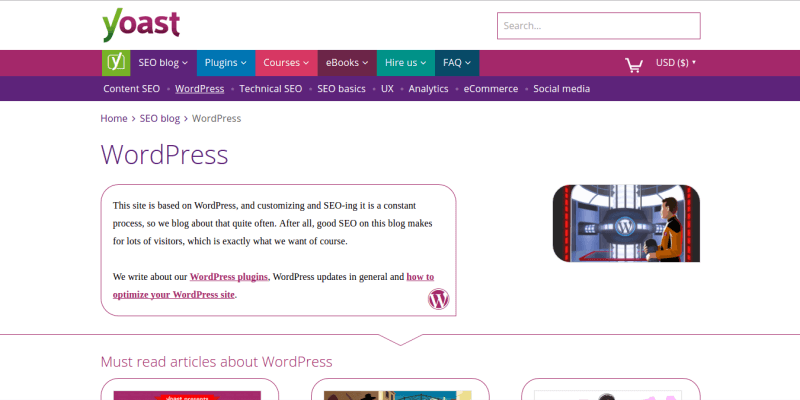 Yoast is basically a WordPress plugin which offers SEO services and overall website optimization. This plugin was built by a prolific writer and developer, Joost de Valk. As I mentioned he is a prolific writer, the Yoast Blogs are pretty nice and versatile when it comes to topics regarding WordPress. The Yoast Blogs section is full of compelling topics covered by bloggers and webmasters. This mainly covers about Search Engine Optimization, how to increase website performances and everything about WordPress. I would like to recommend Yoast WordPress Blogs to all aspirants who are seeking help and guidance for learning WordPress and SEO.\
8. Matt Report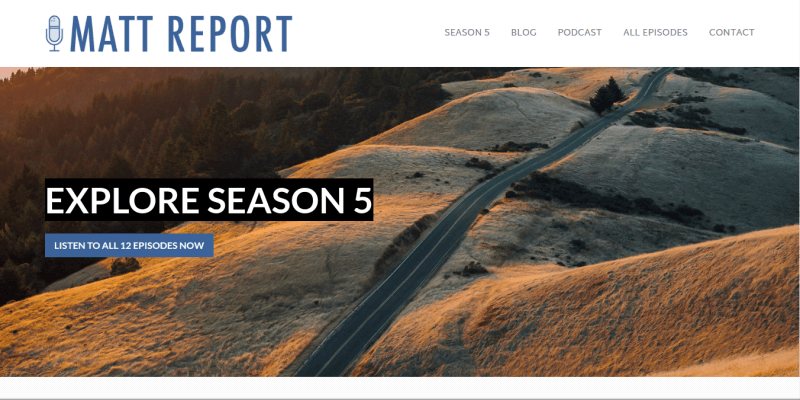 Matt Medeiros is currently a famous podcast broadcaster and also an owner of a website that basically deals with all types of questions related to WordPress and Digital Marketing. The blog is famous with the name "Matt Report". This blog serves to WordPress agencies and digital market holders. This website can be very beneficial for those who're looking for making money online. This blog provides top to bottom info (Building; Starting and Marketing) for a successful business in WordPress. Go to the Matt Report and see it yourself.
9. WPMayor.com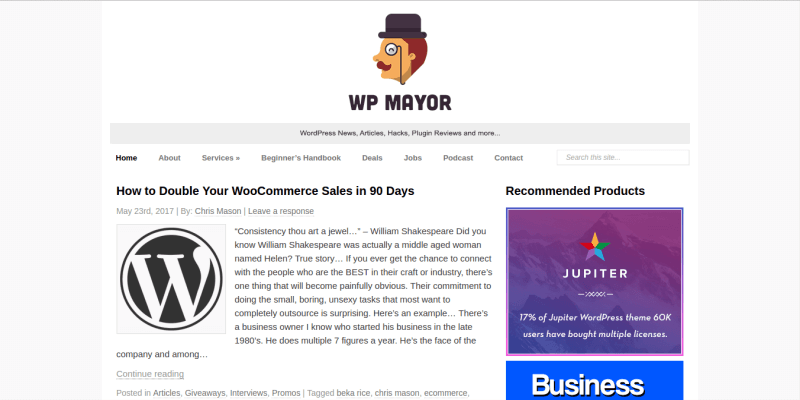 This website was started back in 2010, by Jean Galea, his wife Alonya and his cousin Mark Zahra. So, this Blog website was started by family and some guest contributors. They keep the content strategy in circles around WordPress plugins, themes and reviews of the services. They offer contents in form of news, reviews, articles and tutorials. The best part of it is they are always updated and informative as well. This can be an ultimate salvation if you want to know about WordPress tools such as plugins and themes and shortcodes etc. You can visit the website through this link.
10. WPTavern.com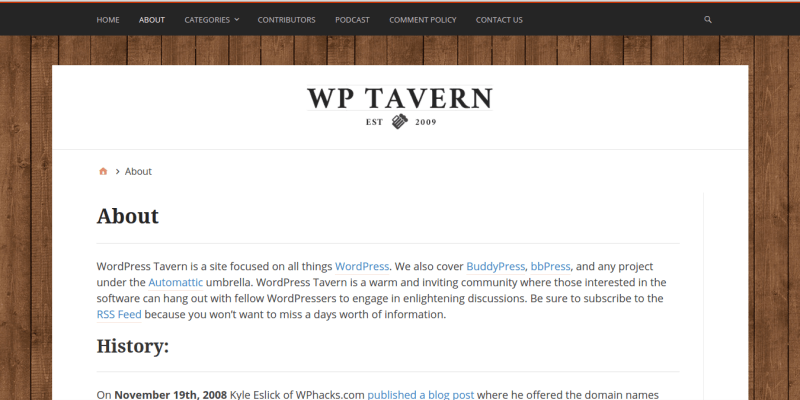 WPTavern.com is a friendly community which had created a foundation of understanding since its establishment in 2009. The tavern was recently purchased by the Godfather of WordPress, Matt Mullenweg. It usually covers topics surrounding BuddyPress, WordPress and all the diverse projects of Automattic. The discussion platform of WPTavern.com has its own reputation of being genuine and helpful. I highly recommend it for everyone. And that's just not only because of Matt Mullenweg, The Blog is worth it.
11. SitePoint WordPress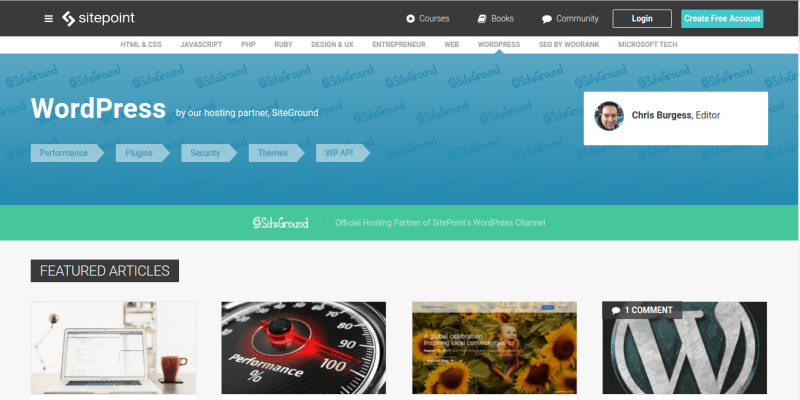 SitePoint is one of the Pinnacle when it comes to the content on the WordPress. It is well known for its well-researched, highly informative articles curated for everyone. It doesn't matter if you're a beginner or a veteran. The SitePoint blog posts serve both of them very well. However, I recommend newbies to go from the scratch to have a better understanding of every rudimentary fact about WordPress and WordPress website development. As far as Pros are concerned, they can choose in accordance with their liking from where they want to start. So, go for it and stay updated.
Conclusion
To conclude, these are the main WordPress Blogs which will effectively keep you updated and enlightened about every tenet of WordPress and Website development. Let's again have a look on the websites just to give a head start to keep a track of these blogs.
 DesignWall
WordPress.org
ChrisLema.com
Matt Mullenweg
WPBeginner.com
Yoast WordPress
Matt Report
WPMayor.com
WPTavern.com
SitePoint WordPress
Wordsuccor.com
So, these are the website You might like to follow in your future to have a regular update on the WordPress technology and news events.
Hey, what you think about my list? If you like it please share it. And Don't forget to share your own list of WordPress blogs in the comment section. I am always just a comment away.