Starting in 2003, WordPress is a project of a Britisher – Mike Little and an American – Matt Mullenweg to continue the blogging software b2/cafelog' s success.The thing made WordPress totally different from the other existing blogging tools at the time was that users and developers could extend functionalities by writing their own plugins and sharing with the rest of community. This open-source property has attracted users so far. Nearly 40% of all websites now are using WordPress, changing it into the largest self-hosted blogging platform in the world.
When it comes to the WordPress competitors, we have to mention Moveable Type – the largest weblog publishing system at the beginning of WordPress development. The sudden change in the license terms caused "large-scale migration" of Moveable Type users to a new platform. Because of a free and flexible platform, WordPress was the perfect choice for them. Having said that, WordPress has developed on the right track and brought many impressive features compared to other blogging platforms right from the start.
WordPress is a CMS Platform used to create and manage digital content. There are many content management systems available now, each with its own strength and particular purpose. CMS now has changed. That means you can use CMS to build any kind of website you want thanks to additional plugins. Therefore, the competition between different CMS lies in the highly customizable features. The more customizable level and the number of plugins a CMS has, the more attractive it is for users. It is the main reason why WordPress is the standout CMS among others. It goes along with thousands of plugins.
However, nobody is perfect. You are good at one aspect while another is good at other aspects. This is when competition was born. WordPress doesn't has some features that others CMS platforms have. Regardless of CMS Platform, there are four biggest WordPress competitors: Drupal, Joomla, Tumblr, and Blogger.
CMS WordPress Competitors

Drupal
| | |
| --- | --- |
| Released in | 2001 |
| Popularity | > 15 million downloads |
| The number of free themes | 1800+ |
| The number of free plugins | 24000+ |
| Cost | Free |
Drupal was at first written by Dries Buytaert as a message board rather than a content management system like today. Similar to WordPress, there is a community of million professional developers all over the world hiding behind the Drupal's development. In order to make the community maximize its strength, Dries created a "breakthrough" in the core CMS mechanism. Modules in the community can interact with each other and with the core easily. Therefore, flexible customization capability is the factor that makes Drupal become one of the biggest WordPress competitors. Flexibility, power, developer-friendly system and good SEO capabilities are the Drupal's advantages that attracts a large group of users.

The WordPress competitor-Drupal is not only good at content publishing but also at building website. Drupal can build any kind of website, ranging from simple small websites to large, complex websites. It is the best choice for mid-size eCommerce business, e-Commerce sites. However, the number of themes and plugins for Drupal are less than WordPress.
And also, Drupal requires a familiar understanding of HTML, CSS, and PHP. Those new to blogging and website building might feel worried about that. By contrast, WordPress is very easy to use for those who don't know code.
Joomla
| | |
| --- | --- |
| Released in | 2005 |
| Popularity | > 30 million downloads |
| The number of free templates | 900+ |
| The number of free extensions | 700+ |
| Cost | Free |
In spite of releasing after Drupal and WordPress several years, Joomla has achieved an extremely impressive growth. As of October 2015, there had been 2.8 million websites using Joomla and over 50 million downloads. Considered the compromise between the most famous CMS WordPress and Drupal, Joomla doesn't require the same level of technical like Drupal but it is enough to run a site smoothly. As for newcomers, Joomla is a little bit complicated than WordPress. However, regardless of SEO, WordPress outclasses Joomla. 
Blogger
| | |
| --- | --- |
| Released in | 1999 |
| Popularity | > 7 million downloads |
| The number of free templates | 7 |
| The number of free plugins |  No |
| Cost | Free |
Launched by Google on 23 August 1999, Blogger is one of the oldest blogging platforms in the world. The strongest point of Blogger is that it has the free, simple and flexible themes which help users create any content they want. SEO friendly is another marked feature of Blogger because it belongs to Google – the largest search engine on the Internet today.
Tumblr
| | |
| --- | --- |
| Released in | 2007 |
| Popularity | 550 million monthly users |
| The number of free themes | 1500+ |
| The number of free plugins | Does not access |
| Cost | Free |
WordPress vs Tumblr, it is such an exciting discussion. Straying away from the traditional CMS, Tumblr is a combination of blogging and social media. Someone defined Tumblr = Blog + Twitter. That means Tumblr is like an intersection of Twitter and Blog. Tumblr allows users either to create a blog or re-blog posts, which is similar to Twitter users read and retweet. And moreover, it is very easy to get and run a blog up with Tumblr. Users don't need to download any software and wait to install.
Exploring, sharing content as well as following and connecting to like-minded people are the basic difference features between WordPress and WordPress competitor – Tumblr. Although the number of WordPress blogs is more than Tumblr, the percentage of Tumblr monthly visitors per blogs has surpassed that of WordPress. WordPress has about 2.5 billion blogs but there are only 409 million people who view WordPress blogs monthly. While Tumblr has nearly 281 million blogs and 199.1 million monthly visitors.
On the other hand, Tumblr has many disadvantages. Controlling over formatting in Tumblr seems very difficult with the limitation of plugins. And moreover, if there are problems with Tumblr's servers, you will not be able to enter your blog. All the existing information can be lost forever.

Using CMS platforms to make a website brings many advantages such as quick development and deployment time, advanced side functionality, the huge development community, to name but a few. On the other hand, there are also many disadvantages. Although all of them are free, the hidden implementation costs for perfecting the site are not free. Furthermore, using CMS platforms sometimes requires several technical understanding. Finally, security is the remarkable point when building a website through CMS platform.
Compared to CMS platforms, hosted website builder can overcome the above disadvantages. Because of simple features and low costs, many people don't choose WordPress but a hosted website builder to build their websites. For sure, we need to mention other WordPress competitors: Ghost, Squarespace, and Wix.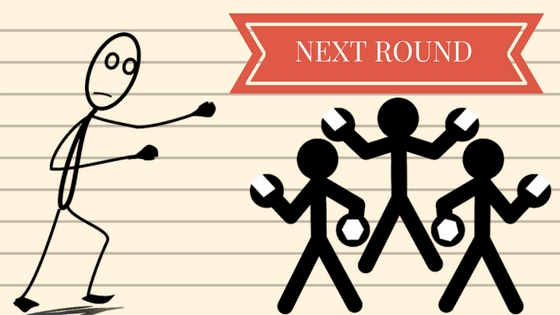 Website Builder WordPress Competitor
Squarespace
| | |
| --- | --- |
| Released in | 2004 |
| Popularity | 1+ million websites |
| The number of templates | 57 |
| The number of plugins | No |
| Cost | Starting from $12/month |
If you want to build a professional website but don't have web development skills or money to hide a developer, Squarespace is a good choice. Squarespace provides almost tools of website building. Everything you need to build a website (domain, hosting, payments, traffic statistics, security, updating and even a mobile compatible version) is hosted on Square's servers. However, as to customization, Squarespace is much less than WordPress. There are lacks of options for creativity beyond the basic customization of themes.
Wix
| | |
| --- | --- |
| Released in | 2006 |
| Popularity | 90 million users |
| The number of templates | 510 |
| The number of plugins | No |
| Cost | Starting from $4.5/month |
With Wix, it is very easy for users at any level to build their websites by dragging and dropping content wherever they want. If speak of flexibility, Wix is still limited customization compared to WordPress. But all the features and functions is tested and controlled by a Wix's private development team. It is a marked advantage of Wix – less but better quality.
Ghost
It is undoubted that Ghost is the direct WordPress competitor in terms of blogging. Furthermore, it can become more than just a normal blogging. With Ghost, you can create a full site that you want it to be. Ghost allows you to create home pages and other statistic pages including About, Contact Us, etc.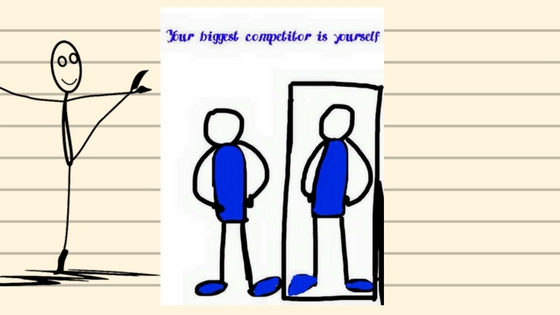 And you know what? The biggest WordPress competitor is the WordPress itself. The purpose of analyzing competitors is to understand more about yourself: strengths, weaknesses, threats and opportunities.
WordPress SWOT
Strengths

> 140 million downloads

Free

Simple

Flexible (>2.000 free themes and >27.000 free plugins)

Optimal for SEO

Strong supported

Weakenesses

Security

Hidden cost

Not suitable much for large, complex websites.

Opportunities

Attracting people by  providing a solid mobile experience in near future.

 Growth in the number of users because more people/businesses build a website online.

Threats

WordPress competitor (Drupal, Joomla, Wix..)

Becoming a completely different WordPress that many people used to know and loved (WP-API will change totally PHP active code in WordPress).
Conclusion
Actually, the word WordPress competitor should be put in inverted commas because these platforms above offer  a little comparison to WordPress, as can be seen. Each has pros and cons. The decision, in the last analysis, depends on user's purposes.