WordPress Q&A plugin DW Question & Answer has been updated to the latest version 1.2.0 with regular bug fixes and improvements. If you missed our last release of the 1.1.9 version, you can read about it on our blog.
Note
: always remember to back up your site and note down any custom code you have made before proceeding to any update. If you face any difficulty, feel free to ask us for support at our
Q&A support page
.
This version 1.2.0 comes with routine bug fixes based on issues we received from Support. For more details, please read at the changelog below and always remember to back up your site before updating.
DW Question and Answer
WordPress Q&A plugin DW Question and Answer
Emoji supported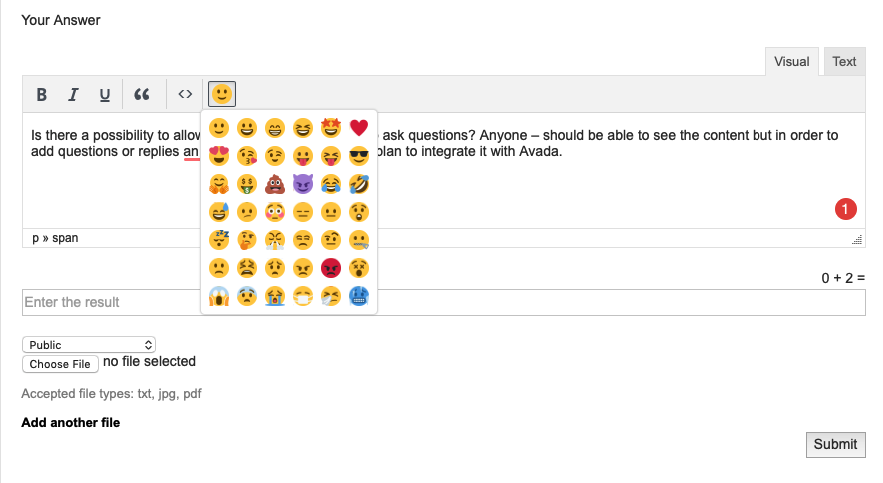 Changelog
New: Tags shortcode
New: Emoji
Fix: Time error (if question not public)
Fix: Auto update when wp_get_remote error
[ Upcoming Features ] Additional Extensions for DW Q&A
As mentioned before we plan to release new features for DW QA plugin in 2018. While we continue to improve the core plugin, a few new features will be added in the form of additional extensions. Here are cool add-ons you can expect to see in upcoming versions of the DWQA plugin:
Restrict/Membership content: Integrate with Woocommerce / Easy Digital Downloads Plugins or Once click PayPal button. This helps you create a paid support package. There are cases where site owners want to maintain paid technical support service and users need to buy access to premium support etc., This feature will be possible with (upcoming) payment integration.
What do you expect to see in the upcoming versions of the DW Question & Answer plugin? Let us know your thoughts and ideas in the comment below.