The very first impression that you make on the potential HR manager is through your CV. It determines your capabilities and competency towards specific job profile. This means a resume is one of the most crucial aspects that takes just two minutes to decide whether it's worth exploring or not. In this competitive digital world, you can't restrict yourself when it comes to creating a professional-looking CV-based website to describe your education, expertise and working experience. To help you get the most out of it, we bring you the list of 10 most beautiful and user-friendly WordPress CV themes that will help you build a resume based website, without any coding.
Whether you are a Chartered Accountant or a Content Writer, you can leverage the CV based WordPress themes to grow the chances of getting dream job instantly. With the help of the following themes, you can create the responsive, professional-looking, and beautiful website to showcase your detailed work and expertise in the best possible way.
Let's get started!
1. DW Resume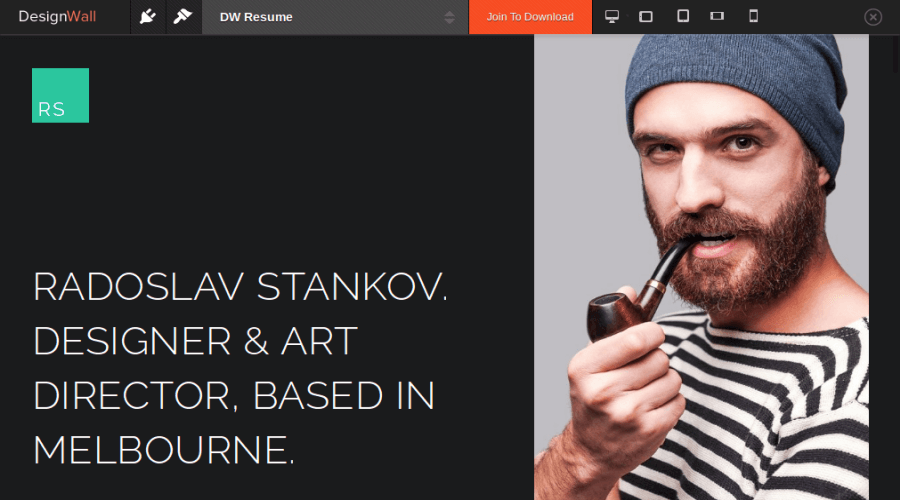 Available at: DesignWall
DW Resume is one of incredible WordPress CV themes that lets you create visually appealing and professionally-robust CV based website or portfolio in minutes. The USP of this theme is its extraordinary typography functionality and user-friendly interface. Most of the people choose DW Resume because they find it more customizable and user-friendly.
Plus, it lets you create the one-page personal website of your choice, such as portfolio, resume or CV to let the world see your creative stuff and technical know-how in the most convenient and engaging manner.
With the DW Resume, you can make your site responsive so that it can run smoothly on different devices and screen sizes – this means more exposure, greater opportunities, and better accessibility. It is a user-friendly and highly customizable CV WordPress theme and packs a wide range of features, including:
● Simple and intuitive user interface
● Tons of customization options
● Over 200 beautiful icons
● 600+ Google Fonts
● Simple and minimalist design
● Responsive design
● Translation ready and a much more.
2. RS Card – Resume, CV, and vCard Theme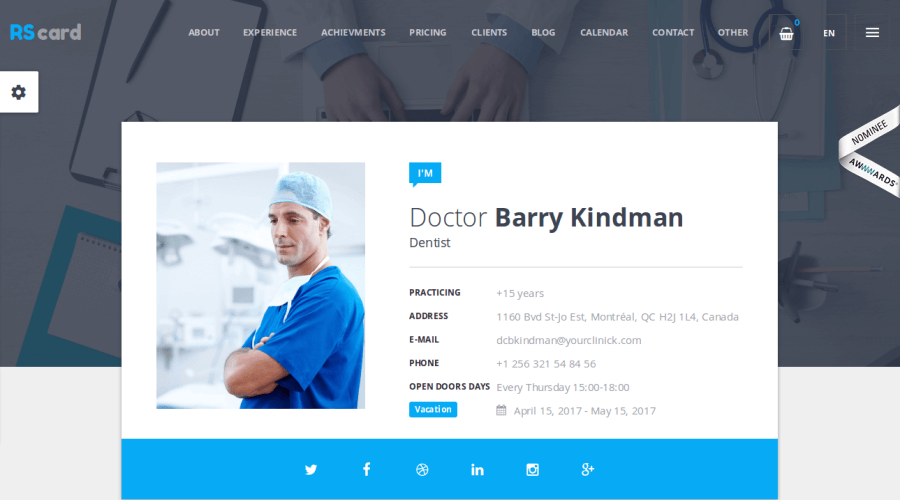 Available at: Themeforest
Create a beautiful and professionally appealing Resume, CV or vCard based WordPress site using the RS Card theme. It is designed for professionals and thus, it has four different layouts, responsive layout, minimal and clean design functionality to let you showcase your work in the best possible way.
Since it is a one-page theme, you can represent your ability as a professional in a much simpler and convenient manner. Plus, it includes a calendar section, and a blog page that you can customize as per your specific needs.
The theme offers a ton of customization options to let you tweak the overall look and feel of your site the way you want, You can change the fonts, layouts, colors and a lot more in a breeze. Apart from this, you can boast a ton of other features, such as:
● Powerful Page Builder
● SEO-friendly
● Retina ready
● Cross-browser compatible
● More than 800 Google Fonts
● Over 200 icon fonts and social icons
● Shortcodes
● WPML compatible and translation ready
3. Persuasive Portfolio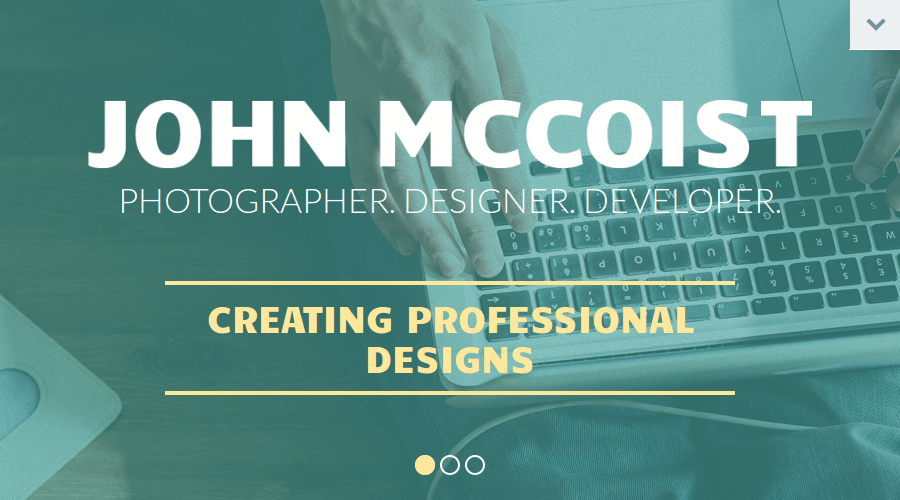 Available at: ThemeMosnter
Build a strong impression on your potential employers to seek your desired job by creating intriguing and feature-rich CV-style website. This is where Persuasive Portfolio comes into play.
It is a type of simple, responsive and powerful WordPress CV themes that allows professionals to build CV or resume style websites by adding multiple sections such as work experience, portfolio, testimonials, expertise, personal details, and contact details to make it easy to find you on the digital market sphere.
The theme allows you to represent your recent work at the bottom of your homepage. It offers a ton of other exciting features, including:
● 100 % Responsive
● Highly customizable
● SEO-friendly
● Over 80 shortcodes
● Unlimited color options
● Descriptive Typography
● Custom widgets and filterable portfolio
● WPML compatible and translation ready
● Custom Post Types and a lot more.
4. ShiftCV – WordPress blog/Resume/Portfolio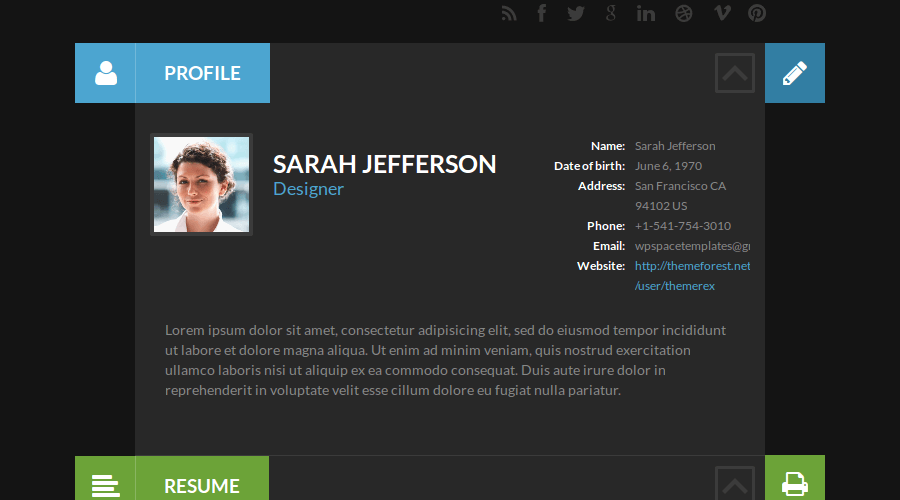 Available at: ThemeForest
Create a flat, 100 % responsive and cross-browser compatible Resume or CV style website using ShiftCV WordPress theme.
It comes with two different version of colors: dark and light to let you showcase your multiple sections in a more appealing way. Even, you can create colorful widgets to represent your skills and testimonials, and also integrate a user-friendly contact form and Google map to let the employers find you easily. Below are some impressive features of ShiftCV:
● An option to on/off retina ready functionality
● It offers multiple blog post formats
● Custom theme option panel
● Comprehensive documentation
● Translation ready
● Robust support, etc.
5. Resume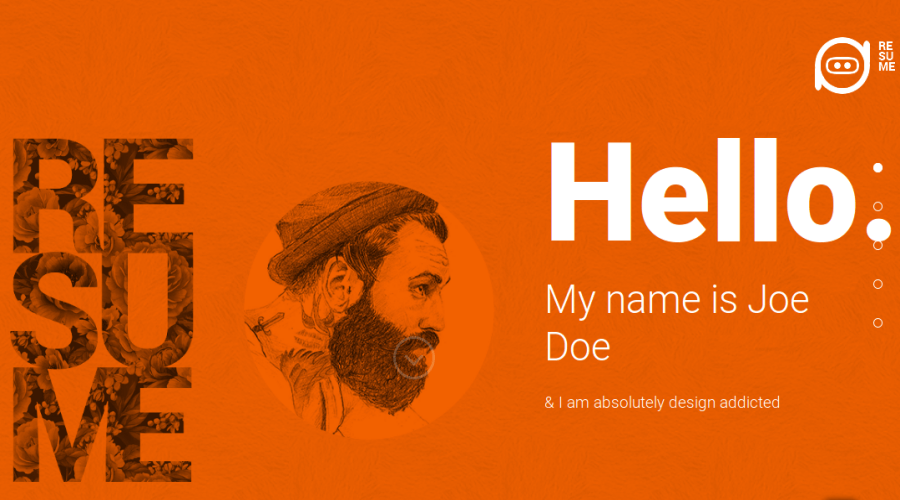 Available at: TeslaThemes
Resume is a clean, technically robust, and one of the feature-rich WordPress CV themes for creating personal websites, such as portfolio, CV or resume for professionals and job seekers. It is a customizable theme that comes with striking CSS animations, multiple background posts, color schemes, and other web design elements.
The theme helps you showcase different elements of your CV such as work history, qualification, education skills and a lot more- thanks to its info tables. Let's have a glance at its super-exciting features:
● Uses the modern web languages (HTML5, CSS3, and Bootstrap framework)
● Responsive and retina ready
● Speed optimized
● W3C validated code
● Font awesome integration
● Powerful Support
6. Prestige – Portfolio WordPress Theme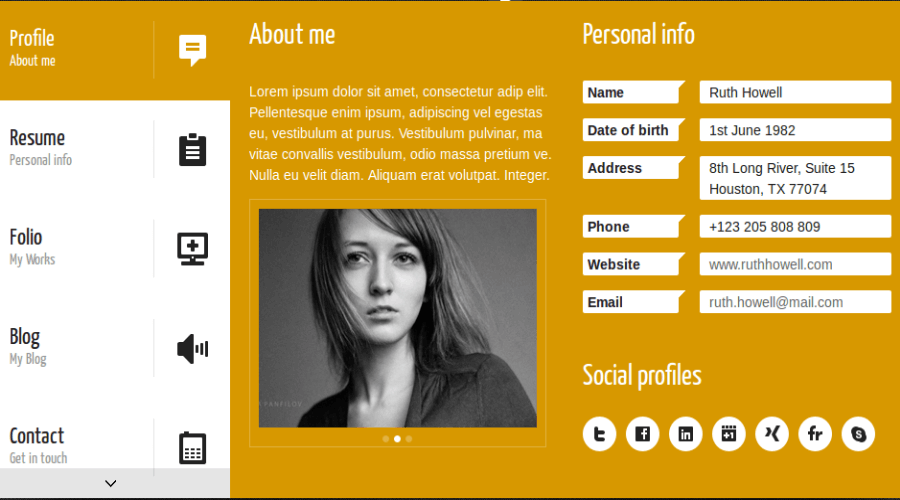 Available at: ThemeForest
Prestige is portfolio resume theme for WordPress that comes with different color menu tabs to display the content of different pages in the most engaging way.
Plus, the theme comes with the blog commenting feature, contact form, a slider, ready-made gallery lightbox with video support, social media icons to let you boost the chances of getting the visibility across the web world. The theme offers some of the other incredible features:
● Leverage latest technologies
● jQuery enabled
● Font-Face Fonts
● Latest Tweets
● Responsive design
● Seven-page transition options and a much more.
7. Pillar- MultiPurpose WordPress theme
Available at: ThemeForest
Pillar is an outstanding WordPress theme that can be used for multiple purposes. It comes with 150+ content blocks and built-in layouts to let you showcase your resume to the potential HR manager instantly.
It comes with over 2000 custom icons to help you highlight the assorted sections of your resume, like work history, skills, education, testimonials, contact details and a lot more at ease. Most of the people opt this WordPress CV themes because of the following features:
● Highly customizable
● Integrated with Visual Composer plugin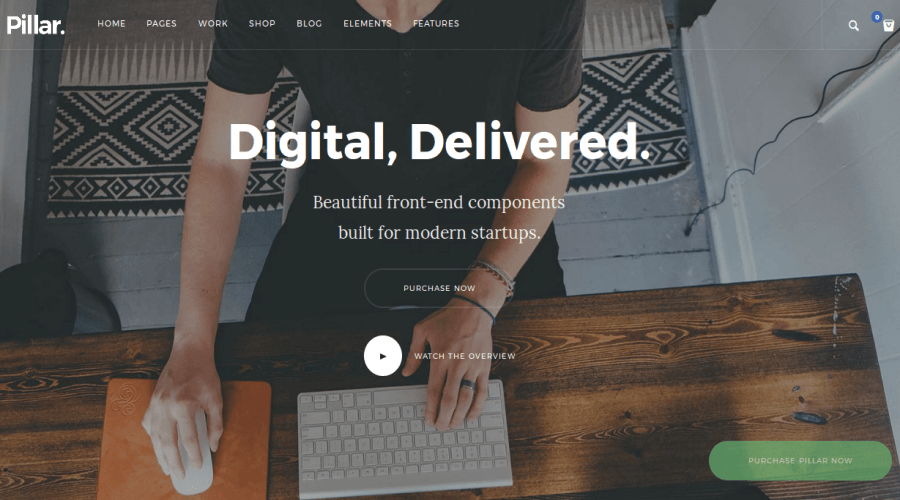 ● 100 % responsive
● Four beautiful footer styles
● Eight different header layouts
● Integrated with MailChimp and other email service providers
● One-page navigation setup and a lot more.
8. Bionic – Personal Portfolio WP Theme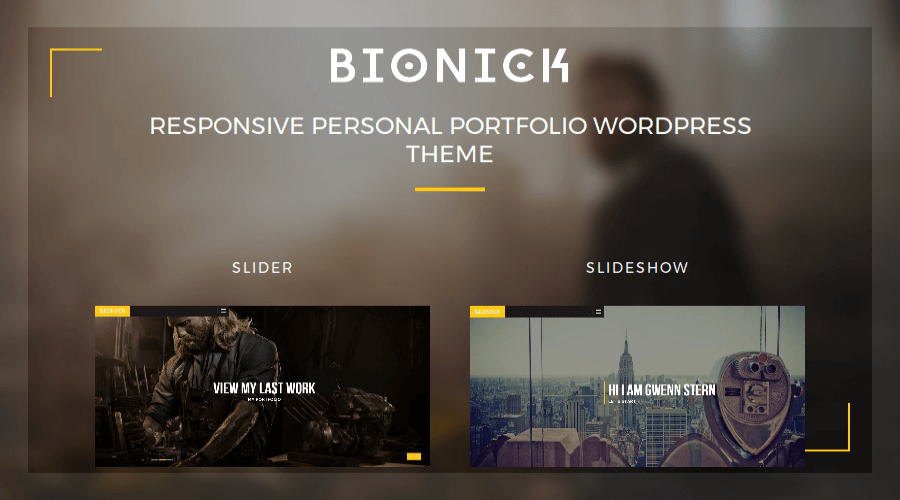 Available at: ThemeForest
Bionic is a fully-fledged personal portfolio theme that offers scrolling page functionality to help you display your latest work to the real-time employers.
The theme is for creative professionals such as designers, illustrators, photographers, architects, and video producers to love using their cutting-edge technologies to showcase their innovative work. To an addition, Bionic offers a plethora of exciting features:
● Developed on Visual Composer
● Revolution slider
● Responsive layout
● Multiple color options
● 4 beautiful home page layouts, 4 different portfolio post formats, and filterable portfolio options
● Shortcode generator
● Custom widgets, etc.
9. HighClass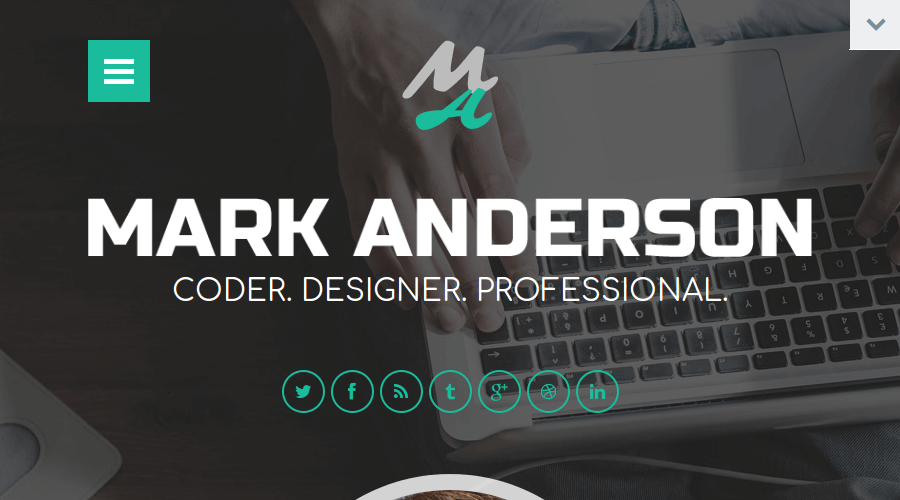 Available at: TemplateMonster
HighClass is developed by Template Monster that helps you present your resume in the most engaging and effective manner. The WordPress theme developer of HighClass has embedded all the necessary functions that can help you get the desired job with ease.
With this theme, you can set your resume using a fullscreen-width banner image, use vivid color options to display the different sections of your CV in the best possible way. Let's explore some of its beautiful features:
● Fully-customizable
● Multilingual ready
● Custom post types
● Parallex effect, and a much more.
10. ResumeDojo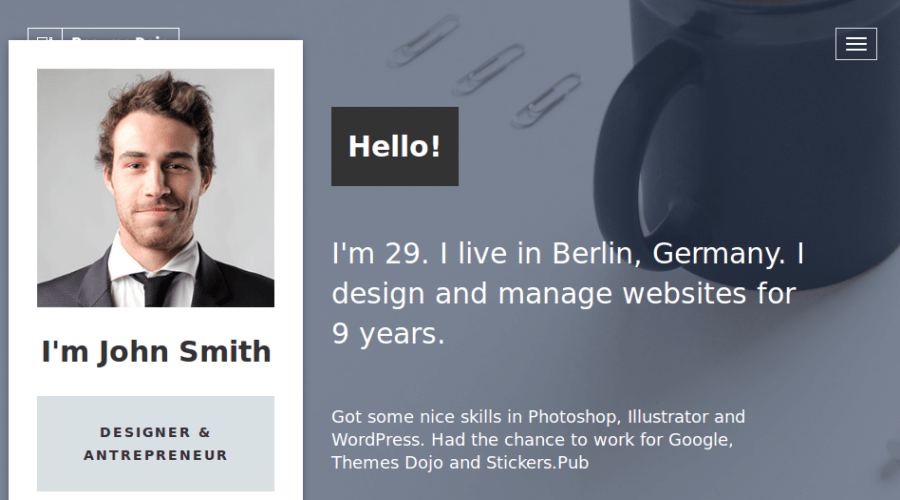 Available at: ThemeForest
ResumeDojo is a beautiful resume portfolio theme for WordPress that is power-packed with unlimited customization options and design elements. In order to stay ahead of the competition, you will need to use a theme like ResumeDojo that will help you present your expertise, work experience, and other relevant information in an accessible way.
You can also use the animated timeline blocks to show your work history to leave an instant impression on the potential employers. It comes packed with a ton of unique features:
● Options for one-page or multiple- pages setup
● Integrated with Google Maps
● Responsive layout
● Contact form with validation
● 605+ FontAwesome Icons
● Cross-browser compatibility, etc.
Conclusion
These are the 10 most trusted and user-friendly WordPress CV Themes that will help you showcase your resume, including work history, experience, skills, portfolio, and testimonials to the desired employers on the fly.
For more WordPress responsive themes and best WordPress plugins. Please have a look and join our party at DesignWall!