Writing as a profession has evolved a lot in the past few decades. The shift from the physical paper medium to the online one has been a humongous one. However, apart from simplifying things for the writers, it has also brought a lot of challenges for them. The quest for trying to be better than your competitors or rivals has provoked the writers to implement innovative and creative design approaches.
A website is a wonderful medium to express your thoughts especially if you are a writer or a blogger. WordPress as a website development tool is an awesome platform as it has a wide range of themes and plugins that will enable you to enhance the visual appeal of your website. So, if you are a writer or aspiring to be one it becomes necessary for you to utilize this amazing platform. This will enable you to grown the reach of your content to a wider audience.
Below mentioned is a list of WordPress themes that will make the website designing process an easier one.
If you are looking for one of the simple and clean responsive WordPress themes for writers, then DW Minion is your best choice. It features a minimal theme design and blog style. However, the simple design will not dampen the visual appeal of your content. The theme supports a responsive design that makes it look elegant on all your device screens. It supports different post formats and focuses on social sharing.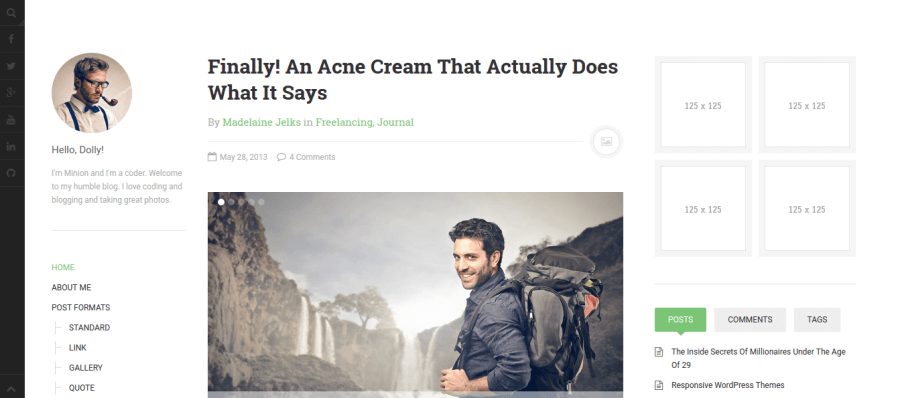 Features
• The design of the theme is minimal but elegant.
• It has built-in widgets for Instagram, Flickr, and Dribble.
• The theme is translation ready.
• DW Minion features a 3 Column responsive layout.
• It has a built-in related posts features.
Price: Vary according to DesignWall membership.
Divi is a multipurpose WordPress theme that will provide the writers with the necessary tools that are required for creating a webpage and showcase their content. No other theme will give a professional look to your website. There is no need to have coding knowledge in order to completely utilize Divi as it is very user-friendly and can be easily accessed.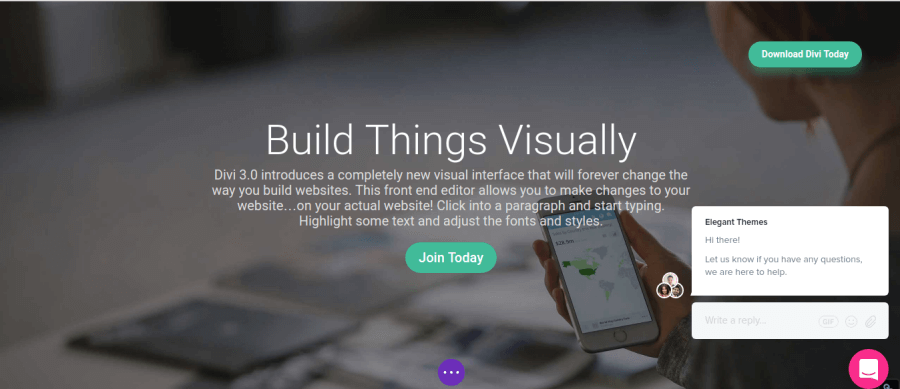 Features
• All the changes made will be updated instantly as Divi supports Real-time Design.
• You can customize each and every element on the theme that includes the fonts, colors, spacing and also apply custom CSS.
• With Divi, you get responsive editing that will enable you to see live responsive previews and apply the custom changes.
• It houses 20+ pre-made layouts that will fasten up your design process.
• Each row and column can be easily organized as everything will fit together automatically.
Price: $89/year
Evoke is a WordPress theme that has a clean and modern look. It has a great visual appearance that will make your content look attractive. This theme is well suited for those who are passionate about writing and photography. You can use large sized images in your posts. Its design is based on beautiful typography that is a classic style of writing.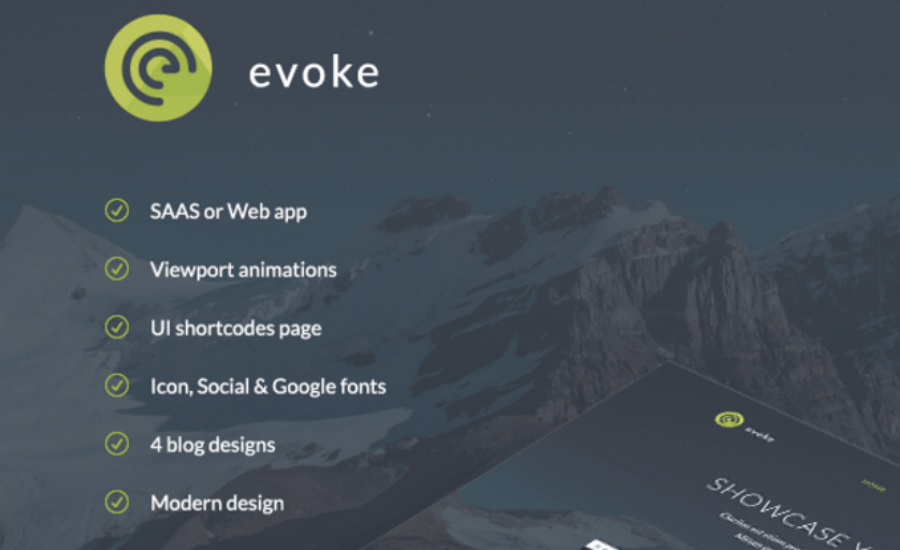 Features
• The theme has a responsive design that will make it compatible with all your devices.
• It has a collection of seven layout designs. If your design requirements match any of the already designed layouts this will save a lot of time in setting up the theme.
• Evoke theme is SEO friendly that will confirm higher rankings for your website on the search engine results.
• You can even use full-screen images for your articles.
• The live customizer will enable you to see the changes that are made instantly.
Price: $39
Himmelen is a theme that has been designed for those who love to write. It houses a full-screen, visually appealing interface that will allow you to display a lot of posts and texts. There is also a wide range of interactive elements that will improve the overall deign of your website. The theme can be used for both professional as well as personal projects.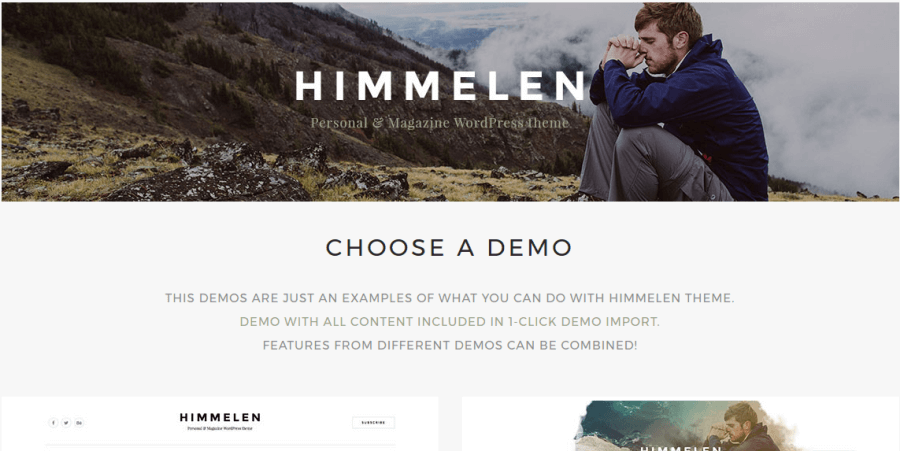 Features
• You get to choose from five different blog layouts.
• There are two featured posts slider styles that will give your website an attractive look.
• There is a main and an elegant demo that is available for the users.
• Unlimited color themes will make it very easy to choose a color of your choice.
• The theme is fully responsive that will make it look beautiful on all your devices.
Price: $59
Fotomag is best suited for those writers who are willing to tell stories by either using words or photos. The theme is meant to be used as a magazine layout that very beneficial for all writers. This will enable you to feature your article by using large thumbnails and placing widgets together. This will allow you to keep your visitors engaged on your homepage for a longer duration.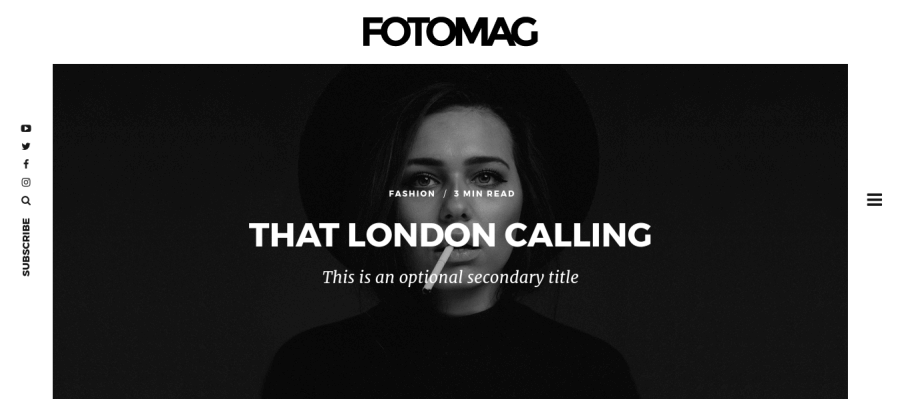 Features
• Fotomag is a retina ready WP photography magazine theme.
• The theme has an integrated lightbox that can be turned on or off in the customizer.
• The slider is touch friendly and gives a good user experience.
• Top and bottom padding can be set for the header.
• The responsive design of the theme will look great on all screens of different shapes and sizes.
Price: $47
This theme is designed for those writers that want to show their creativity by highlighting resumes, portfolios, and photos. You can easily run a blog as the theme requires minimal setup. It has a lot of white space and features 10 elegant blog layouts which will ensure that there is variety all around your blog. It has a newsletter subscribe widget that will get bring back visitors to your website after capturing their email addresses.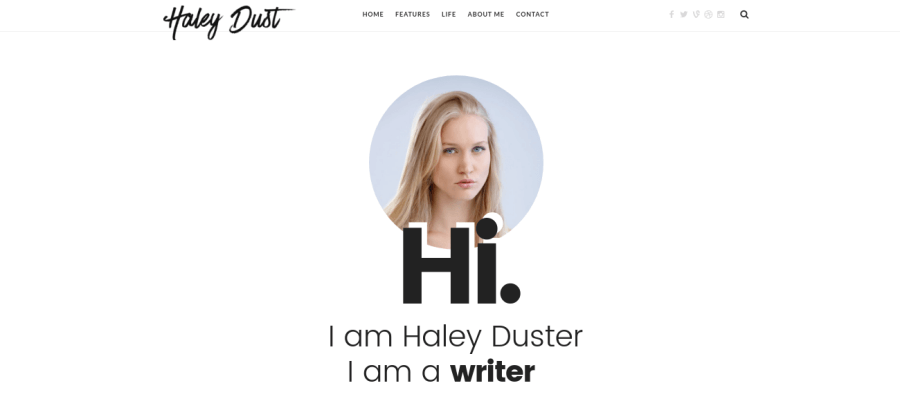 Features
• The theme offers fast and reliable support system that will take care of your website.
• Impose Blog has an easy setup and usage that will make you life easier and get started with blogging.
• It is well documented which is very helpful and written in simple English.
• Impose Blog is well supported for MailChimp WordPress plugin that will collect e-mails and help you grow your list.
• It has advanced theme options that will allow you to tune up your website.
Price: $49
Conclusion
The above-mentioned theme collection will prove to be very beneficial for you if you are a writer and looking for a theme for your blogging website. All the themes that are discussed are feature-rich and cater different user needs and requirements. So, yo can choose any of them that best suits you.