WordPress Admin Dashboard
An introduction to the WordPress Admin DashBoard
The WordPress Admin Dashboard is one of the best features of WordPress. This is what allows you to manage all of your content from the browser.
Depending on your theme of choice, the WordPress Admin Dashboard will vary in the features and options it allows you to do. But generally speaking, as a rule of thumb, free themes will not give you the same level of customization and professional tools as premium themes. This is simply because developers are people too and they need to spend more time working for and supporting paying clients.
The WordPress Admin Dashboard is no different in this situation. Premium themes have more dedicated time allocated to them than free themes, thus they incorporate far more professional tools and features than those released for free.
You can also customize your Admin DashBoard and we've made a tutorial video instructing you how to customize it to your own taste!
Now let's move on to talking about some of the standard things you'll find in every WordPress theme.
The Dashboard contains many things including:
At a Glance
Quick Draft
Activity
Your Stuff
WordPress News
Stats
At a Glance
The At a Glance module is exactly what it sounds like! It offers an "at-a-glance" look at your websites posts, pages, comments, theme, spam, and additional content(depending on what other features your theme has.) Clicking on the links and you'll be navigated to the appropriate screen for that content. There is also a total count of your comments and spam caught by Akismet, it's just provided for people who are curious and want to know. You can also click on the numbers to find additional information about the content on the full page dedicated to this information instead of the At a Glance Widget.

Quick Draft
Quick Draft is a mini-post editor that allows instant content creation from the Dashboard, this helps when you've got an idea that pops into your mind they you just need to save a rough draft of for later further development. You will be able to include a title and body text in the post and then save it as a Draft so that you can work on it later. For additional options such as adding categories or setting a future publish date, you should use the Add New Post screen for more extensive features and options. Below the two input fields are displayed links to your most recent drafts that you've been working on, allowing one-click access from the Admin Dashboard to that working draft. Clicking on any one of them will take you directly to edit that post with all of the features and options that your WordPress theme allows.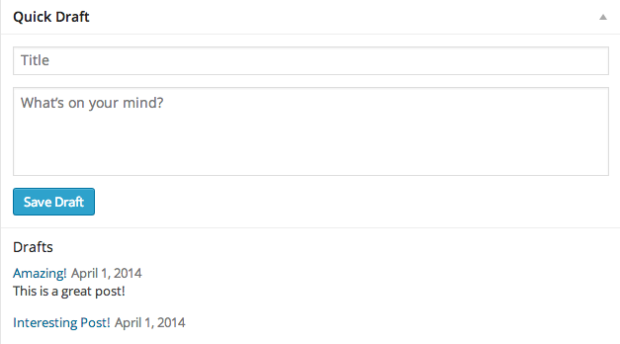 Activity
The  module has a lot of new functionality to make working with comments quick and easy from the Dashboard.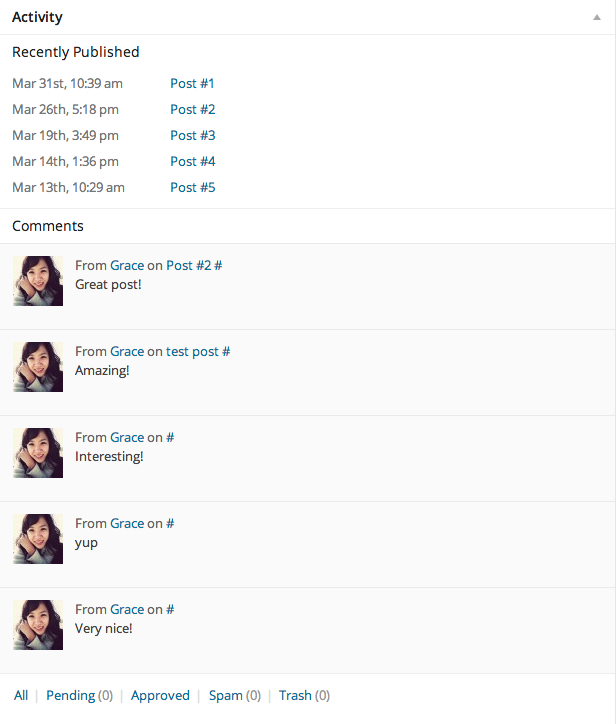 If you hover your mouse over one of the listed comments, action links will appear, letting you Approve/Unapproved, Reply, Edit, See the History, Mark as Spam, or Trash.

If you click on the Reply action link, a form will appear, letting you reply to the comment directly from the Dashboard.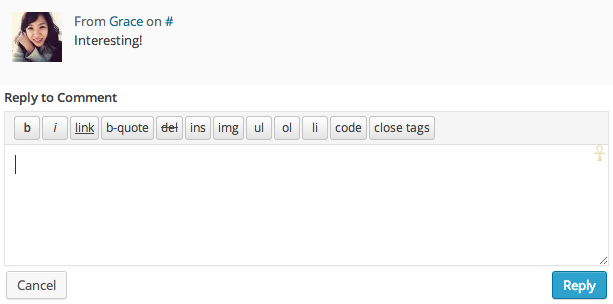 WordPress News
The WordPress News is a module to show links to:
Recent posts from the WordPress.org News blog
Top Posts from around WordPress.org
Latest Posts and just general good information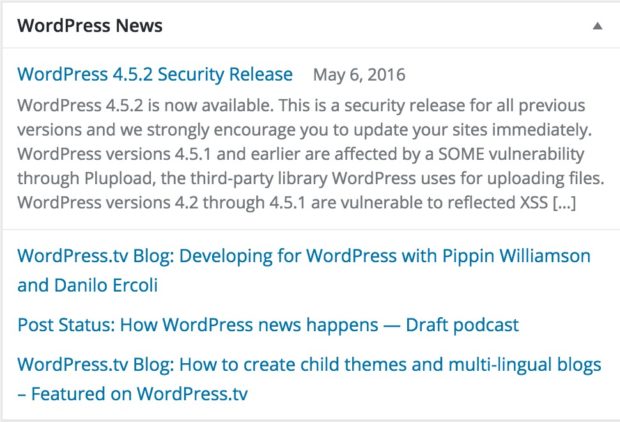 Now you're familiar with the WordPress Admin Dashboard.
Good Work from everyone here at: